#AskPaulKirtley Episode 22: Winter Tinder Bundles, GPS, Australian Plant Uses, Organising Wilderness Trips, Advice To Group Leaders, Cooking Over Pine & Spruce
#AskPaulKirtley Episode 22: Winter Tinder Bundles, GPS, Australian Plant Uses, Organising Wilderness Trips, Advice To Group Leaders, Cooking Over Pine & Spruce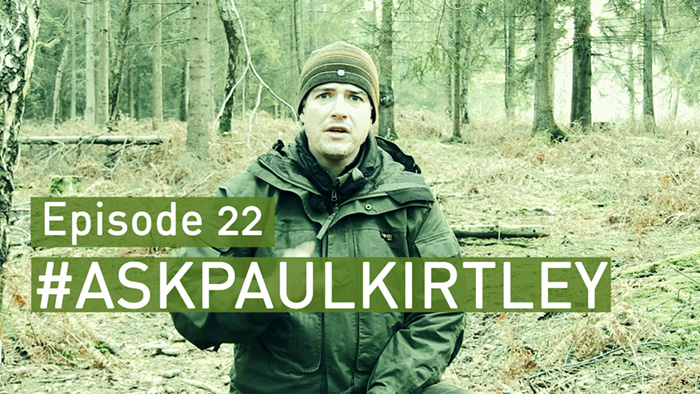 In this episode of #AskPaulKirtley I answer questions about finding tinder in winter, how to learn trees and plants in new areas, the process for organising wilderness trips, advice to group leaders, whether GPS is worth using, if it's safe to cook over resinous woods and meat today vs meat in the past. I also talk about my favourite combo of Gor-Tex and Primaloft garments as well as give some advice on cameras and tripods for outdoor adventure use.
Watch #AskPaulKirtley
Click on the four arrows bottom right for full screen view. This video is available in full HD. Click on "HD" to choose the quality level you want to stream.
#AskPaulKirtley videos are also available to view on my YouTube channel.
Listen To #AskPaulKirtley
Use the following controls to listen to the audio podcast right here or download the .mp3 to your device…
Links For This Episode of #AskPaulKirtley
Wash Day On The River Spey
Bushcraft Take-Aways From The Manitoba Museum
Gitzo
Manfrotto
3 Legged Thing
Paul Kirtley interview on Bull Moose Patrol blog
PK Podcast 010: Alyssa Crittenden On The Hadza, Honey And The Human Diet
Book Recommendations
Cameras Mentioned
How To Watch #AskPaulKirtley On Other Platforms
The videos will be uploaded to my YouTube channel and embedded in the Facebook Page associated with this blog as well as embedded here on my blog.
How To Listen To #AskPaulKirtley On Other Platforms
Podcast RSS Feed: You can subscribe via the #AskPaulKirtley Podcast RSS Feed
iTunes: You can subscribe to #AskPaulKirtley via iTunes
Soundcloud: Follow me on here on Soundcloud
Leave A Comment…
Leave me a comment below. Let me know what you think of this episode. I read every one.
But remember if you want to ask a question for a future episode, don't do this in the comments below, do it in one of the ways explained HERE.
Related Material On Paul Kirtley's Blog:
Bow Drill – The Keys To Success
Survival Foraging: A Realistic Approach
#AskPaulKirtley Episode 8: Thoughts on Preppers, Frustrated Kids, Quiet Camps & Some Book Recommendations
#AskPaulKirtley Episode 12: Starting A Bushcraft School, Storing Bushcraft Knives, Burning Rubbish & Cooking Foraged Starches