#AskPaulKirtley Episode 8: Thoughts on Preppers, Frustrated Kids, Quiet Camps & Some Book Recommendations
#AskPaulKirtley Episode 8: Thoughts on Preppers, Frustrated Kids, Quiet Camps & Some Book Recommendations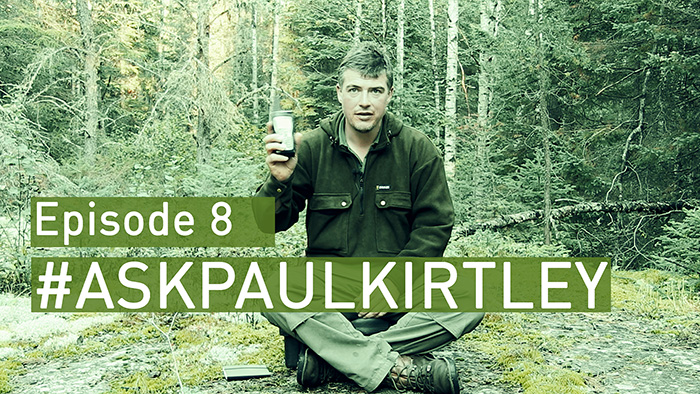 In Episode 8 of #AskPaulKirtley, I offer some thoughts on preppers and prepping, make some suggestions for helping kids who get frustrated with learning bushcraft skills, suggest some quiet places to camp and forage in the UK, give some specific advice on aspects of firelighting, fires and leave no trace as well as provide some book recommendations for bushcraft and wider campfire reading.
What Is #AskPaulKirtley?
#AskPaulKirtley is my Q&A video and podcast series that aims to answer your questions about bushcraft, survival skills and outdoor life.
The idea here is partly to take the strain off my email inbox and get answers out to people in a more timely fashion.
Rather than send an answer to just that one person, I'd like others to benefit from the answers too. So, just in the same way I'd previously write an email answer, here I'm going to speak the answer (which is much quicker than me typing out an answer, so I'll get more questions answered as well as benefiting more people).
Click here to find out the different ways you can ask me a question.
Watch #AskPaulKirtley
#AskPaulKirtley videos are also available to view on my YouTube channel.
Listen To #AskPaulKirtley
Use the following Soundcloud controls to listen to the audio podcast right here or download the .mp3 to your device…
Links For This Episode of #AskPaulKirtley
How To Find A Place To Practice Bushcraft Skills In The UK
Karamat Wilderness Ways
Recommended Bushcraft and Survival Books on my resources page
Books Recommended In This Episode
#AskPaulKirtley On Other Platforms
The videos will be uploaded my YouTube channel as well as embedded here on my blog.
The audio-only podcast version is available on here on Soundcloud and will be added to iTunes and other popular podcast directories in due course, as well as available here on this blog.
Leave A Comment…
Leave me a comment below. Let me know what you think. I read every one.
But remember if you want to ask a question for a future episode, don't do this in the comments below, do it in one of the ways explained HERE.
Related Material On Paul Kirtley's Blog:
Enter A Virtuous Circle: Take Your Bushcraft Skills On An Adventure
Planning An Overseas Wilderness Journey
Six Men, Three Boats and The Bloodvein: Canoeing A Wilderness River