#AskPaulKirtley Episode 21: Ventile Smocks (again), Knife Skills For Bushcraft, Canoe Camping, Stoves, Bow Drill Success & Drinking Urine
#AskPaulKirtley Episode 21: Ventile Smocks (again), Knife Skills For Bushcraft, Canoe Camping, Stoves, Bow Drill Success & Drinking Urine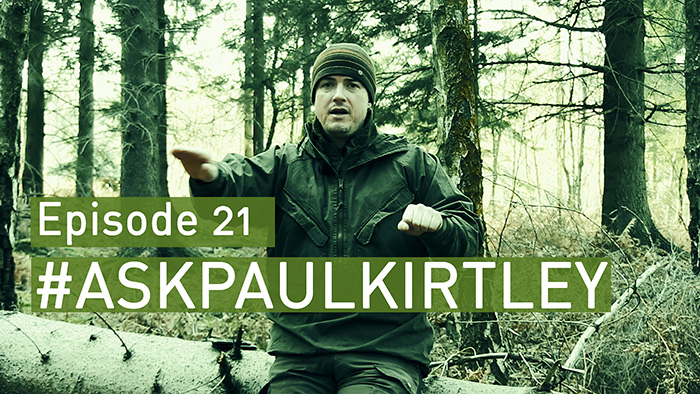 In this episode of #AskPaulKirtley I answer questions about how to get started with canoe camping, water bladders and water bottles, my long term, go-to stove when not using a fire, firesteel and knife combos, how to increase your bow-drill success rate, identifying animal hairs, knife skills to practise at home, my pants, socks and boots, where to go to wild camp and to practise bushcraft skills, and whether or not you should be drinking your own urine.
I also revisit Ventile smocks to correct a mistake as well as announce a special live edition of #AskPaulKirtley, which will be recorded at Easter.
Watch #AskPaulKirtley
Click on the four arrows bottom right for full screen view. This video is available in full HD. Click on "HD" to choose the quality level you want to stream.
#AskPaulKirtley videos are also available to view on my YouTube channel.
Listen To #AskPaulKirtley
Use the following controls to listen to the audio podcast right here or download the .mp3 to your device…
Links For This Episode of #AskPaulKirtley
Ventile
Snugpak
Hilltrek
Snowsled
Buffalo Systems
Bushcraft Essentails 2-Day Bushcraft Course with Paul Kirtley
MSR Whisperlite
MSR XGK
Optimus Crux
How To Get Really Big Sparks With A Swedish Firesteel
Bow Drill: The Keys To Success
Bushcraft Knife Safety: Get The Fundamentals Right
Bushcraft Knife Safety For Children
Paul "Spoons" Nicholls on Instagram
Surviving Bushcraft: The Other Perspective…
Carving A Set Of Utensils For A Frost River Utensil Roll
How To Find A Place To Practise Bushcraft Skills In The UK
The Stoves I Mentioned (I Use All Of These)
How To Watch #AskPaulKirtley On Other Platforms
The videos will be uploaded to my YouTube channel and embedded in the Facebook Page associated with this blog as well as embedded here on my blog.
How To Listen To #AskPaulKirtley On Other Platforms
Podcast RSS Feed: You can subscribe via the #AskPaulKirtley Podcast RSS Feed
iTunes: You can subscribe to #AskPaulKirtley via iTunes
Soundcloud: Follow me on here on Soundcloud
What Is #AskPaulKirtley?
#AskPaulKirtley is my Q&A video and podcast series that aims to answer your questions about bushcraft, survival skills and outdoor life.
The idea here is partly to take the strain off my email inbox and get answers out to people in a more timely fashion.
Rather than send an answer to just that one person, I'd like others to benefit from the answers too. So, just in the same way I'd previously write an email answer, here I'm going to speak the answer (which is much quicker than me typing out an answer, so I'll get more questions answered as well as benefiting more people).
Click here to find out the different ways you can ask me a question.
Leave A Comment…
Leave me a comment below. Let me know what you think of this episode. I read every one.
But remember if you want to ask a question for a future episode, don't do this in the comments below, do it in one of the ways explained HERE.
Related Material On Paul Kirtley's Blog:
White Water Safety & Rescue Training Provides Useful Survival Skills
Bow Drill: The Keys To Success
Carving A Set Of Utensils For A Frost River Utensil Roll