Fjelltur: A Norwegian Adventure
Fjelltur: A Norwegian Adventure
Click on the four arrows bottom right for full screen view. Click on "HD" to stream the 720p version. This may be choppy unless you have a fast connection. Toggle HD off by clicking "HD" again.
A Norwegian Adventure
Fjelltur is a film I made about a winter trip to Norway with two friends and the subsequent adventure we had.
"Fjelltur" translates literally to mountain trip or mountain tour. This was always the intention of our trip, for us to make a ski tour in the mountains.
Being a northener I appreciate the linguistic link between the Norwegian word fjell (and the Swedish word fjall) and the fells of my native north of England.
The area I chose for our trip was at the northern end of the Setestdal valley in southern Norway. In this area the Setesdal the southern rump of the Hardanger plateau in a massive T-junction of sorts. This was an area in which I had undertaken various trips in the past.
My friends, Henry and Stuart, had done some skiing before. Stuart had done some cross country skiing when he was a boy and some alpine skiing more recently. Henry had done some alpine skiing when he was younger but had never tried cross-country skiing.
So, we first had to make sure they had the requisite cross-country skills to undertake a winter trip in the Norwegian hills. We did this in the southern stretch of the Setesdal valley near to where my friend Brian Desmond lives. More on Brian shortly.
In terms of other relevant experience, Henry works with me at Frontier Bushcraft and has undertaken other remote trips and challenges. Plus he had climbed Kilimanjaro via the Western breach route shortly before this trip so was in good shape.
Stuart is very calm and collected (he's an airline pilot) and as well as having done a good amount of bushcraft training over the years, he has undertaken several winter trips in the north of Sweden with me and a couple of other friends who like that sort of thing. Apparently not everyone does. I hear some people even dislike the cold…
My Norwegian Journey
My personal Norwegian adventure started in 2006. I joined an expedition following the route of the small group of WWII Norwegian saboteurs. Their story was a critical part of the wider action to prevent Hitler's plans to produce nuclear weapons by destroying the heavy water plant at Vermork. These soldiers along with their comrades involved in the wider action became known as the Heroes of Telemark.
For that trip, we undertook a week of ski training in the south of Norway before transferring up to the Hardanger plateau for the main event. This trip was led by Brian Desmond who has since become a good friend. Brian previously served with the British military for 25 years. He also had an international ski career. He has represented Great Britain in cross-country skiing, ski orienteering and is a former British biathlon champion. Brian has lived in Norway since 1981 and is a BASI 1 trainer.
Prior to my first trip in Norway I had done some alpine skiing but I was never particularly taken with piste skiing. I don't like crowds. I like being out in nature on my own or with a small group of trusted companions. I've done a lot of solo backpacking and I'm very happy with my own company. Nordic skiing fitted with my world view in this respect, in a way Alpine skiing never did.
I was really taken with nordic ski touring, Norway and the Norwegian hut system. Over the few years following my first foray, I visited Brian multiple times, both in the winter and summer. In addition to personal trips, which included skiing across the Hardanger plateau with a companion in 2008, I organised groups to train/tour with Brian and I joined some of these trips myself.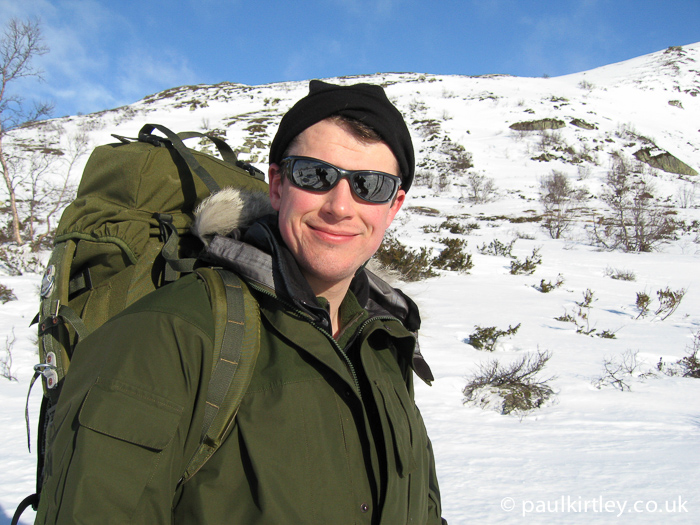 Until the trip that is the subject of the film above, I hadn't been back to Norway since my last full ski tour there in March 2010. Between 2010 and 2014 all my winter trips had taken me elsewhere. So, I was keen to get back to Norway and get out on a tour again.
The above film is a document of the trip from start to finish.
Filming Fjelltur
Filming wasn't without its challenges. Due to us having to be self-sufficient and carry everything in our backpacks, I could only take small, lightweight cameras on our main journey. Battery life was also an issue. During the second phase of the trip, my GoPro malfunctioned and fried one of the microSD cards I had with me. Thus I lost some footage and was down to only one camera for the remainder of the journey. The small camera I took does not accept an external microphone and I took no other sound recording equipment. All of this had some consequences but it was a lightweight, bare bones set up that would fit in my pack and would be relatively quick and easy to operate in poor weather conditions, while still allowing us to make good progress on our route.
The weather was bad, which in places, hampered the sound quality if not the epic look of the conditions. In fact it was the most consistently bad weather I've had on a trip in Norway. I've experienced truly appalling weather in the Norwegian mountains before and with much colder temperatures than during this latter trip, where the weather was very unsettled but relatively warm. On one trip in previous years after skiing for several hours through a blizzard, we made it to the hut then only to have to dig our way in (this is normal). The surprise was the temperature of minus 18 Celsius (0 degrees Fahrenheit) inside the hut. It took us three hours to warm the place up to a comfortable room temperature. On the 2014 trip, we just had unsettled weather from start to finish once we were in the mountains proper.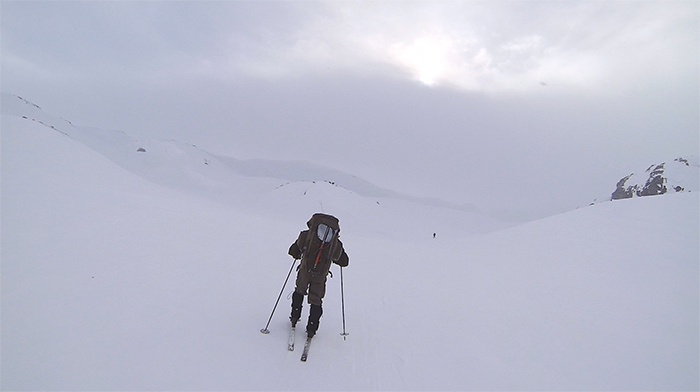 It was also an emotionally tough time for me. During the bus trip between the training phase in the southern Setesdal and starting our mountain tour in Hakeliseter, I casually phoned home to check in. I was informed my closest aunt had passed away. She'd had a long battle with cancer but had been given the all clear only a month or so before her death so it was a shocking turn of events. She was a character and had travelled extensively around the world. She would have wanted me to carry on the trip and we did exactly that. The above film is dedicated to her.
In fact this film became a bit of a labour of love. I did all the colour correction, editing, voiceovers, subtitles and grading myself in between teaching courses, undertaking trips and other projects. It took me much longer to finish than I anticipated, partly due to some of the technical constraints I had to overcome. In watching it I hope you feel like you have come on an adventure with us. If so, then my goal in putting this film together has been met.
I'm happy to answer questions about the trip via the comments below. If you are interested in our clothing and equipment, then an article is in the pipeline.
Music
Music is an important part of my life and while there isn't much in this film, all the music featured is Norwegian. All of the tracks are from albums I own and really enjoy. Some of the tracks from these albums were going through my head repeatedly during the trip, particularly when I was into a rhythm on some of the more monotonous cross country sections when we couldn't see anything.
Related Material On Paul Kirtley's Blog You May Enjoy

Winter Magic: Return To The Northern Forest
Planning An Overseas Wilderness Journey
Six Men, Three Boats And The Bloodvein:Canoeing A Wilderness River
10 Bushcraft & Survival Skills To Try This Winter