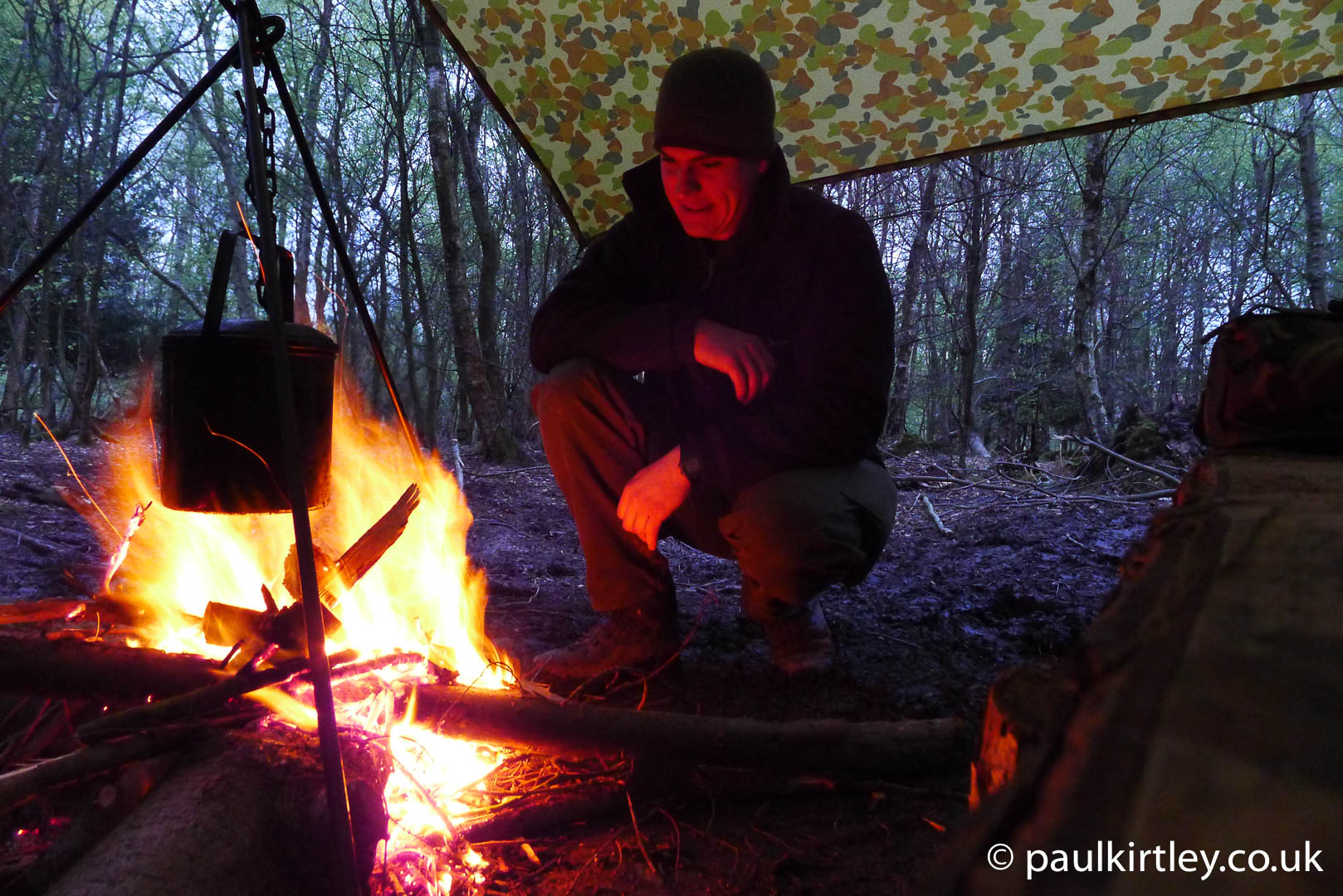 Tactics For Fire-lighting In The Damp, Cold Months
Tactics For Fire-lighting In The Damp, Cold Months
Damp, cold conditions are not conducive to fire-lighting. The same conditions that easily lead to hypothermia are ones that easily lead to failure in establishing a fire. There is an irony with regards to fire-lighting, in that the more you need a fire, the harder it is to light one. Damp, cold conditions are often the most difficult conditions in which to light a fire.
As a point of contrast, in very cold conditions, below minus 20 Celsius (minus 4 Fahrenheit), say, such as you might find in the arctic forests of Scandinavia or the northern forests of North America in winter, it can actually be relatively easy to light a fire compared to more temperate climates at the same time of year.
By contrast, in the temperate parts of the north in winter, such as in Britain and other parts of northwestern Europe, or the Pacific Northwest of North America, where one doesn't experience the extreme low temperatures of the boreal forests in winter, we often experience a damp cold. These are conditions also experienced in continental areas south of the boreal forest in winter, or even in the boreal in the fall.
Whenever the temperature is not far above or below freezing, combined with high humidity, the resultant damp, penetrating cold, feels like it's chilling you to the core. It also challenges your fire-lighting abilities, more than the desiccated cold of the northern forests.
In the coldest forests in winter, as long as you don't select wood with water frozen into it, there is little moisture around to impede ignition. At these low temperatures, the air is literally freeze dried and while the relative humidity can still be nominally quite high, the absolute amount of moisture in the air is low. Very low temperatures, of course, do handicap the establishment of a fire to an extent, as you are warming everything up to a fixed ignition temperature from a lower starting temperature, but we can easily mitigate some of the effects. One thing to be aware of even in the coldest of winter conditions, however, is the heat of the fire will release frozen moisture from the nearby environment as it warms up snow, ice and frozen ground. Hence, we are starting to create a damper environment in proximity to the fire. So we should have some tactics for dealing with this too.
Overall, then, cold, damp conditions are some of the harder conditions in which to light a fire. This is where attention to detail and good preparation in your fire-making efforts really pay handsome dividends. So, below are some tips and tactics, born of experience, sometimes hard-won, that will help you in establishing and benefitting from a fire in the cold, damp times of the year, whenever you experience them…
The Basics Are The Basics
Your fire-lighting efforts should always be made on the foundational principles, proven to always stand you in good stead. Don't cut corners, even of you are in real need of fire as soon as possible. Proper preparation of materials is the ethos of all consistently successful fire-makers.
Further, pre-position yourself for success by regularly training in techniques and practices you intend to rely on when conditions are tough. Get into good habits in the good times and they will be part of your practice when things are harder.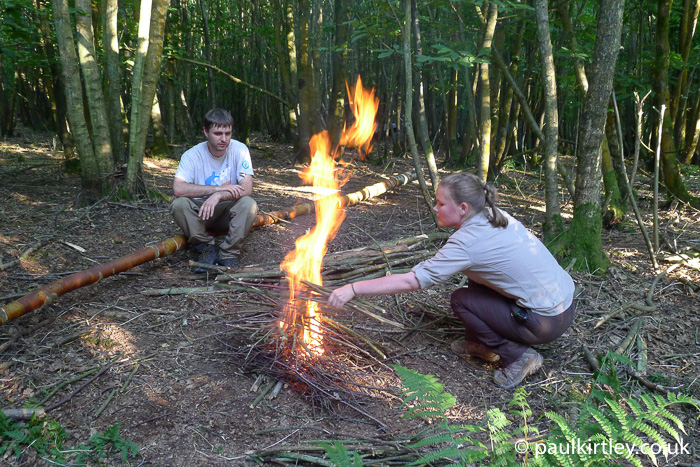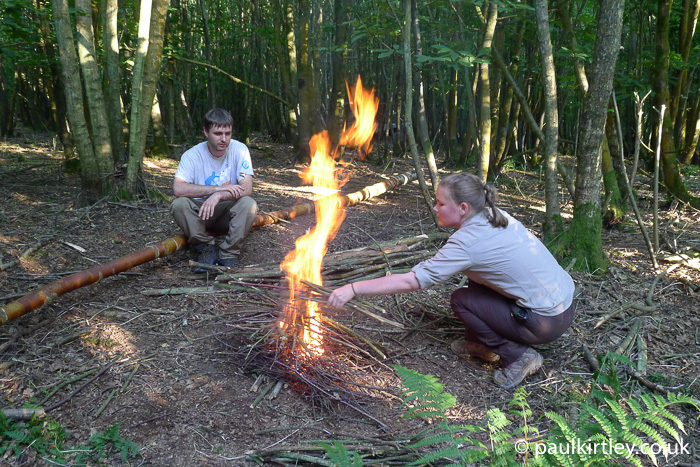 While you might get away with cutting a few corners in summer, winter is a much harsher mistress The fundamental "rules" count more in marginal conditions. Don't cut corners. The basics are the basics.
You should always select dead, standing and dry wood for your fuel. When setting your fire, you should always first create a platform of dead, dry wood. This raises your initial fire from the cold, damp ground, adds fuel into the heart of the fire and allows good oxygen flow into the base of the flames. Collect plenty of kindling. It should be a bundle, not a handful, particularly in winter. Keep your sticks long, so you can create a good open-V shaped lay of kindling and so you can manipulate the first flames. Don't just have your kindling prepared. Also prepare the next stages. Have your next stages of fuel ready to go, broadly graded – pencil thickness, then little-finger thickness, then index-finger to thumb thickness and so on.
Adding fuel to a new fire is like working up through the gears in a car's gear box. Start in first, accelerate and change up to second, then third, the fourth. As momentum builds, you shift up. Similarly with your fire, when flames come through the kindling, put on the pencil-thickness fuel, then when the momentum builds and flames come through the second grade of fuel, put on the third, then the fourth. Thus, you build a fire.
If it's raining, then shelter the initial stages of the fire. You can, of course, erect a tarp. More on this below. If you have nothing else, use a rucksack liner, plastic bag or even a jacket. Yes, you will get a little wet, particularly on your back but it's better to ensure a big blaze. If you are on your own, suspend the bag or jacker with a few sticks. If you have a companion, they can hold the rain protection over the area you are working. This will protect the initial ignition and first, small flames. As the momentum builds the power of the fire will repel the rain. Make sure you put at least double the normal amount of kindling on the fire when it's exposed to direct rain.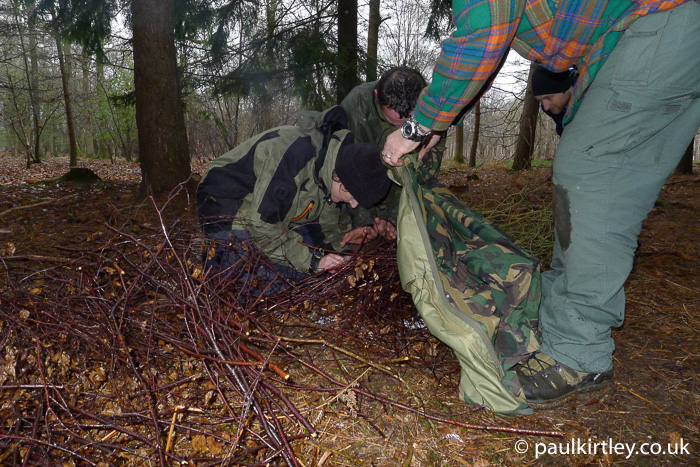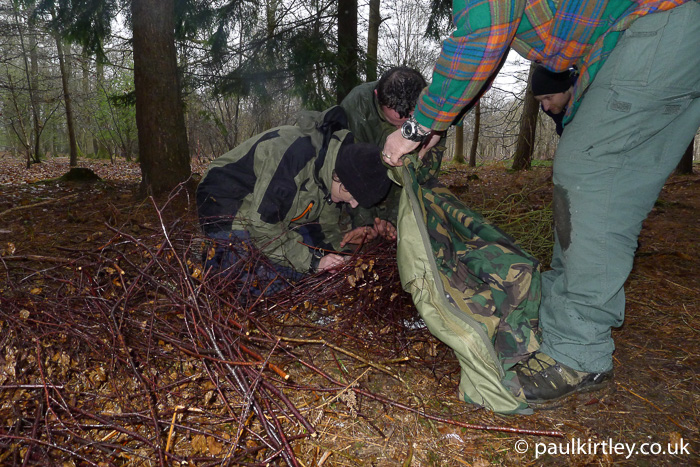 If you can't find decent dry secondary and tertiary fuel to follow on from the primary kindling, then split larger wood to access dry fuel inside. Again it should be dead, dry and standing. By standing, I mean upright. Gravity acts at right angles to the ground. The more horizontal a piece of wood, the more gravity will tend to pull water into the wood. Vertical dead wood will have relatively little water penetration.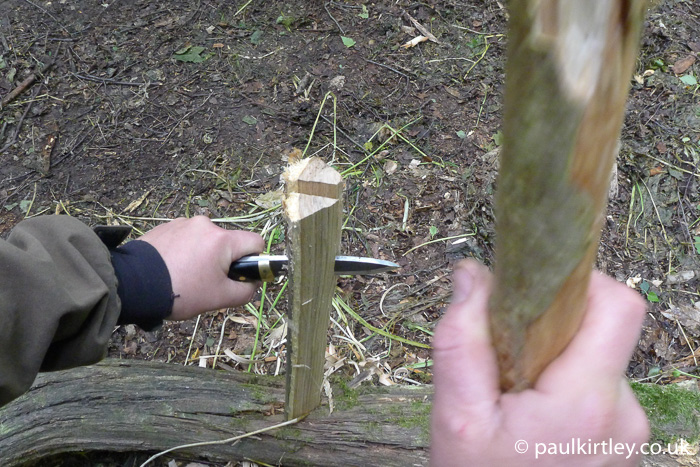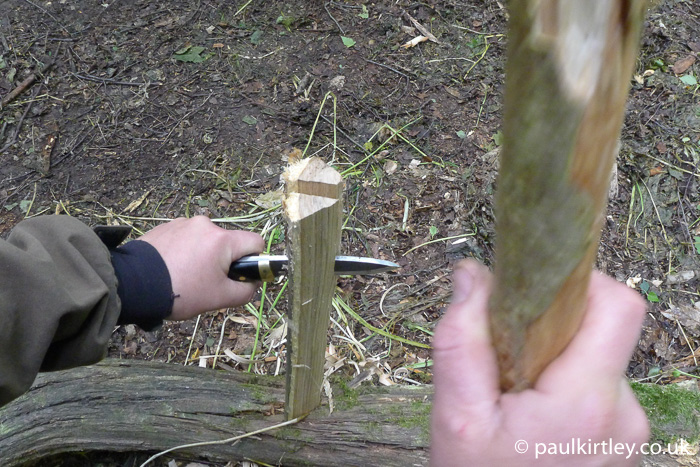 The outside of even vertical dead wood can be a little wet, plus inner barks can be somewhat absorbent of moisture. The initial few millimetres of wood therefore can be a little damp if moisture is trapped under the bark. If this is the case, then remove the wet bark and damp wood with your knife. Under no circumstances does it help by having a damp layer of wood attached to the dry fuel you are seeking. So get rid of it.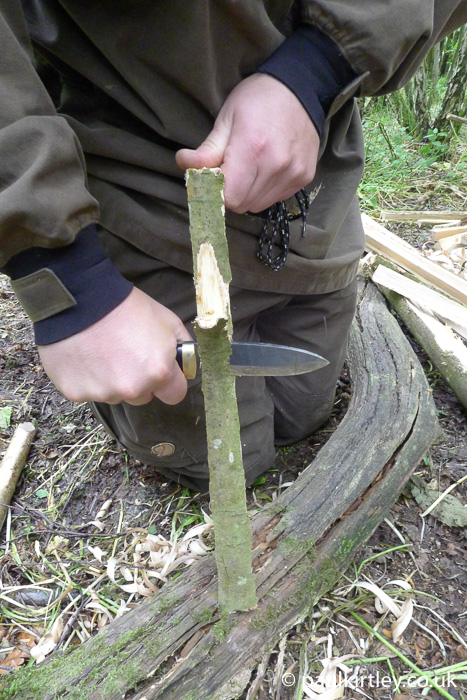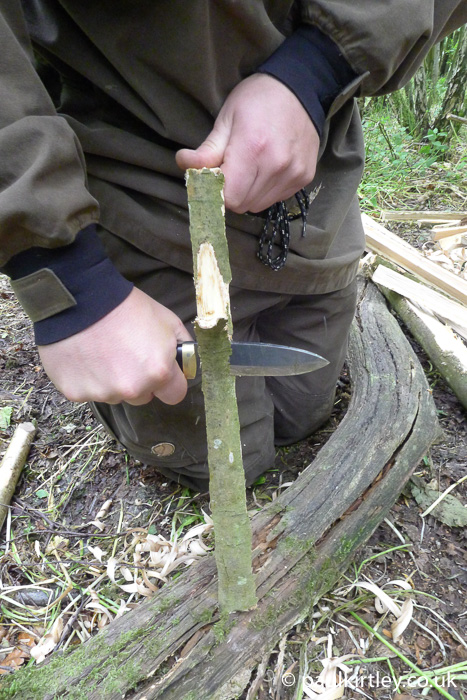 Good Quality Kindling Is Critical
You can generalise fire-making into two broad stages. The first is creating a flame. The second is taking the flame to fire. Critical in the second stage is your kindling. A small handful of damp twigs from the forest floor is just not going to provide the desired results. Yet this is usually the first resort of the inexperienced.
I can't overemphasise the importance of quality kindling in establishing a fire in cold, damp conditions. It is the bridge between the fragile initial flames and an established, robust fire. If your bridge is weak, it may collapse.
So where should you collect your kindling from? Not off the ground for starters. Instead you should be seaching above the ground – dead twigs still attached to the tree and detached dead twigs hung up amongst other twigs and branches. Some tree species yield more suitably-sized twigs than others. Birches are particularly productive. Not only do they produce matchstick-thin twigs, the oils in the bark make this natutally fine kindling both water resistant and impressively flammable. I've also found medium-sized beech trees a good source of fine hung-up kindling.
Many needled species of tree are ready sources of kindling, spruces and hemlocks in particular. The lower reaches of small to medium sized trees tend to harbour many small dead twigs, still attached to the tree. Because of the shape of the tree above combined with the density of foliage the live branches carry, the dead twigs lowere down are usually remarkably sheltered from precipitation. Thus, they are usually really quite dry. With any potential kindling, you should expect a clean snap or click when breaking sample twigs as proof of their being dead and dry. Any twigs that take effort to remove from the tree, needing to be twisted around multiple times or to be severed by a cutting tool are likely not suitable.
And what if you can't find any kindling just hanging around? Well, you can make some…
Feathersticks
If you can't harvest dead, dry fine kindling directly from the woods, then you can produce fine material using a sharp cutting tool. Good feathersticks will form both the initial kindling and the next size of fuel up, both in one deftly made fire-lighting unit. The intention is for the whole thing to eventually catch light in one package, starting with just a small flame.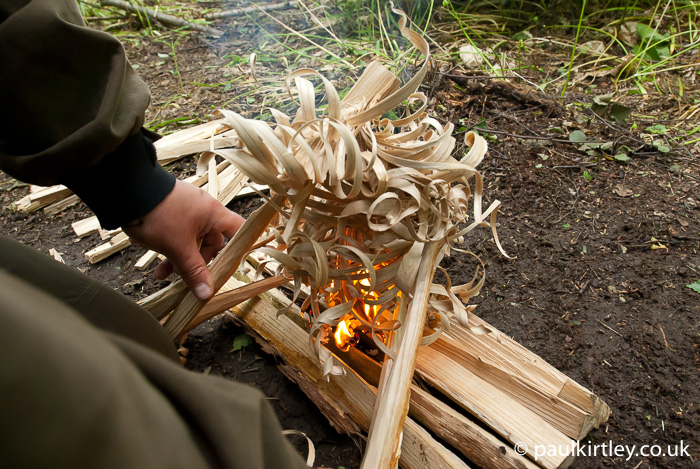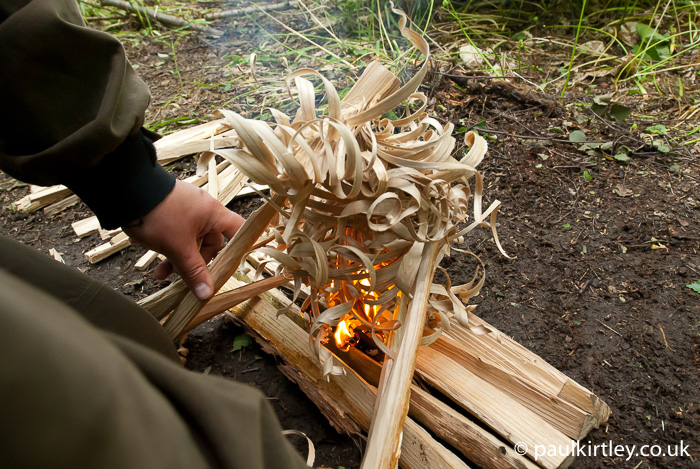 Poor feathersticks will see the feathers light but the stick not taken by the flames. In this situation, unless luck is on your side, you'll end up with some charred sticks and no fire. The key to success with feathersticks is for the stick component of your feathersticks lighting from the feathery curls is for the sticks to have thin necks. That is, you must carve the stick down to a thickness the same as the size of a thin splint you might add as your next size of fuel up from the actual curls.
Further Reading: How To Make Fantastic Feathersticks
In dry conditions you may only need two good feathersticks plus some splints to establish a fire. In cold, somewhat damp conditions you will likely need four good feathersticks plus more splints; in very wet, rainy cold conditions or when your life depends upon it, I would recommend six very good feathersticks plus as many splints as you can muster. As with any firelighting, the key is preparation. Make good feathersticks, keep them dry, prepare plenty of fuel of all the sizes you need. Then, put down a good platform of split wood.
Is Friction Fire Unrealistic In The Damp, Cold Months?
Bow-drill or even hand-drill is not unrealistic but the more you have practised good material selection and honed your technique in the more clement months of the year, the more certain it will be that you will achieve success. If you are keen on having a year-round ability with bow-drill, say, I would recommend you continue to practise in the autumn and winter. Use the species of wood you find most reliable in the summer and keep using this as conditions become colder and damper. Until you are confident you can light a fire by friction in cold, damp conditions, the time to experiment with new materials is in the summer. Stick with the materials you know and trust as you extend your skills into the winter.
The basic principles of bow drill in damp, cold conditions are the same as any other time of year but there are a couple of small specific tips you might find useful. First, be absolutely fastidious about not putting your drill down on the ground when you are not using it. Keep it in a warm pocket until you need to use it. Note that because you are warming up the wood from a lower starting temperature, creating an ember may take longer than it normally does in warmer conditions. A layer of cold, humid air, close to damp, cold ground can be enough to quash an ember. Lift the ember up and away from the damp ground as soon as you can.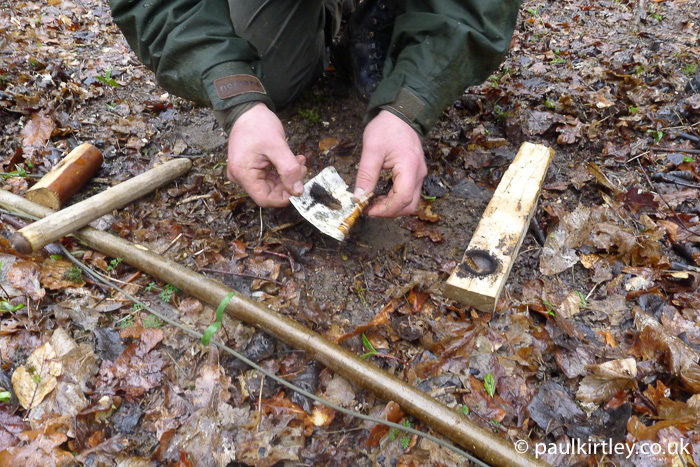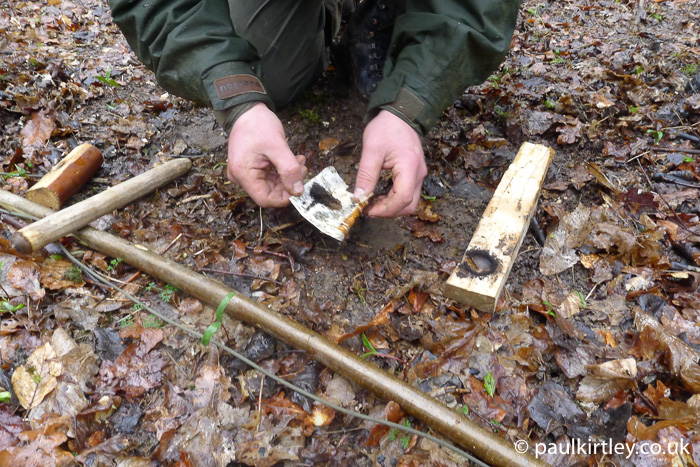 Your tinder bundle should be perfect. It should be dry and as well-prepared as possible. Again, you can sometimes get away with being somewhat slapdash in hot, dry conditions. Not, so in cold, damp conditions. Keep your bundle warm in the inside pocket of a jacket until you need to use it. The temperature difference between keeping the bundle at 20-30 degrees above freezing within your clothing and it being around freezing at the ambient temperature makes a noticeable difference. Then, of course, make sure you have plenty of well-prepared kindling and secondary fuel as described above.
Some General Advice For Fires In Cold, Damp Conditions
Regardless of how you might achieve flame, whether it be a bow drill with, say, alder wood, to create an ember, blown into flame using a bundle of honeysuckle bark, or your trusty ferro rod dropping sparks onto some scraped-up birch bark, whether it be flint-and-steel onto amadou, then blown into flame using the inner bark of oak, or just your favourite brand of matches, and regardless of the kidling you are using, there are some general considerations for the colder, damper months of the year you should pay some attention to.
It's fairly obvious that you need to avoid exposed windy places to have your fire. Not only will this make your fire-lighting efforts harder, they will be bitterly cold, even with a fire. Drop downhill a little or move around the contour to find a position less exposed to the wind. Or it may be a case of pushing a little further into the woods, away from the edge exposed to the prevailing wind, to reduce the effect of the cold wind on both you and your fire.
A more subtle consideration is to avoid localised low points in the terrain. This doesn't mean only valley bottoms. In hollows and depressions, the ground will likely be more damp as water accumulates and persists in these places. Also, cold air is more dense than warmer air, and so cold air drops into the lowest points in the landscape. So, dips and depressions in the land tend to be cold and damp. Avoid these for your fire-lighting efforts.
If the driest ground you can find is still pretty much sodden, then build a double platform under your fire lay. First scrape away wet leaves and the like as you would normally. Then place down a hearth as you normally do. This can be dead, standing sticks of about thumb thickness or split from dead, standing wood of larger diameter, such as you might use when using feathersticks. then take a second set of sticks and lay them at right angles to the first, so you create a double platform, raising your initial tinder and kindling further away from the wet ground. This helps reduce the effects of moisture evaporating up into the initial stages of your fire as well as providing more dry fuel into the heart of your fire as it establishes.
Consider erecting a tarp directly over your fire site. Do this before you light your fire, otherwise you risk melting your tarp, particularly if you are setting it up on your own. If it is raining or snowing, this will protect the initial stages of your fire from the dampening effects of precipitation falling directly on it. Even once the fire is established, protecting it from rain or snow, will allow your fire to burn efficiently and you will need less fuel for a given amount of heat. There is also another, highly beneficial, effect of having a tarp over a fire. You achieve a convection current, where some of the warm air, after hitting the inside of the tarp, pushes back down towards you underneath it. You create a pocket of warmth under the tarp, which simply would not be there otherwise. In conditions of wet snow falling, the combined benefits of having a tarp over a fire make a huge difference.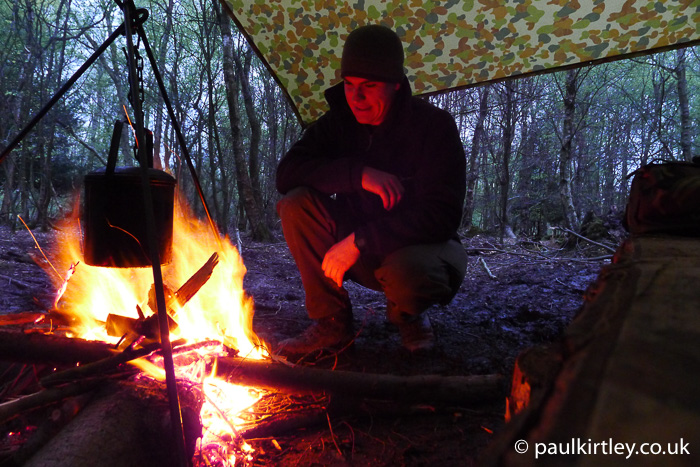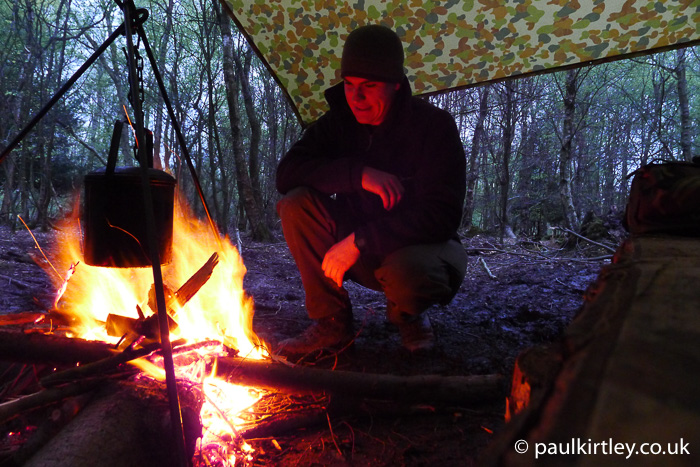 Lighting Fires In Snowy Conditions
You might be wondering what if there is snow on the ground before I come to light my fire? Well, you have two options. You can either light your fire directly on top of the snow or first clear the snow away then have your fire directly on the ground as per usual. Which option to choose is dependent on a number of factors.
The primary thing to understand is that a fire directly on top of snow will quite quickly start to melt the snow underneath, then sink downwards into the snow. Whether or not this is a problem depends on how long you intend to use the fire and, to an extent, how deep the snow is. It's quite common to see families in Norway for example, out for a day's skiing on prepared trails through the forest, to build a lunch fire directly on top of the snow. They roast some pre-cooked sausage and keep themselves warm while standing around. It's quick, efficient and does not require shifting any snow. You can extend the time before a fire sinks by building a larger platform underneath it. This better protects the snow from the heat radiating from the bottom of the fire.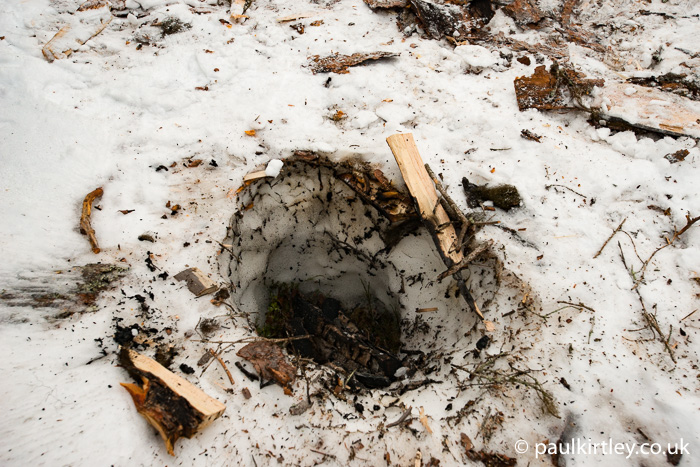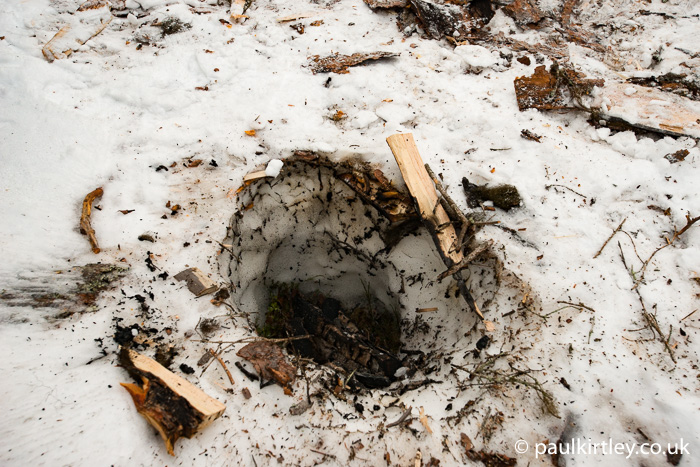 If you are going to be around for any length of time, however, it is generally best to remove the snow from the ground first, then set your fire. If you just dig a whole for the fire, though, your fire will be down a pit and you will be on top of the snow, not getting much, if any, warming benefit from it. So, you'll need to clear an area of snow large enough for both you and the fire. You will then be down at the same level as the fire, on solid ground. Remove as much snow as you possibly can from the ground.
If the ground is frozen, it likely won't seem to contain as much moisture as it actually does. As soon as it warms up, water in the soil will start melting and the moisture will be more apparent. So, the bottom line is you should still build a decent platform of dry wood on which to set your fire. A double platform as described above is often prudent. You don't want the heat of the initial stages of your fire melting and evaporating moisture from the ground, up through your fire, causing a significant drag on its ability to get going.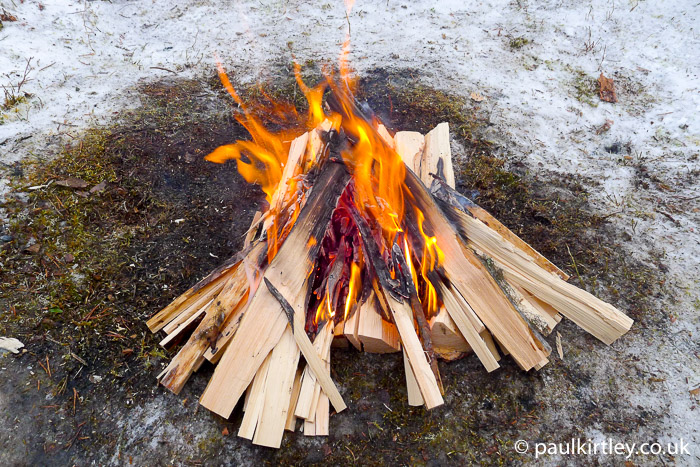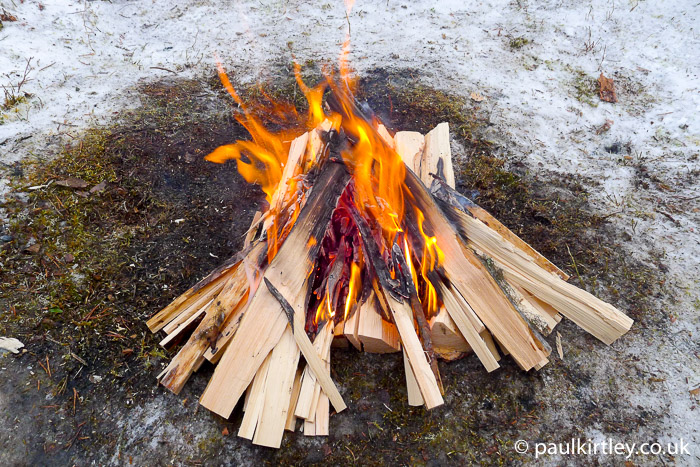 Summary – Small Details Are Important
While some of the above details may seem small, it is in marginal conditions that attention to detail makes the most difference. In cold damp conditions you have less margin for success than in hot dry conditions. In the latter circumstances anyone can light a fire without much effort. Indeed, in the driest conditions, the concern can be that any naked flame in the bush might create a blaze that is soon out of control.
In cold damp conditions, however, the challenge can be to get anything to light at all, even though you want it to. Moreover in cold damp conditions the value of a fire can go beyond want into the realm of need. The irony is that the more you need a fire, the harder it is to create one. I hope, at least, the above tips and advice from my own experience will help you achieve success the next time you really need a fire.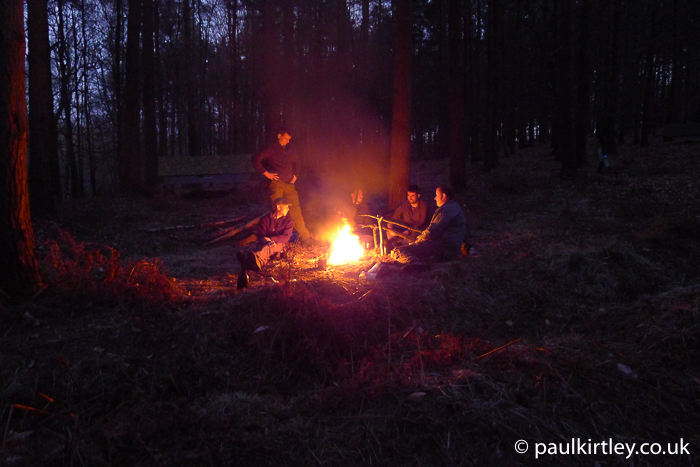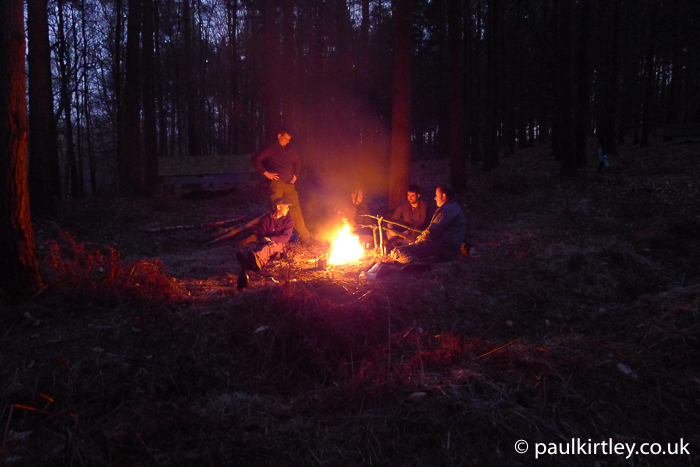 If you liked this article, check out the following…
How To Light A Campfire With One Match
How To Make Fantastic Feathersticks
PK Podcast 037: Dan Hume On His Quest For Traditional Fire Skills
Canoeing The Spey With Kevin, Ray & Justine part 2 – A Few Campfire Tricks
Northern Forest Fire-lighting Fundamentals: Pulling It All Together