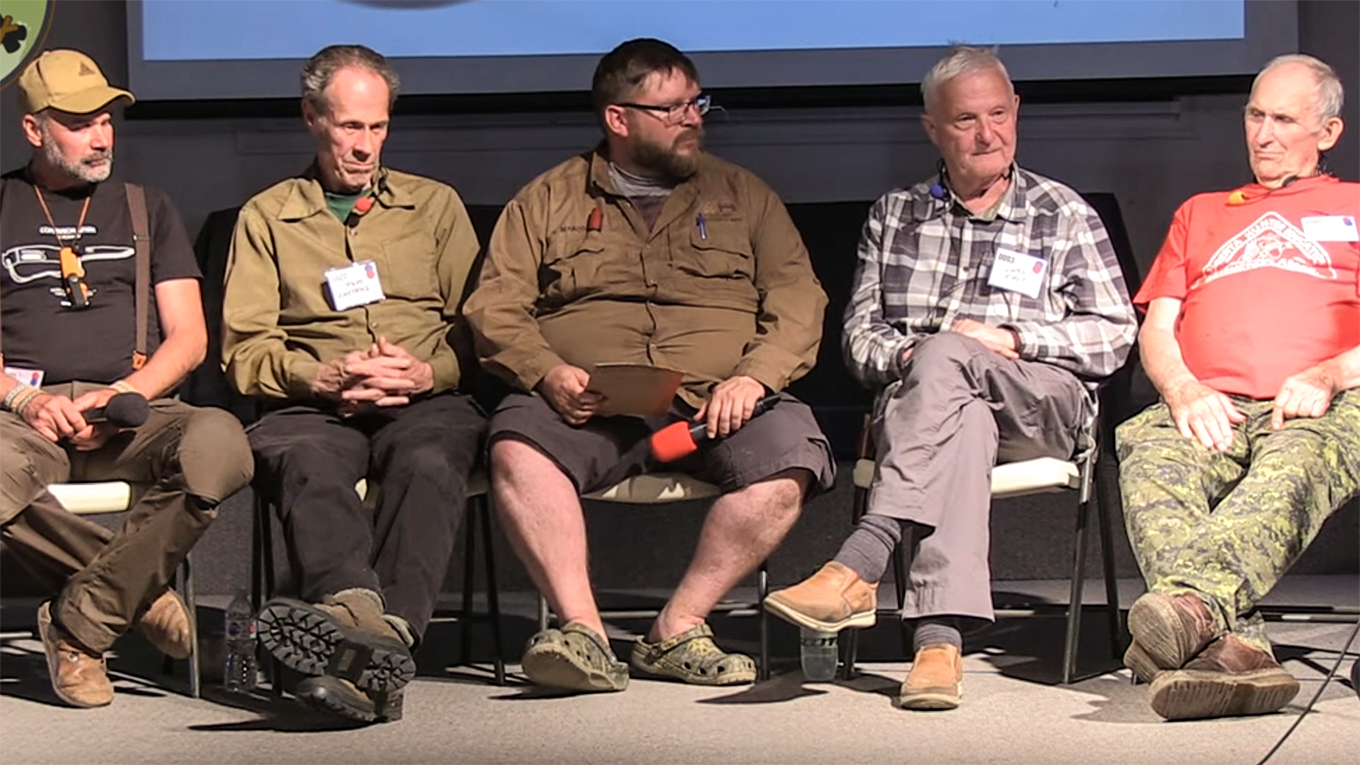 PK Podcast 47: Tom Lutyens, Mors Kochanski, Lars Fält, Johan Skullman
PK Podcast 47: Tom Lutyens, Mors Kochanski, Lars Fält, Johan Skullman
Back in 1995 there was a gathering of survival instructors in northern Sweden. It has become almost the stuff of legend amongst bushcraft and survival instructors.
One of the big driving forces behind this gathering was Lars Fält. Those of you who have followed my podcasts for a while will remember Lars joined me on Episode 32, which was a magazine episode, recorded with a number of guests at the Swedish Bushcraftfestivalen in August 2018. On this episode Lars recounted some of his personal history with survival training and I encourage you to have a listen if you haven't already. Those of you who have followed my work for a while might also know I had the honour of working alongside Lars on winter courses in northern Sweden in the 2000s.
Lars is one of the grandfathers of modern survival training, particularly in Scandinavia. But his influence has been much broader, particularly because of his collaborative nature and willingness to share. So it was great to catch up with Lars again at the GBS, which was all about sharing skills, knowledge and pedagogical methodologies.
There were other veterans of the 1995 Survival Instructors gathering present at the 2019 GBS too, Mors Kochanski being one of them. Mors, of course, has featured on this podcast several times in the last 12 months and it is a pleasure to have him included in this podcast as well.
Tom Lutyens, retired USAF survival instructor, was also present at the 95 conference and it was absolute pleasure to meet and spend time with him at the GBS. He joins Lars and Mors on this podcast too.
So it was they gathered together for a panel discussion, chaired by Jonathan McArthur, who you may remember from Episode 36 with him and Mors. They are also joined on the panel by a mystery guest, who some of you may know…
How To Listen To This Podcast
You can listen to this podcast here on my website by using the player above. Just press the play button.
You can download the podcast episode .mp3 file by right-clicking on the download link to save the .mp3 file down to your local machine/device.
Subscribe to The Paul Kirtley Podcast on your favourite podcast app:
Subscribe to the Paul Kirtley Podcast on Apple
Subscribe to the Paul Kirtley Podcast on Google Podcasts
Subscribe to the Paul Kirtley Podcast on Stitcher
Subscribe to the Paul Kirtley Podcast on Player FM
Subscribe to the Paul Kirtley Podcast on acast
Subscribe to the Paul Kirtley Podcast on Radio Public
Links For This Podcast
PK Podcast 032: Lars Fält, Julia Kalthoff, Juha Rankinen and Jonas AlsPK Podcast 036: Mors Kochanski And Jon McArthur On The Global Bushcraft Symposium
Watch The Panel…
Thanks For Listening!
Thanks for joining me on this podcast. If you have any comments about this episode, please leave them in the comments section below.
If you enjoyed this episode, please share it using the social media buttons at the top of this page. Thanks!
And Finally…
Finally don't forget to leave an honest review & rating on iTunes or on Stitcher.
Ratings and reviews are extremely helpful and greatly appreciated! They do matter in the rankings of this podcast and I read each and every one of them.
Related Material On Paul Kirtley's Blog
PK Podcast 042: Mors Kochanski, Northern Bushcraft Legend
PK Podcast 043 – North American Titans Of Bushcraft
PK Podcast 46: Kevin Callan, The Nicest Man On The Meanest Journey
Lessons From Applying The North American Winter Camping Style In The Scandinavian Boreal Forest
Global Bushcraft Symposium 2019 Keynote Presentation