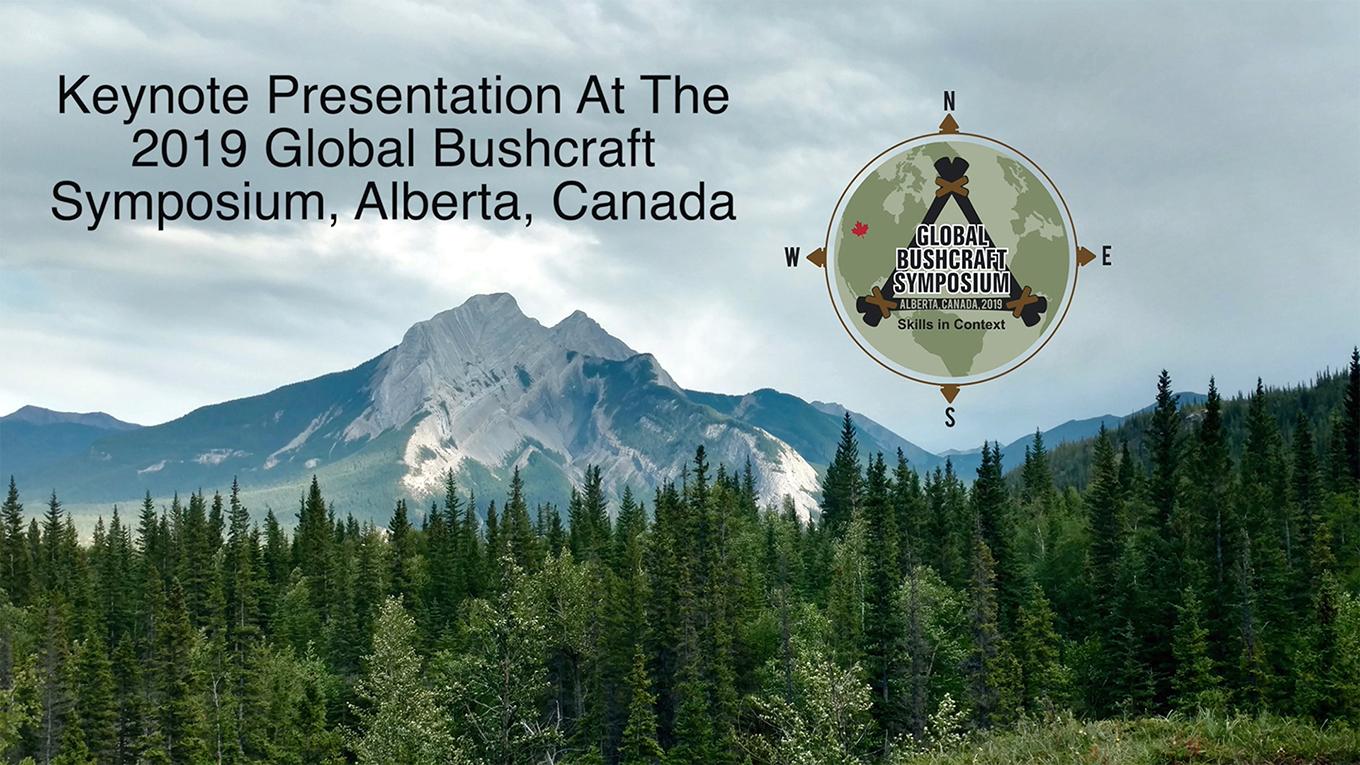 Global Bushcraft Symposium 2019 Keynote Presentation
Global Bushcraft Symposium 2019 Keynote Presentation
The 2019 Global Bushcraft Symposium (GBS) seemed a long time coming. Almost three years before, I became aware of the intention to hold this conference in Alberta, Canada. As time went on, more information came out and speakers began to be invited, then appearing on the Global Bushcraft Symposium website. There were going to be some big names present, grandees in the realms of bushcraft, survival and traditional living skills. I was going to go anyway but then I was also invited to be a keynote speaker. This was a real honour, to be a keynote speaker alongside the likes of the North American titans André-François Bourbeau, David Holladay, Mors Kochanski, Tom Lutyens and Dave Wescott, as well as one of my old Swedish mentors, Lars Fält. In addition to me, the U.K. keynote speakers were Lisa Fenton and Patrick McGlinchey.
GBS: A High Quality Audience
The group of keynote speakers, however, was only the tip of the iceberg. The list of other illustrious individuals scheduled to present at the conference was long and the collective experience of these people very deep. You can check out the list here. Then there were the delegates, many of whom were seasoned educators in their own right, from civilian outdoor leaders to military instructors to academics. Those who were not directly involved in education or guiding were all committed enthusiasts of the skill-sets and knowledge-bases represented. It was a very high quality crowd of around 250 people in total. The organising board of the symposium, largely made up of experienced and highly-respected outdoor educators, did an excellent job of bringing these people together and creating an atmosphere of collaboration and sharing.
The Aims Of The 2019 GBS
The 2019 Global Bushcaft Symposium was an international gathering to promote bushcraft, survival, and traditional skills instruction through the open exchange of philosophies, pedagogical methods and dissemination of best practices within the industry. This was set to be achieved by…
1/ Developing connections across generations of instructors and cultures of practice.
2/ Emphasizing the critical importance of teaching accurate, fact based and tested skills in their proper context.
3/ Honoring those who have lived, rediscovered and promoted the traditions before us.
The Aims Of My GBS Keynote
So, it was in this context that my keynote presentation was made. I wanted to bring something of my educational philosophy to the table, along with my experiences of growing my presence, and business, in the field of bushcraft within the digital information age. The aims of my presentation were to encourage those serious about sharing knowledge of bushcraft, survival and traditional skills to be somewhat less protective of what they know, share more freely, increase the quality of online materials on these subjects, as well as help them grow their standing and businesses.
Watch My GBS Keynote Presentation
With the foregoing text being understood, then please enjoy the following video of my keynote presentation at the 2019 Global Bushcraft Symposium. I was able to capture only one static viewpoint of the stage but I have edited my slides into the presentation so they can be seen clearly. Even if you were at the GBS, you will likely be able to see my slides more clearly in the video below…
View the slides I used in my GBS presentation here on Slideshare.
Links and References
Bruce Zawalsky – Boreal Wilderness InstituteAndré-François Bourbeau's 2019 GBS KeynoteDave Wescott talking with Dale Kyselik: Why The Global Bushcraft SymposiumPeak Experience (Maslow)The Adventure Experience Paradigm (Priest)Dunning-Kruger effectYerkes–Dodson law1,000 True Fans (Kelly)The first collaboration video with Mike Pullen, TA OutdoorsThe second collaboration video with Mike Pullen, TA OutdoorsOnline Bushcraft Courses
Related Books
Related Material On Paul Kirtley's Blog…
PK Podcast 036: Mors Kochanski And Jon McArthur On The Global Bushcraft Symposium
Paul Kirtley Podcast 042: Mors Kochanski, Northern Bushcraft Legend
Real-World Expeditioning With Bushcraft Skills (2018 Bushcraft Show Main Stage Presentation)