Weirs, Waves & World Heritage: Adventure On The River Dee
Weirs, Waves & World Heritage: Adventure On The River Dee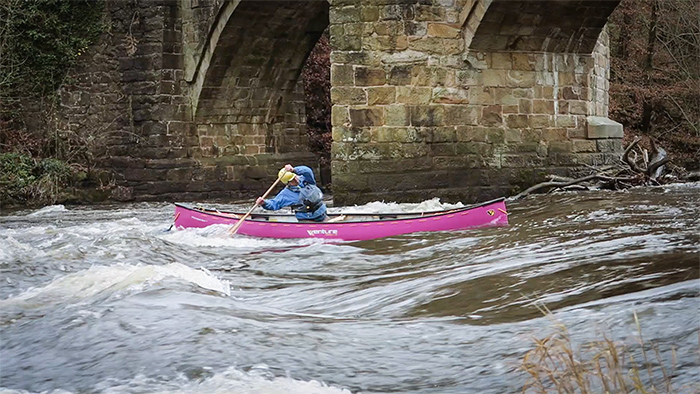 Winter in the UK is a good time to go paddling. This is puzzling to my Canadian friends. As their canoes are being put away for the winter freeze, we are just getting warmed up for our paddling season. More water and fewer access hassles make for good days out in the canoe. The days are short though. And a dry suit is a good investment.
Every year, usually in late November or early December, there is an open invite to the team from Frontier Bushcraft to head off for a long weekend of canoeing. We've worked together over the course of the year but this is purely recreational.
This year, we took a long weekend out to go canoeing in various spots in North Wales. My good friend and paddling partner Ray Goodwin lives here and it's a good chance for us all to go canoeing together.
On the second day we hit the 16m (10 mile) section of the River Dee from Llangollen to Overton Bridge, a stretch which contains some nice white water, a great surf waves and some weirs that command respect. This section is crossed by the famous Pontcysyllte aquaduct, a World Heritage site.
A varied route, some interesting features and finishing in the dusk, this day trip made the perfect December microadventure by canoe.
Ray's highlight of the day was surfing his canoe on a great play wave. You can see this and more in my video blog below…
Related Material On Paul Kirtley's Blog:
A Trail Of Destruction: Canoeing The River Greta After The Floods…
White Water Safety & Rescue Training Provides Useful Survival Skills
PK Podcast 013: Ray Goodwin On Continually Evolving Adventures By Canoe
Switching Out Of An Expedition Mindset: Two Days Of Paddling At The English Canoe Symposium
Canoeing The River Spey With Kevin Callan, Ray Goodwin and Justine Curgenven
The following two tabs change content below.
Paul Kirtley is an award-winning professional bushcraft instructor, qualified canoe leader and mountain leader. He is passionate about nature and wilderness travel. In addition to writing this blog Paul owns and runs
Frontier Bushcraft
, a wilderness bushcraft school, offering bushcraft courses and wilderness expeditions.