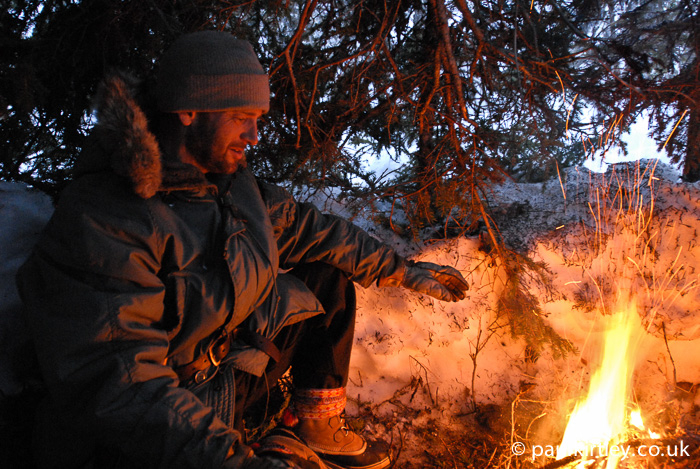 An Emergency Winter Survival Shelter For The Forest
An Emergency Winter Survival Shelter For The Forest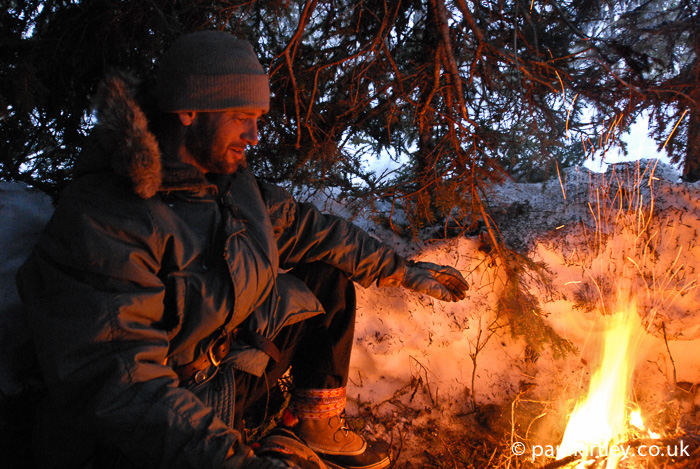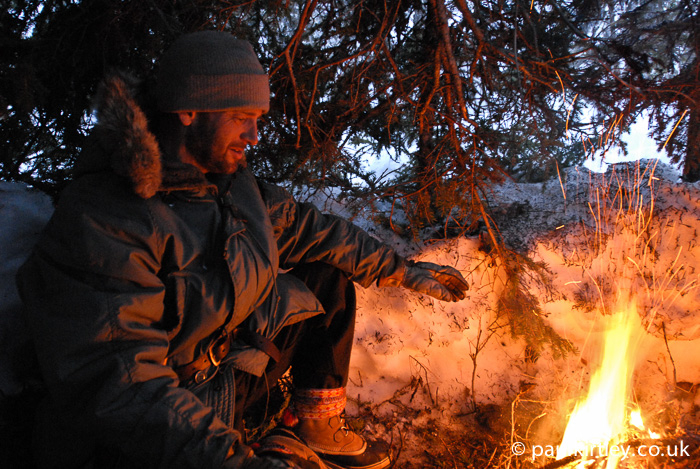 When snow falls in the forest, you have multiple winter shelter designs to choose from. One of the classic northern forest shelters is a lean-to with a raised bed and a large long-log fire in front to keep you warm through the coldest of nights.
I've written about the classic northern forest lean-to shelter design before, along with my experience of using it to sleep out at minus 20 to minus 30 celsius. It's a remarkable way to spend the night in the winter forest.
With snow on the ground, not only do you have the usual woodland shelter-building materials such as branches and boughs at your disposal, you also have the snow itself. The classic winter snow shelter of the forest is the quinzhee, also spelled quinzee or quinze.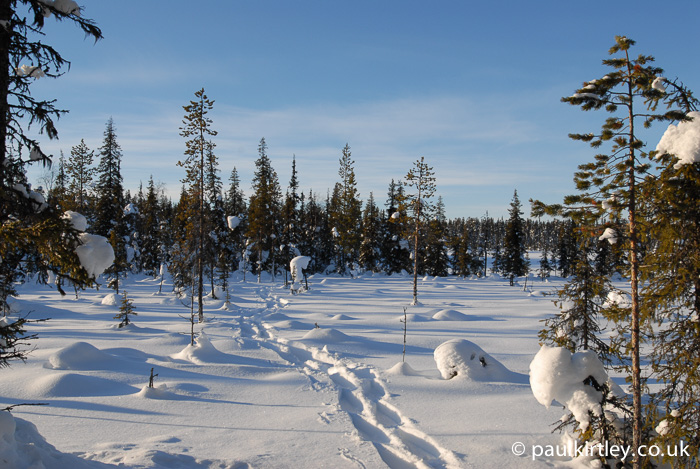 The Problem With The Classic Winter Survival Shelters
Lean-tos and qunizhees are highly effective classic shelters of the winter bushcraft and capable of protecting you from the harsh temperatures of long, dark, cold winter nights.
There is a problem though. Both types of shelter – the qunizhee and the lean-to – require some know-how as well as tools in order to build them in a reasonable time. Even with the right tools and some experience of building them before, each shelter will take multiple hours until it is ready to occupy.
What if you need to create a winter survival shelter relatively quickly? What if you don't have an axe or a snow-shovel with you?
An Emergency Winter Survival Shelter Solution
Spruce trees are very well adapted to cold conditions. Their resin acts as like an anti-freeze, allowing them to keep green foliage year-round, even in arctic forests. They have a steep rocket-like, cone shape, which helps them shed heavy snow.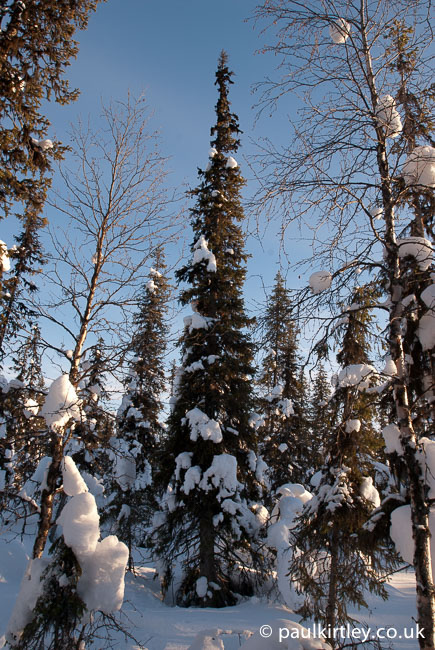 The result of having thick layers of greenery which sheds much of the snow is much less snow directly underneath, in the shadow of the tree, than in the surrounding forest.
Add to this the tendency of branches to grow low down to the ground and you have the beginnings of a ready-made shelter under many spruces.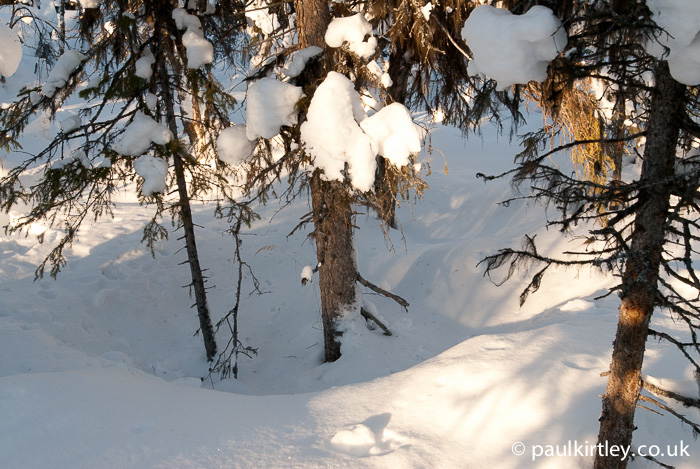 If the foliage is dense, sometimes you can just push your way into the middle of a tree and shelter there. In this case, though, it's possible you'll need to remove a few low branches inside in order to make a bit more room. A pruning saw is handy for this but even the saw on a Swiss army knife or multi-tool would be sufficient to efficiently saw off these small-diameter branches. If you need to, excess snow can be scooped out with your gloved hands or the foam back insert from a day pack.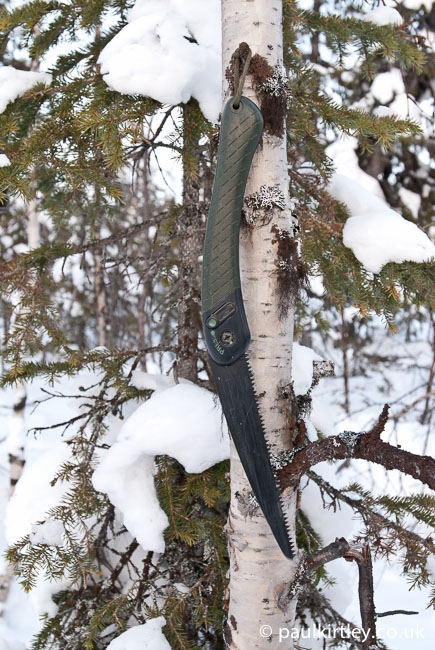 Once you crawl inside, you are effectively sitting inside a teepee shaped shelter, created largely by the tree. It will be somewhat sheltered from drafts as the depth of snow surrounding the tree will be greater than the depth under the tree. You will effectively be sitting in a snow hollow created by the shadow of the tree.
It's not worth traipsing around for a long time trying to find the perfect tree. In many cases, you can very quickly find a reasonably good tree as a starting point then improve it.
You can easily add to what is already there by removing low hanging tree boughs from nearby trees and adding them to your chosen shelter tree. You do this by laying the branches in such a way as if they were hanging down from the tree itself, again creating that familiar conical teepee shape.
Again a small folding saw of some description improves efficiency but as before if you do not have a Laplander or similar pruning saw, the saw on a Swiss army knife or Multi-tool will do the job here as well.
If you thatch your shelter tightly enough, then you can even pile on snow to create more of a wind break. Piling up the snow might be the priority in some situations. In others it may not. If you plan to have a fire inside – see below – then you'll need some ventilation.
Again, scoop out as much as you can of what snow there is under the tree. Whether you find a perfect shelter tree or have to create it, you don't want to be sitting on the snow or the frozen ground. You will lose a lot of heat through conduction plus melt snow, introducing moisture into your clothing.
Much better to put down an insulating layer of spruce boughs to sit on. If your spruce tree shelter is large enough, you can even make a spruce bough bed. Remember to put down boughs on which you can place your feet too. Otherwise they can get very cold by losing heat via conduction through the soles of your boots into the ground.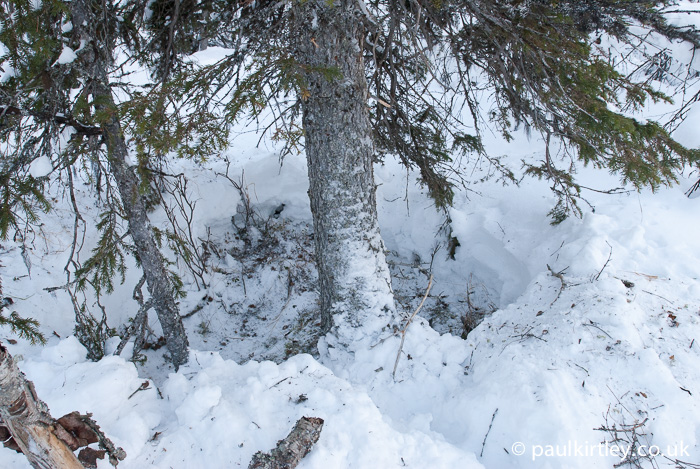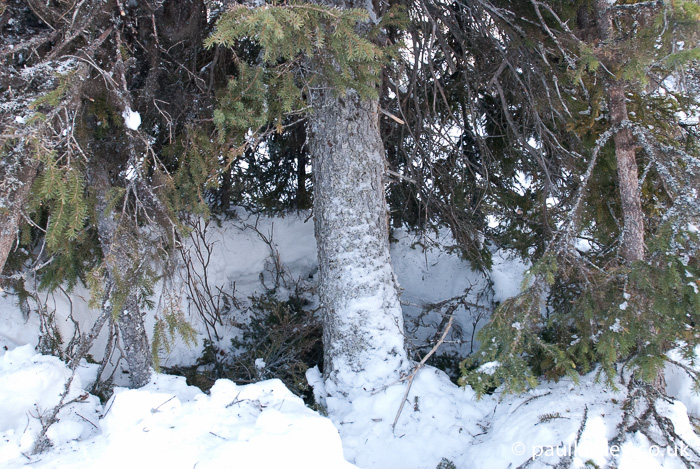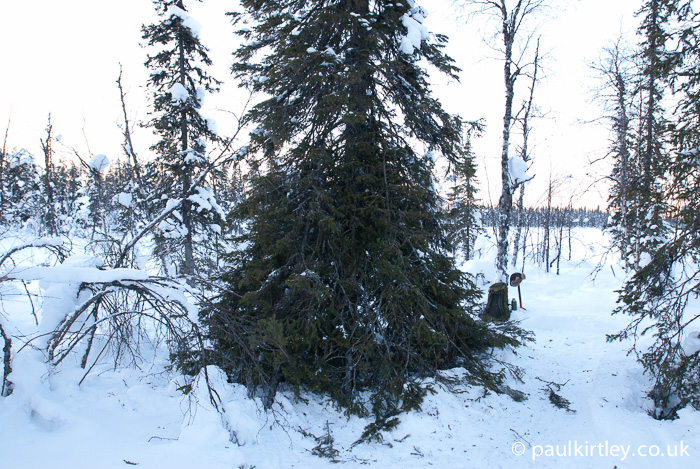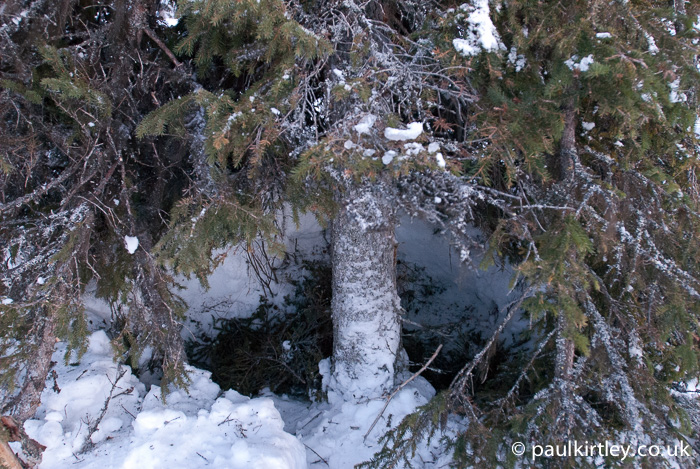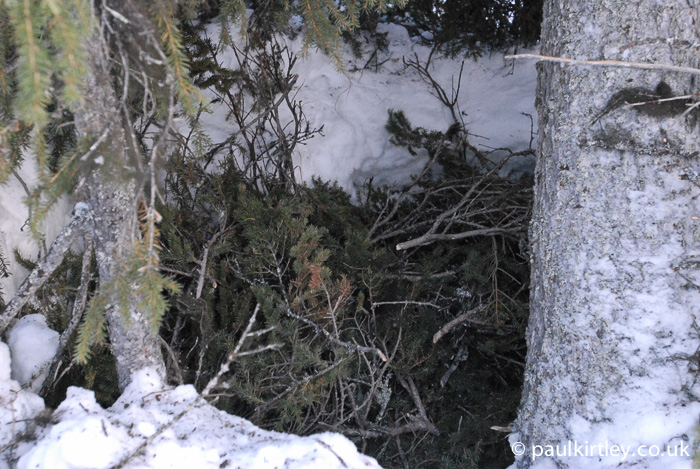 Adding A Fire To Your Emergency Spruce Tree Shelter
If there is enough room in your shelter, then it is feasible to have a small fire in the shelter too. This can raise your spirits as well as help keep you warm. You can also melt snow for a drink. Be careful, however, not to melt snow into your clothing. Prevent this by brushing off snow from your clothing as much as possible.
Fire inside this type of shelter can be hazardous if it becomes too large. Green spruce foliage is easily dried out and becomes increasingly flammable as it does so. The resin inside also makes it highly flammable. Smoke can also be an issue, particularly if the shelter does not have sufficient ventilation or if you are burning damp or green wood. Carbon monoxide could, in extremis, be an issue if you managed to create an almost airtight shelter (unlikely with this open weave spruce bough construction, unless you managed to cover the shelter completely with snow).
When you collect green boughs from other trees, there will likely be some dead branches at the base of the trees too. These can be collected and set aside for kindling and larger fuel. Make sure you have collected plenty of firewood so you can keep a fire going for some time. That way, you don't have to keep leaving the shelter for more fuel. Stack what you can in the shelter and leave another stack just outside if you need to.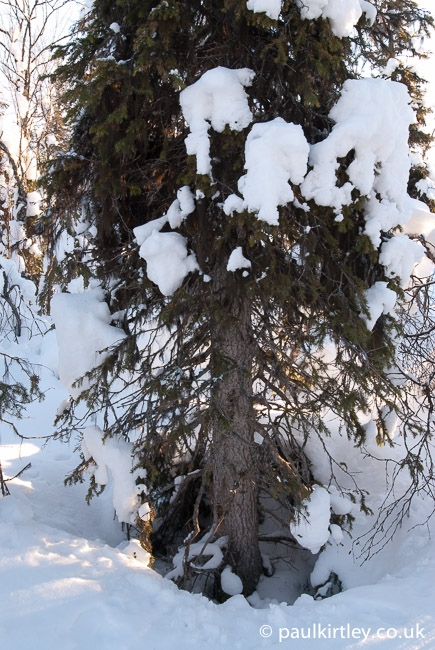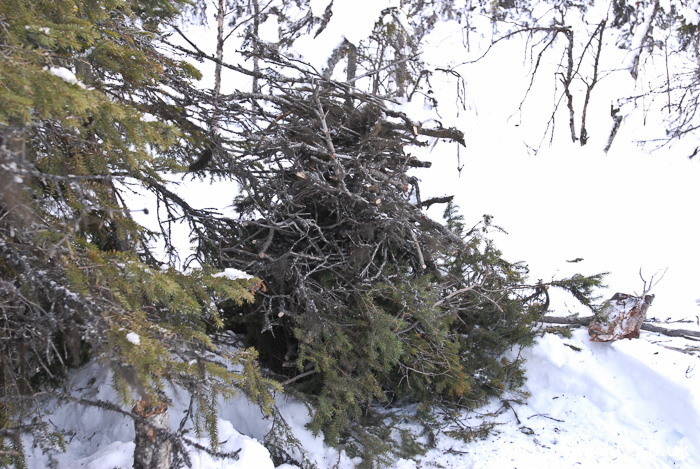 You may be thinking about the fact that when you are sitting in this type of winter shelter, you are sitting down in a dip, below the surface of the snow. You may be wondering if this means cold air will pool in the shelter with you. To an extent this is true, although it is somewhat alleviated by the car-port effect of having a roof over you, stopping cold air descending straight down on top of you.
That said, you would do well to avoid using a tree that is growing in a local low point such as a gully or a dip. Better to choose a raised spot, as long as it is not too exposed to the wind. The shelter in the photos was built several metres away from the bank of a river which flowed a couple of metres below the level of the ground on which the shelter was built. This ensured the coldest air locally would not be in the shelter but down on the river.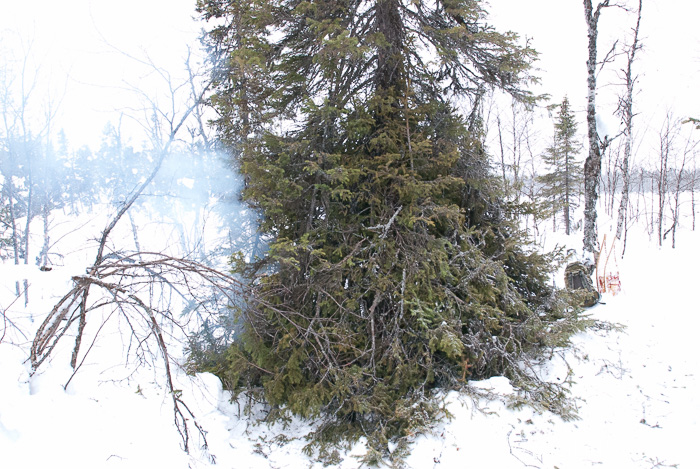 The shelter on its own is noticeably, well, sheltered. You feel protected inside. Sitting on a thick bed of spruce boughs is comfortable and pleasant. Once you light a small fire inside, you really feel the warmth – more so than an equivalent sized fire out in the open. Something of a convection current is set up inside the shelter and you get the benefit of some recirculating warm air as well as direct radiant heat from the fire.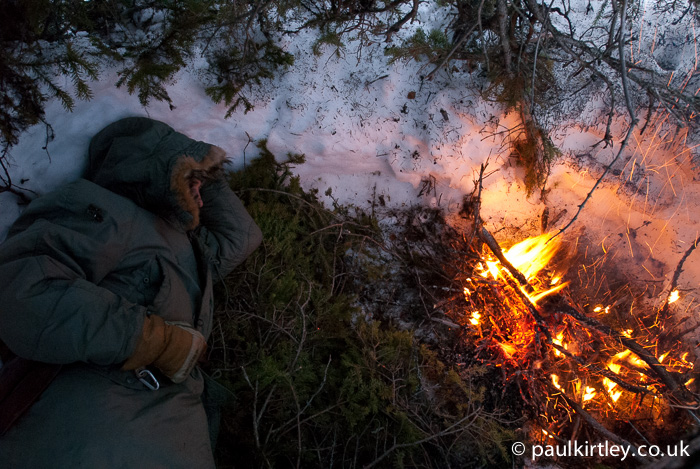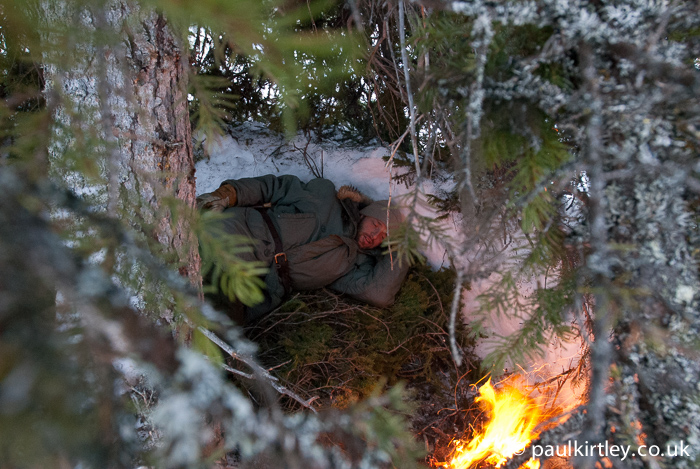 This design of winter shelter is appropriate to meeting the need of building something relatively quickly. It's good for spending time resting up or sitting out bad weather. In more extreme situations, they make a passable overnight shelter without too much work or the need for an axe or a snow shovel. If you have sleeping kit, they make a good place to bivvy and then you don't necessarily need the fire.
Down out of the wind, on a bed of spruce boughs and benefiting from a fire and a roof over your head, this spruce tree winter survival shelter is effective and relatively fast to construct.
Related Material On Paul Kirtley's Blog:
Surviving A Winter's Night in the Northern Forest: How To Build An Arctic Lean-To