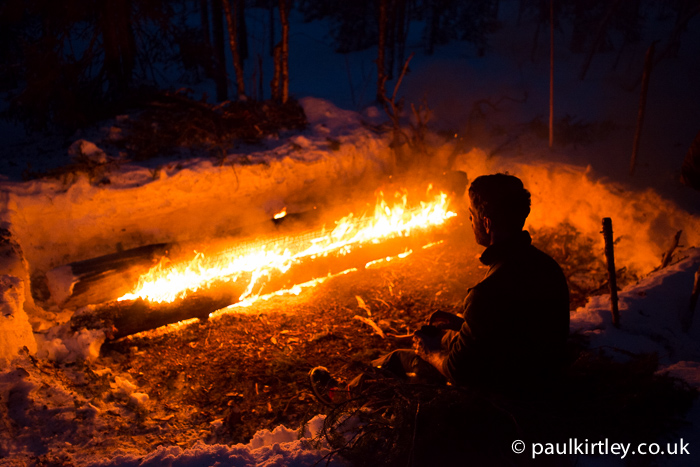 As Thick As A Capercaillie: How To Build A Long Log Fire
As Thick As A Capercaillie: How To Build A Long Log Fire
I have in the past written about the value of a long-log fire in the context of articles detailing the building of a lean-to shelter and later, the renovation of a previously used shelter.
This has prompted readers to ask questions about the long-log fire itself, how it should be built, how it should be established.
First Things First
Get the right firewood.
When I worked with Lars Fält he used to say there was an old saying that, "logs as thick as a capercaillie will keep you warm all night".
I don't know the source of the old adage. Knowing Lars's sense of humour, I half suspect he may have made it up himself.
But that doesn't really matter. I can attest to the fact that this adage, however old or new it is, relates the truth.
The capercaillie is quite a big bird. This translates to chunky logs and the need to fell dead, standing trees.
As I mentioned in Podcast Episode 6, the key tools you should carry in a winter forest environment are an axe and a snow shovel.
Learn more about choosing an axe for winter camping and travel
Learn more about choosing a snow shovel for winter camping and travel
Both come into their own in preparing a long log fire – the axe for felling the fuel and the shovel for digging the pit in which the fire will sit.
It's not just the size of fuel you need to get right, it's the condition. I'll reiterate – it has to be dead and standing. It should be well seasoned and still be solid, not rotten.
Well seasoned pine will burn very well. The best will have a concentration of resin that will make it both ignite and burn with ease.
Recently, after lighting a telegraph pole thickness pine log with birch bark and wood chippings, a friend of mine expressed surprise it worked. He was right to be surprised of course. In most situations good firelighting emphasises starting with small fuel then working up through progressively larger fuel until you have a fire the size you want.
In the case of a long-log fire this approach is still prudent, of course, particularly if you are in dire need of its warmth.
Lay The Foundations
With a lean-to shelter, your fire should be a step away from the shelter. You should create sufficient space for the logs in front of the shelter.
In other situations, you should create a pit large enough for the fire and for moving around in the area, as well as perhaps a sleeping area directly in front of the fire. You do not want to be walking around in deep snow then steeping in front of a hot fire. You'll just melt snow into your clothing and footwear. Better to have more room to move around without having to step into deep snow.
Pre-planning always pays dividends. Any shelter should be built on a suitable site that is close to both raw materials for the shelter as well as fuel for the fire.
With a long-log fire in particular, you want the site of the fire as close to the source fuel as possible. A 7-8ft (approx 2.5 metre) log, 12 inches (30 cm) in diameter is hard to move, especially on snow. You should take great care with protecting your back at all times.
Hence, if you can fell a tree, section it and pretty much roll the logs straight into a pit you have dug right next to it, then all the better.
The classic emergency long-log fire uses three logs. It burns more strongly than the two-log fire, which I discuss in Podcast 6.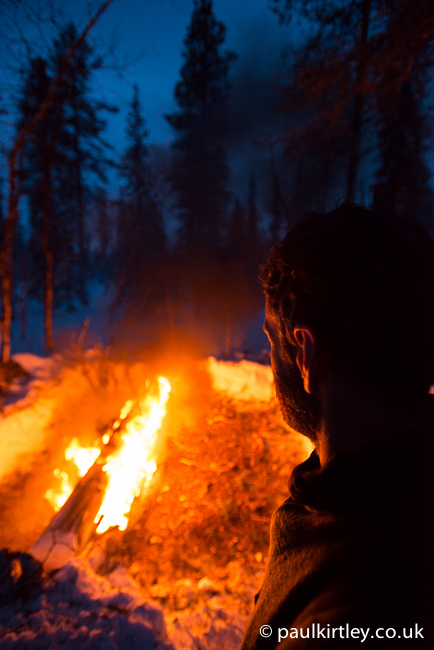 With the three-log fire, the largest diameter log goes on top. This is the log from the base of the tree. The other two logs form the base of the triangle.
But the top log is not placed in direct contact with the two supporting logs. You need to create some space.
You do this with some braces of green wood arranged in an X shape between the base logs. These are placed towards the ends of the base logs so there is an uninterrupted space in between the logs for most of their length. These green X-stays should be a couple of inches (5cm) in diameter. And I repeat, they should be of green wood as you do not want them to burn through too soon. I generally use birch, which holds a lot of water.
Establishing The Fire
Once you have your base logs and stays in place, your are ready to light the fire. This you do in the regular fashion, with small sticks (as described here) or with feathersticks.
Build the fire up in between the two base logs. Once it is established, work to spread it laterally so that you have a longer fire in between the base logs. Some extra fuel will be needed for this. Plus it can be useful to have a long stick to use to rake and prod the fire into the shape you want.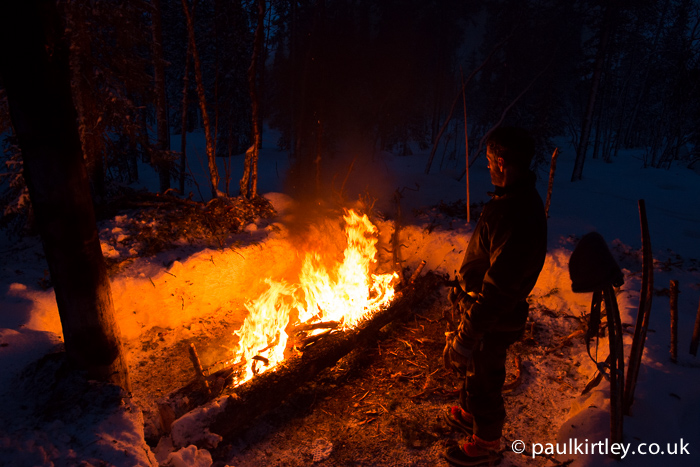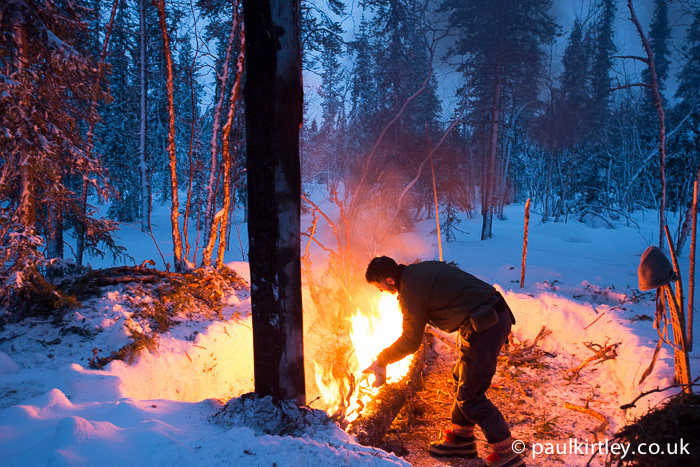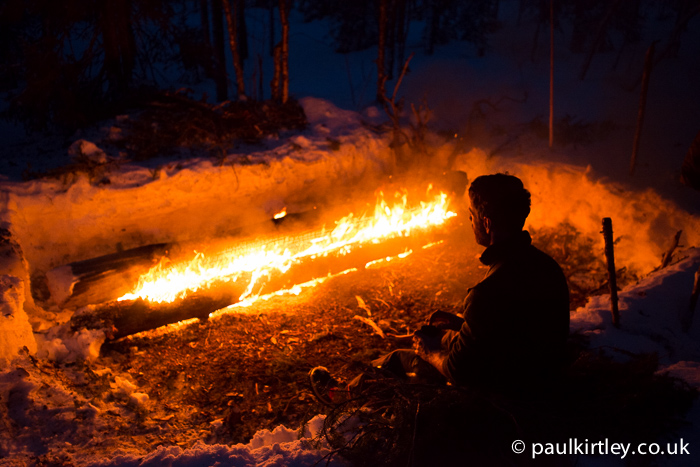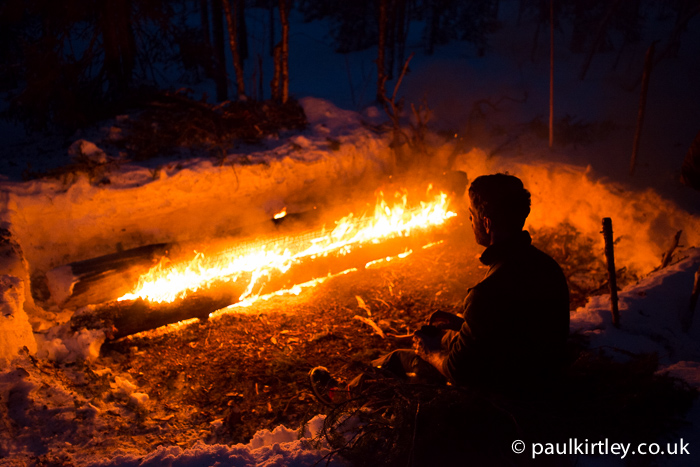 Remember, you will probably have a reasonable amount of smaller fuel from the branches of the tree you felled.
Once you have a fire going pretty much along the length the the base logs, almost out to the X-stays at each end, then you can place the big log on top.
When that is in place, it should take easily as long as a) you have chosen your main fuel well and b) the fire underneath is sufficiently well established.
And as long as the top log is as thick as a capercaille, then it should keep you warm all night…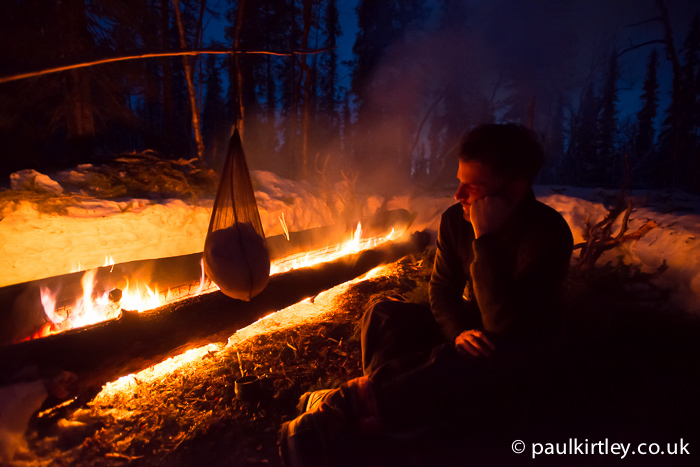 As a final note – just in case it's not obvious to all readers – this type of fire should be used sparingly and only where there are many dead standing trees available, as they form important habitats for insect life as well as feeding and nesting opportunities for some birds. A long log fire burns a huge amount of fuel and gives off a lot of heat. Localised damage to forest floor soil and vegetation is unavoidable. It is certainly not something for regular use but it is valuable to have in your arsenal of cold weather techniques in case you should ever need it and I hope this article helps explain how such a fire can be established.
Related Material On Paul Kirtley's Blog:
Tree Felling For Winter Firewood: Axe And Saw
Northern Firelighting Fundamentals: Pulling It All Together