Approaching Apiaceae: A Practical Example Of Carrot Capture
Approaching Apiaceae: A Practical Example Of Carrot Capture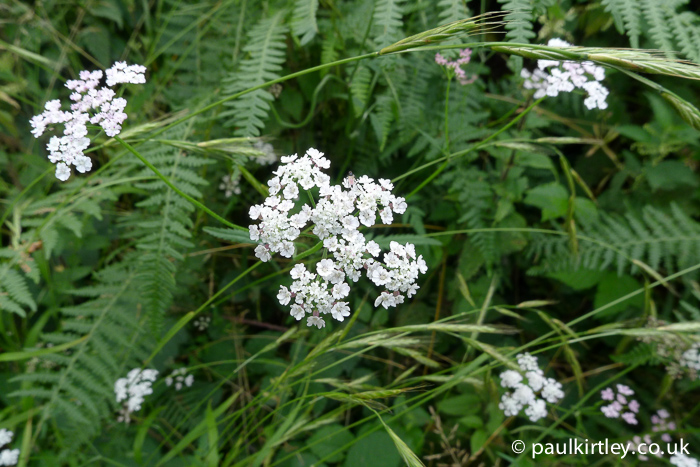 These days we all have a camera in our pocket.  Most of the time we carry a smart phone.
Increasingly we use our phones to make notes for later.  It's very easy to take a photo of text in a museum or take photos of something we see out and about, to act later as memory joggers. 
It's not necessarily anything to do with the art of photography.  It's memory extension, brain augmentation.
We can consistently capture detail and colour more accurately than our brain can render from memory.
This is useful for identifying unfamiliar trees or plants you see.   When you get home you can open up a plant ID book or start to look online.
With some plants, you only need to capture one key feature or to capture the general character of the species to be able to single it out.
With others, you really need to capture more.   
With the carrot family, this is certainly the case.  The carrot family, Apiaceae, is in some ways notorious. 
This family contains poisonous species such as hemlock, Conium maculatum, hemlock water-dropwort, Oenanthe crocata, cowbane, Cicuta virosa, fool's parsley, Aethusa cynapium, and rough chervil, Chaerophyllum temulentum, not to mention the skin-blistering giant hogweed, Heracleum mantegazzianum.  
The carrot family – previously known as the Umbelliferae and still often referred to as the umbellifers – contains many species cultivated for food and found in your local food store.  Examples include carrots, parsnips, celery, celeriac, fennel, flat leaf parsley, coriander, dill, caraway and cumin.
The family also contains wild edibles such as pignut, Conopodium majus, wild carrot, Daucus carota, wild fennel, Foeniculum vulgare, wild angelica, Angelica sylvestris, hogweed, Heracleum sphondylium, sweet cicely, Myrrhis odorata, alexanders, Smyrnium olustratum, scots lovage, Ligusticum scoticum and cow parsley, Anthriscus sylvestris to name but a few.
As mentioned in a previous article on this site, "What makes the Apiaceae particularly tricky is that the edible species often share many similarities with their highly poisonous relatives, notably white flowers clustered into umbels, pinnately divided leaf structures and tapered, tuberous roots typified by parsnips."
So what details should be considered so you stand a chance of identifying the species?
While you don't need a photograph for every single question or observation below, these are the details you are going to have to capture or record in order to identify Apiaceae species and which will be detailed in any good ID guide.
Apiaceae: Quesitons To Ask, Details To Capture
These are the questions you should be asking and the facts you should be recording.  Many of them can be captured in a single photograph.
General
In what type of habitat is the plant growing? Woods, wayside, field margin, river bank? Shaded or in full sun? Wet or dry ground?  In water?
What time of year is it?
How tall is the plant?
Does it have a distinctive smell when crushed?
Stem
Is the main stem thin and spindly or broad and robust looking?
Is the stem ridged or smooth?
Is the stem hairy or smooth?
Does the stem have a noticeable white/bluey-white bloom, which is easily rubbed off?
How would you describe the hairs?
Is the stem hollow or solid? (NB take care as you'll need to cut/break the stem to determine this and some have irritant sap).
Is the stem purple or does it have have purple blotches?
Are the nodes where the stem splits into two swollen at all?
Leaves
Are there different size or shape leaves at the base of the stem to leaves part way up the stem?
What shade of green are the leaves?
Are the leaves a different shade on top to underneath?
Are the leaves solid or divided/subdivided?
If the leaves are divided, do they look like flat-leaved parsley or coriander?
Do the leaves look frilly or lacy?
Do the leaves have teeth or serrations on their margins?
Are the leaves hairy on top?
Are the leaves hairy underneath?
Are the leaves shiny or matt?
What's the overall shape of the leaves?  Triangluar? Lance-shaped?
Are there sheaths at the base of the leaf stems?
Flower Heads
Members of the family Apiaceae typically have flowers grouped together into umbels, the structure of which is formed by flower stalks, also referred to as rays, of roughly equal length, emanating from the top of a stalk or stem.  These point out in different, broadly upwards, directions like the ribs of an umbrella to form the flower head or, inflorescence.
While this type of inflorescence is characteristic of the majority of the family, there a differences which allow identification.
Is the umbel at the top of a stem or opposite a leaf?
How many rays are there?
Is there a gap between one cluster of flowers at the end of a ray and the next or are they all matted together?
What's the overall impression of the colour of the flowers? Yellow? Pure white? Creamy? White with a pinkish tinge? 
Are any individual flowers a different colour to the rest (for example purple as opposed to mostly white). 
How would you describe the overall character of the flower head?   Flat? Rounded? Hemispherical?
Seeds
If there are seeds visible, are they….
Elongated, like a grain of rice?
Egg-shaped?
Flattened?
Smooth?
Ribbed?
Pointy?
With needle-like extensions?
Hairy/hooked?
Improve Your Tree and Plant Identification Skills
Would you like to improve your ability to identify useful trees and plants? I offer an online tree and plant identification course, which flows through the seasons. Find out more about the next available course by clicking the following link: Paul Kirtley's Tree and Plant Identification Masterclass
Practical Example Case Study: Torillis japonica
On a recent walk in the north of England I came across an overgrown area which contained various Apiaceae. It was near to an old orchard, sheltered but not in direct shade. The most prevalent member of the carrot family was hogweed, Heracleum sphondylium, which had all gone to seed. There was another Apiaceae family member here, however, some examples of which were still in flower. Others were more advanced, with seeds clearly visible on the remains of the umbels. This was a great opportunity to capture all the relevant details in one place and share them with you here as an example of the useful ID features…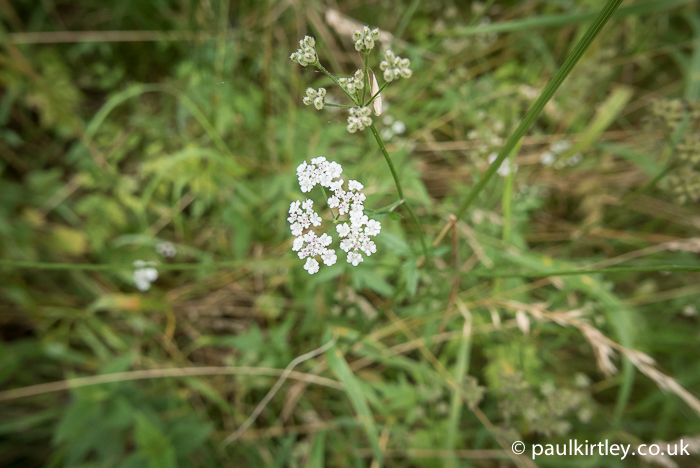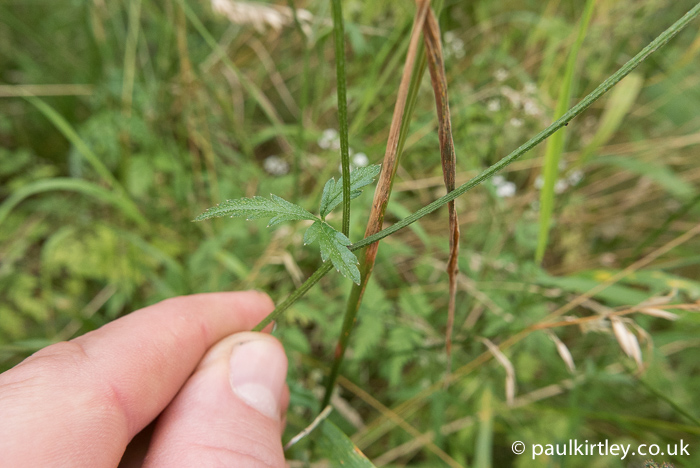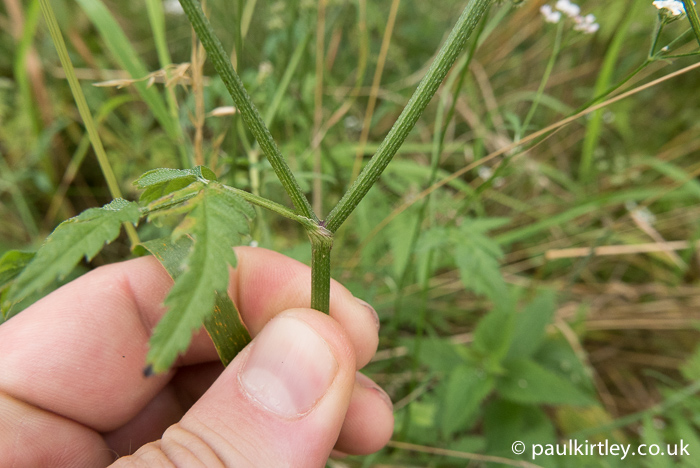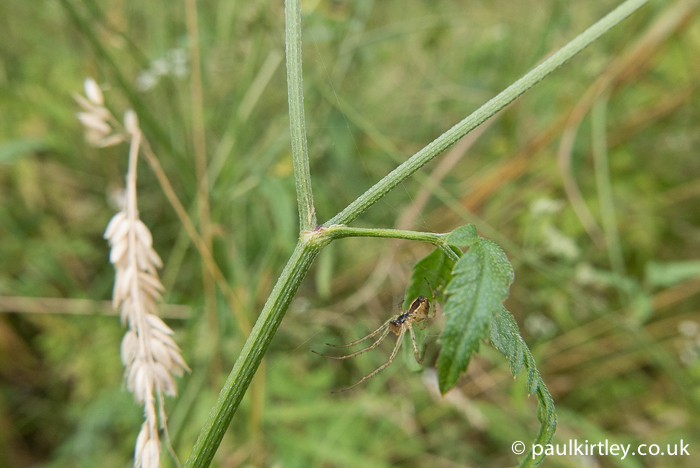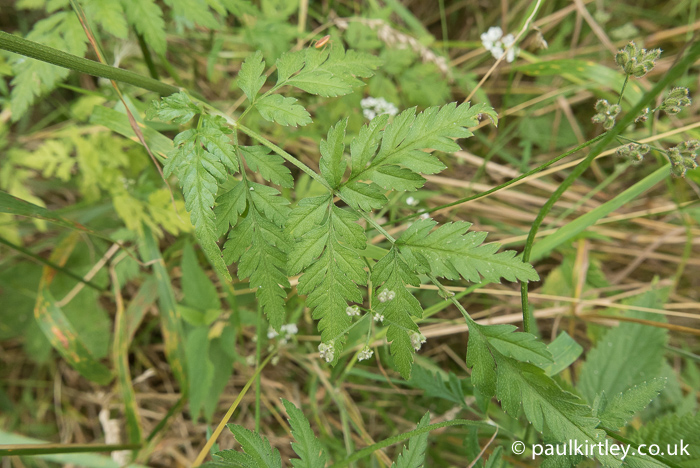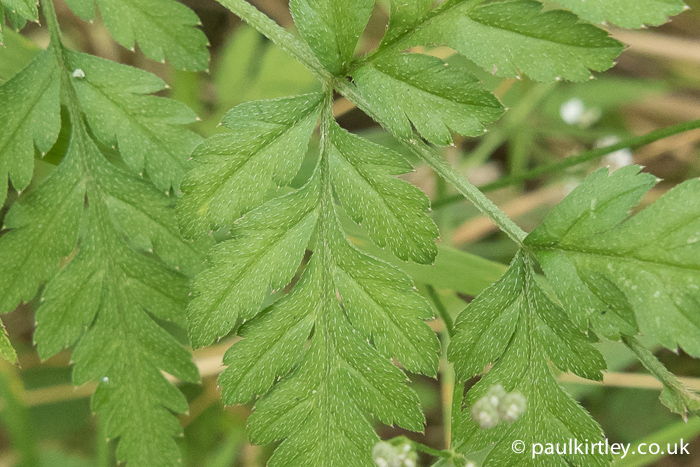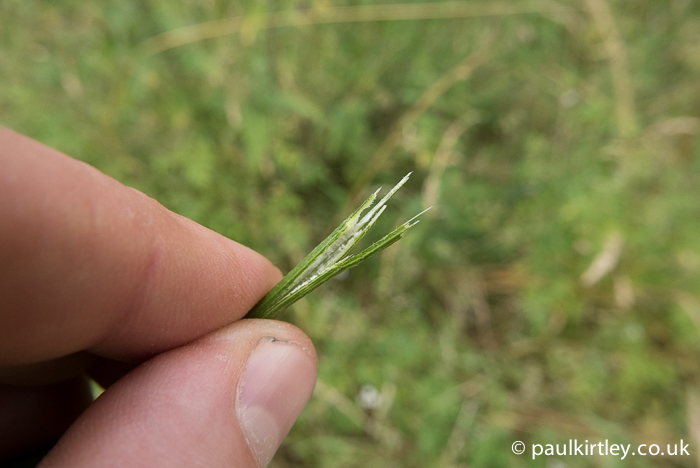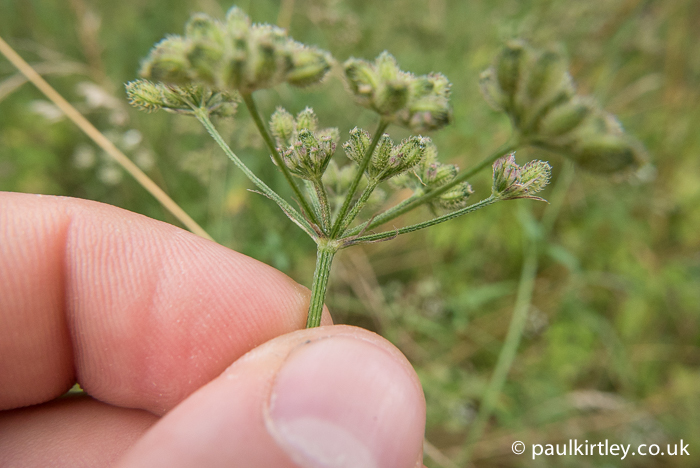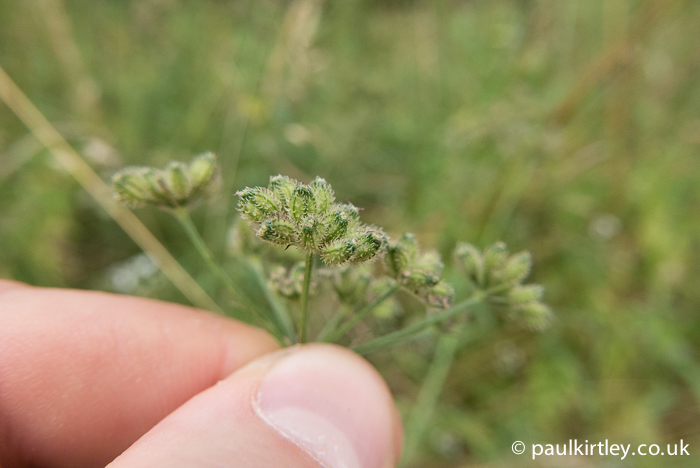 All of the above features lead to an identification of the plant as Torillis japonica, commonly known as upright hedge-parsley.
This species is really quite common, one of the most common white-flowering roadside umbellifers in the UK. Yet many people have never heard of it. I get the impression many lump it together with cow parsley, Anthriscus sylvestris, in their minds, even though they flower at different times of the year.
Let me know in the comments which common members of this family you are happy to identify. Or, if you are really wary of this family, let me know in the comments too. There's no judgement here; it's all about sharing knowledge. I'm constantly trying to gauge what would be useful to you and other readers. Let me know if you'd like to see more about this family…
Plants, The Law and Conservation
You should know the law with respect to picking wild plants and respect people's private property.
Please read the BSBI's Code of Conduct for the Conservation and Enjoyment of Wild Plants for guidance on best practice.
A Little Disclaimer
This article is not a complete treatment of all edible plants that might be available. Nor does it provide a complete treatment of all poisonous plants that may also be present in the habitat where you find the above-mentioned plants. If you want to learn more about plant identification you should invest in some good field guides. The safest way to learn about edible wild plants is for someone who already has the knowledge to show you in person. Any foraging you do on your own is at your own risk.
The most important thing to remember when identifying wild foods is:
IF IN DOUBT, LEAVE IT OUT!
Recommended Field Guides
Some good field guides are as follows. These are the ones I use most often:
You Might Also Like The Following Books
What To Read Next? Related Articles on Paul Kirtley's Blog:
Careful With Your Carrots: A Case In Point
Conopodium majus: Pignuts and How to Forage for them