#AskPaulKirtley Episode 20: Ember Extenders, Natural Soaps, Safe Combinations Of Wild Edibles, Tapping For Sap, My Woodlore Instructor Knife & Waterproofs On A Budget
#AskPaulKirtley Episode 20: Ember Extenders, Natural Soaps, Safe Combinations Of Wild Edibles, Tapping For Sap, My Woodlore Instructor Knife & Waterproofs On A Budget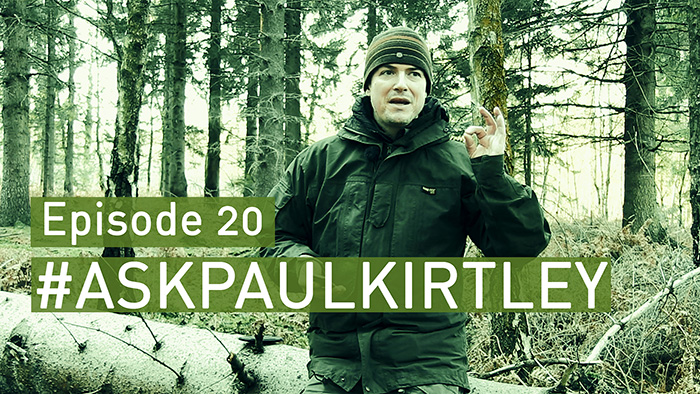 In this episode of #AskPaulKirtley I answer questions about cramp balls as ember extenders, natural soaps, tapping trees for sap (other than birch), have I still got my Woodlore instructor knife, are combinations of wild edibles always safe and waterproof jackets on a budget.
What Is #AskPaulKirtley?
#AskPaulKirtley is my Q&A video and podcast series that aims to answer your questions about bushcraft, survival skills and outdoor life.
The idea here is partly to take the strain off my email inbox and get answers out to people in a more timely fashion.
Rather than send an answer to just that one person, I'd like others to benefit from the answers too. So, just in the same way I'd previously write an email answer, here I'm going to speak the answer (which is much quicker than me typing out an answer, so I'll get more questions answered as well as benefiting more people).
Click here to find out the different ways you can ask me a question.
Watch #AskPaulKirtley
Click on the four arrows bottom right for full screen view. This video is available in full HD. Click on "HD" to choose the quality level you want to stream.
#AskPaulKirtley videos are also available to view on my YouTube channel.
Listen To #AskPaulKirtley
Use the following Soundcloud controls to listen to the audio podcast right here or download the .mp3 to your device…
Links For This Episode of #AskPaulKirtley
Camp Shaky's 102 Mile Fundraising Walk Giving Page
Winter Woodland Wildcamping: 21 Tips & Tricks
bit.ly/idmasterclass
Coprinus on Wikipedia
Elis James and John Robins Podcast
John Robins on Twitter: @nomadicrevery
Tapping Maple vs Walnut (short video)
Frontier Bushcraft Courses
Snowsled Ltd (NB jackets now only available second hand)
Snugpak Ventile
Buffalo Systems
Paramo Clothing
Tree & Plant Identification Masterclass
Natural Soaps Mentioned In This Episode:
Horse chestnut, Aesculus hippocastanum
Common chickweed, Stellaria media
Silver birch, Betula pendula
Paper birch, Betula papyrifera
Sweet Chestnut, Castanea sativa
Soapwort, Saponaria officinalis
Red Campion, Silene dioica
How To Watch #AskPaulKirtley On Other Platforms
The videos will be uploaded to my YouTube channel and embedded in the Facebook Page associated with this blog as well as embedded here on my blog.
How To Listen To #AskPaulKirtley On Other Platforms
Podcast RSS Feed: You can subscribe via the #AskPaulKirtley Podcast RSS Feed
iTunes: You can subscribe to #AskPaulKirtley via iTunes
Soundcloud: Follow me on here on Soundcloud
Leave A Comment…
Leave me a comment below. Let me know what you think of this episode. I read every one.
But remember if you want to ask a question for a future episode, don't do this in the comments below, do it in one of the ways explained HERE.
Related Material On Paul Kirtley's Blog:
Know Your Ash From Your Elbow: How To Identify An Ash Tree
How to Light a Campfire with One Match
Hypothermia and How To Avoid It