How To Cook Pancakes On A Campfire
How To Cook Pancakes On A Campfire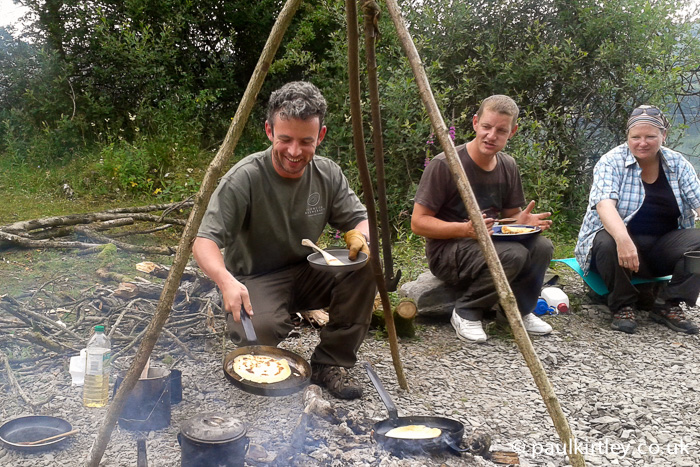 Pancakes on a campfire you say? Well if you want to cook pancakes on a campfire, you are in luck. I love pancakes and I love campfire cookery. I've spent a good amount of time experimenting with field expedient campfire cooking recipes and here's what works for cooking pancakes on a campfire…
First, let's take things back to basics.
To make pancakes you need three basic ingredients, eggs, flour and milk.
You also have the option of adding a little baking powder to raise the pancakes a little and make them a little more fluffy.
Some form of fat is needed for the pan at least.
Which brings us to utensils. A frying pan and a spatula are the main tools you need.
In camp I'll mix the pancake mix in a spare stainless steel cooking pot or billy can.
I don't usually carry a whisk. A serving spoon will suffice to mix the ingredients and beat the pancake batter.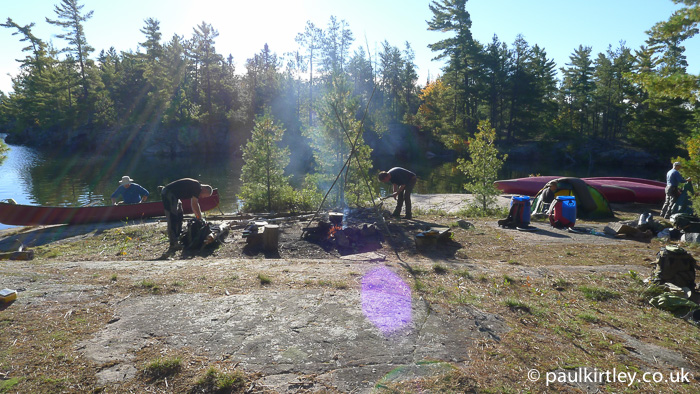 Pancakes – Extrapolating What We Do At Home
At home, we'd use fresh eggs and fresh milk to make our pancake mix.
If you are living in a fixed camp, or making a vehicle based trip, then you might have fresh eggs, at least to begin with.
Less likely is fresh milk. UHT milk stores for a good amount of time and can be used.
Otherwise, use powdered milk. You have two options with powdered milk, to mix the powder in with other dry ingredients before adding water, or to mix the milk powder with water then add this to the pancake mix.
I prefer the latter as it provides more control over the consistency. So mix the powdered milk as per the instructions on the packet or tub. See below for amounts.
If you can't carry fresh eggs, then you will have to resort to powdered eggs.
These work perfectly well and I always try to add them on canoe trips in Canada, where powdered egg is easy to come by, even in camping stores.
In other countries, powdered egg is a lot harder to find.
Pancakes – A Basic Recipe
Going back to basics my recipe for pancakes is as follows.
One egg per person.
One handful of plain flour per person.
Enough milk to create a mix which is the consistency of single cream.
OK, on the face of it, this pancake mix is a little vague.
But I'm preparing you for camping situations or expeditions here.
We don't take kitchen scales with us. In terms of measuring jugs, the nearest we'll probably have is a metal mug with a couple of volume measurements on the side.
The way we apply the basic pancake mix is to add the flour to the mixing container. Then crack the eggs into the flour. Mix with a spoon. This will make a solid dough.
Then start adding the milk, mixing as you go. Break the dough down with the spoon and start to beat the mix as it becomes thinner. There will be lumps. Squash these against the side of the mixing pot with the base of the spoon.
Some small lumps won't be a problem, but do your best to squish as many of them as possible.
Keep adding the milk until you have a batter the consistency of single cream. That's single cream, not double cream.
So, you see this basic recipe can be applied whether the base ingredients are fresh or all powdered.
Pancakes – Campfire Recipe
If you are using powdered egg and powdered milk, do the following.
Look at the powdered egg packet and work out how much powder is equivalent to one egg. Add this amount per person (i.e. one egg per person).
Add one handful of flour per person. Mix this dry mix of egg and flour before adding any liquid.
If you are going to add any baking powder (no more than a teaspoon per 6 people), mix this into the dry mix too (dry ingredients should always be mixed before adding liquid).
Mix the powdered milk with water in a separate container as per the instructions on the milk packet.
Stir in the milk to the egg-flour powder mix until it is the consistency of single cream.
Pancakes – The Butter Secret
You can use vegetable oil, oilive oil, coconut oil, butter, suet or lard to make pancakes. You need most of it for the pan, to stop the pancakes sticking as well as to add a little flavour. Personally while I love olive oil in general, it's my least favourite option for pancakes unless I'm making savoury pancakes.
Butter is by far the best tasting fat to use with pancakes to my palate.
You should melt some in the pan and drain off the excess into a metal container which you can keep near the fire to keep it liquid. I find the insert of a Zebra billy can ideal for this but there are of course many other options.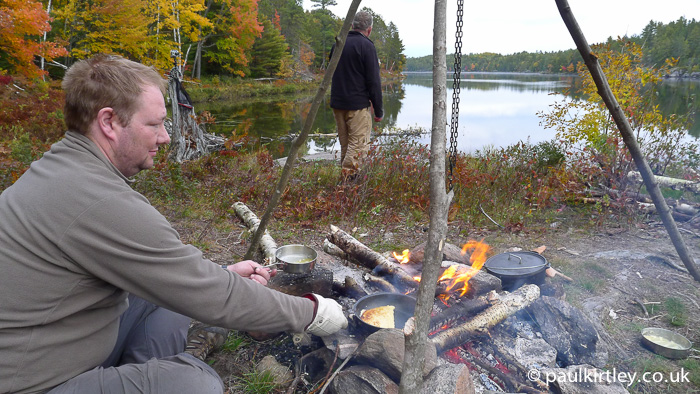 The secret to good campfire pancakes is to melt a good-sized knob of butter, then add it to the pancake batter before you start cooking any pancakes. Mix the liquid fat into the batter mix. I have Delia Smith to thank for this idea. It works particularly well on a campfire when using black iron pans, which we do on a regular basis as they are indestructible. On trips where we need a lighter-weight or more compact solution, we use the GSI Bugaboo frypan.
Pancakes – Campfire Cooking
It's easy to burn pancakes. You need a good bed of embers onto which you can place your pancake pan or a lick of flame but hold the pan further away.
I prefer using embers.
Add the pan to the heat. Add some butter and ensure the whole pan has a coating. Pour off the excess into the reservoir you are keeping warm.
Add a little batter – an eating spoon full for example – to make sure the pan is up to heat.
Once the small amount of batter has solidified, remove this and add a full pancake quota.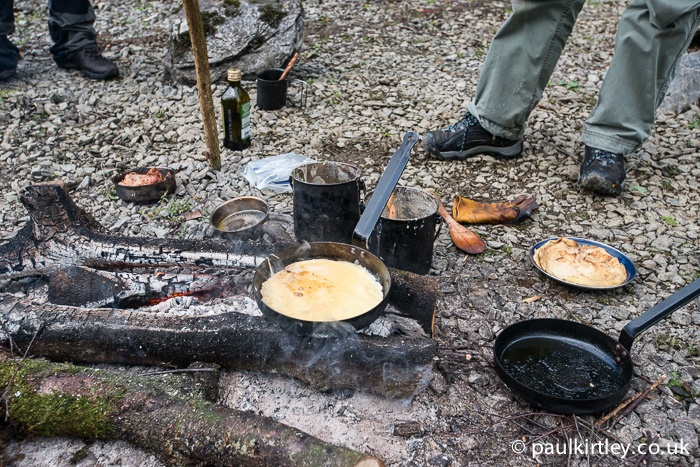 My measure for one person is a standard ladle full. This gives a decent pancake in a 10"/250mm fry pan.
You should get a couple of pancakes per person out of your standard mix.
Add this to a few rashers of bacon and some maple syrup, along with a mug of coffee, then you are well set for a day of activity.
Other great alternatives include adding some foraged blueberries or blaeberries.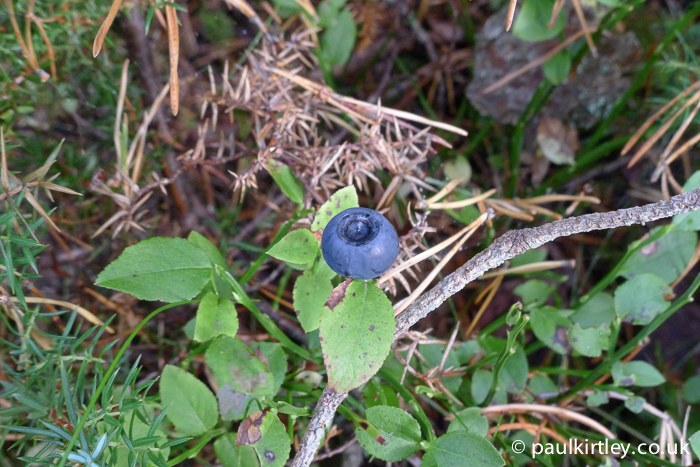 Pre-mixing Pancake Mix
You can certainly pre-mix the dry ingredients and bag them up ready to go for each breakfast. When you have a fixed menu, strict weight considerations or limited time in camp, this approach is ideal. Otherwise, flexibility of menu is also valuable.
Personally, on longer trips I prefer to carry dry ingredients separately. Flour, baking powder, suet and powdered eggs allow you to make everything from flat breads, through bannock, pan breads and pancakes. If possible within the parameters of the trip, I like the flexibility to make what we feel like eating in the field, rather than pre-determining the exact menu at home, before leaving.
Related Articles On Paul Kirtley's Blog
How To Make Garlic Pan Bread On A Campfire
Carving A Set Of Utensils For A Frost River Utensil Roll