Winter Woodland Wildcamping: 21 Tips & Tricks
Winter Woodland Wildcamping: 21 Tips & Tricks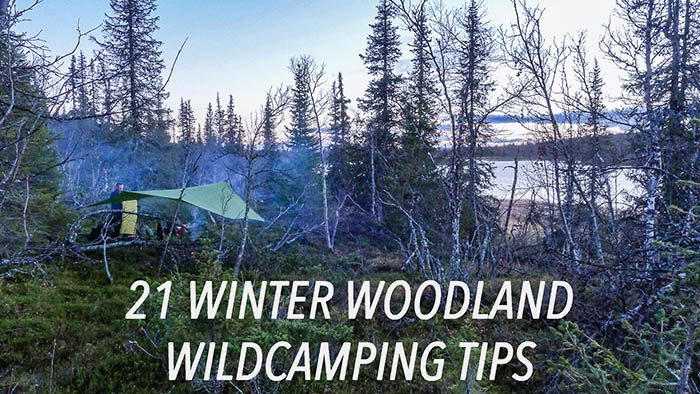 Wild camping in the woods during the winter months is something many would like to try but I get the impression some are discouraged by concerns over coping with the cold, especially bedding down for the night in freezing conditions.
Certainly, I'm often asked about camping, tarps and winter camping. But sometimes I feel that my answer to a specific question doesn't always get many more people out camping and bivvying in the winter woods. Perhaps a broader overview would be more confidence-building?
When there is snow on the ground or its a bit frosty, people have concerns such as "how do I sleep out in my normal bivvy set up?", "Do I need to put more clothes on in my normal sleeping bag?", "Do I need to have a fire?", "What sleeping bag rating do I need?", "Am I going to be OK sleeping on the ground in winter?", "Am I going to be cold sleeping in a hammock in winter?".
All of these questions and more can be going through people's heads and, frankly, they can deter people from winter wild camping.
Also, I'm not the only one who is being asked questions of this type…
A Winter Woodland Wildcamping Tips Video
Zed from Zed Outdoors contacted me, asking me to share some advice and tips for those who are starting out with wild camping in the woods in the winter months.
He had been asked several questions by subscribers to his YouTube channel and while he was happy to reply within the bounds of his own experience, one of the things I like about Zed is that he's very honest about where he is at with his own skills and experience. He has a lot of self-awareness in this respect. He doesn't over-extend or BS people. So, Zed asked me to chime in as well.
The video below is my response and can be viewed in conjunction with Zed's video (which I've linked to within the video).
The content of the video also dovetails nicely with some of the questions I've had in recent episodes of #AskPaulKirtley, in particular Episode 19.
This video on winter woodland wild camping is for anybody looking either to get into bushcraft and camping in tarps and bivvies at this stage in their lives but have little experience or for those who are used to being out in the summer months but want to progress to camping out in the colder months of the year. There's some great winter woodland wildcamping tips and tricks here for everyone.
In the video I share lots tips and tricks for winter camping in the woods which can be summarised as 21 Winter Woodland Wildcamping Tips.
You can download the list of 21 tips via this link BUT please watch the winter wildcamping video above for detail and context.
All of the points made are based on experience of camping in cold climates and cold seasons. They'll serve you well as a guide to winter camping in temperate zones in the colder months of the year.
That said, there is a good amount of additional winter camping, winter skills as well as general bushcraft and wilderness skills articles, videos and podcasts on this site, which will add to your cold camping knowledge.
I've listed out some links below to other items on this blog, which will get you started with the relevant related material.
Related Winter Camping Skills Material On Paul Kirtley's Blog:
How To Light A Campfire With One Match
Lighting A Fire With Feathersticks
Staying Warm Outdoors: Avoid The Four Horsemen Of Heat-Loss
Cold Injuries: Take Care In The Blue Zone