The Value Of Using Wilderness Skills Closer To Home: Bushcraft Show 2016 Presentation
The Value Of Using Wilderness Skills Closer To Home: Bushcraft Show 2016 Presentation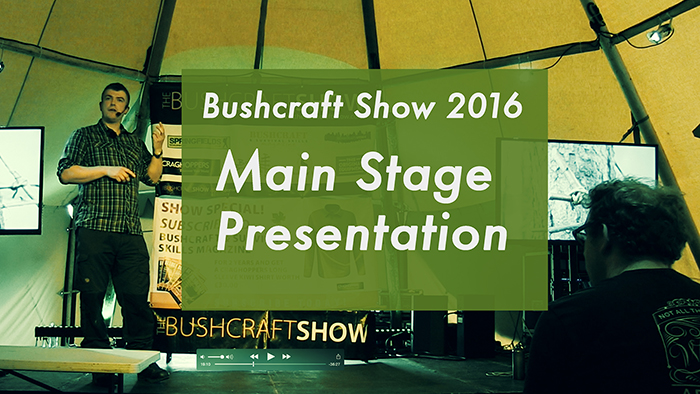 Bushcraft Show 2016
For the third time in recent years I was among the expert speakers at the Bushcraft Show, held in the UK every May. Other speakers included Ray Mears, John "Lofty" Wiseman, Tristan Gooley and Dr Sarita Robinson. Illustrious company indeed…
The title of my talk was "The Value Of Using Wilderness Skills Closer To Home" .
The Value Of Using Wilderness Skills Closer To Home – Full Presentation
We live in an age where all of our needs, indoors or outdoors, can be met by gadgets and technology. Despite this – and maybe, partly as a result of this technological backdrop – bushcraft has become part of many people's outdoor lives in recent years.
There is a wealth of wilderness bushcraft skills and traditional knowledge, all of which is valuable while travelling the wild places of our planet. Even closer to home, however, where we are not far from phones, roads, re-supply or rescue, the skills and knowledge of wilderness bushcraft are valuable, both on a practical level as well as psychological one.
This presentation is an exploration of the value of learning and using bushcraft skills which have proven their worth on wilderness expeditions but also much closer to home. Further I explore a range of benefits to using these skills in our everyday outdoor lives.
In the second half of the 45-minute presentation I provide actionable recommendations as the skills which I feel are worth pursuing to form a solid base of skills and knowledge.
There is also a short Q&A session towards the end.
Watch the full presentation via the video player below:
Click on the four arrows bottom right for full screen view. This video is available in full HD. Click on "HD" to choose the quality level you want to stream.
This video is also available to view on my YouTube channel.
My 2016 Bushcraft Show Slides
If you'd like to flick through the slides I used in the above presentation, you can do so with the following slide share:
Thanks
Thanks to the Bushcraft Show for having me as a main stage expert speaker. Many, many, many thanks to all those who attended my talk. It was a full house in the presentation tent (and very warm up on stage) and I really appreciate everyone who came to my talk.
Get The Skills List
Grab your copy of my wilderness skills list: http://paulkirtley.co.uk/skills-list/ It's FREE!
Related Material On Paul Kirtley's Blog:
Integrating Bushcraft With Modern Outdoor Life: Bushcraft Show 2014 Presentation
Waiting For Gooders: A Minor Inconvenience In The Wilderness
Bushcraft Take-Aways From The Manitoba Museum
PK Podcast 016: Lisa Fenton On Bushcraft And Indigenous Knowledge Transmissions