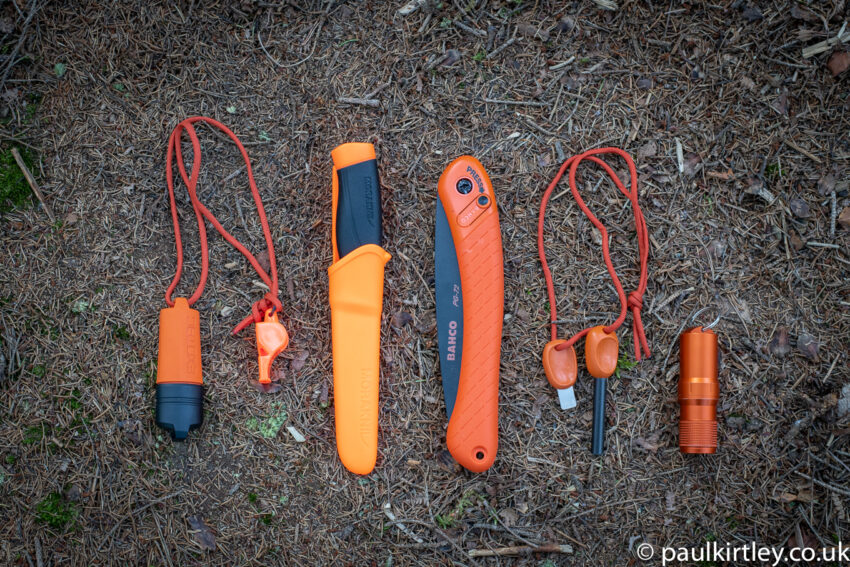 The Value of Visibility: Considering the Colour of Critical Kit
The Value of Visibility: Considering the Colour of Critical Kit
In the bushcraft world, we tend to like muted, natural colours. These are colours mirroring the colours of our local natural environment, typically shades of green and brown. Having a backpack, clothing and tarp of low-key natural shades helps us blend in with nature. We make less of a visual impact on others, we are more likely to see wildlife and, perhaps, we feel more in tune with our surroundings. We tend to extend this aesthetic to smaller items too. This, however, can be a potentially serious disadvantage. We need to consider the colour of critical kit.
I think there's a strong argument for important pieces of equipment being brightly coloured. The items of equipment I particularly have in mind are critical on-person items. This logic could also be extended to other items in your daypack or backpack. The important on-person items warrant particular attention, though, as they are both important and typically small, thus relatively easy to mislay or lose outright.
Orange is a Colour of Safety and Warning
Orange is widely used internationally as a warning or safety colour because it is inherently highly visible. More specifically, particular shades of orange are especially conspicuous to the human eye in outdoor settings.
In many countries traffic cones and traffic barrels are typically orange. In the USA temporary highway signs are also orange.
High-visibility (a.k.a "hi-vis") vests, or tabards, are often bright orange, usually combined with some reflective material, so they can be seen in low light when illuminated by a headlight or flashlight.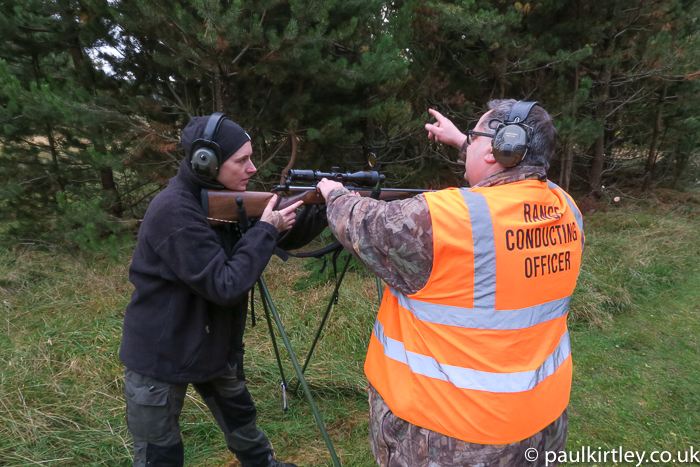 Modern liferafts and lifboats are typically orange. RNLI rescue lifeboats are orange (here's why).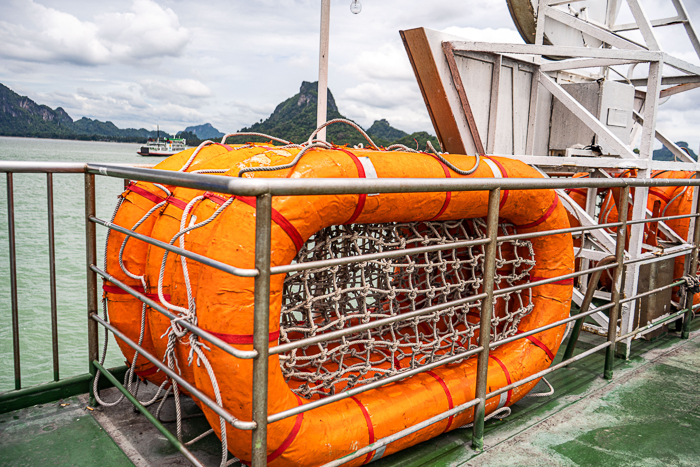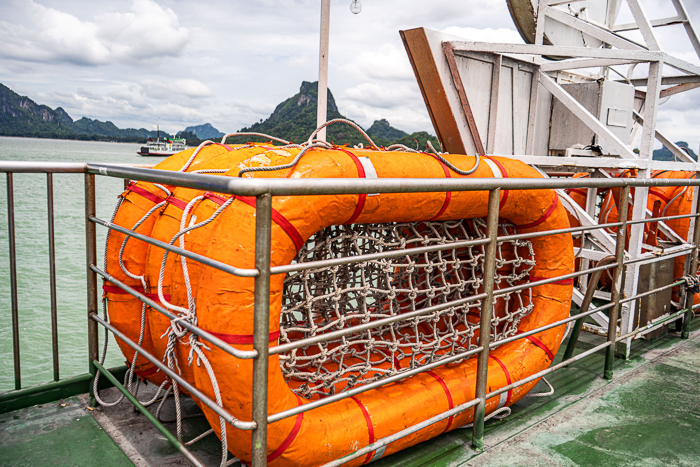 The so-called "black box" flight recorders in aeroplanes are actually orange, so they can be more easily found.
Hunters often wear clothing with elements of orange so they are more visible to other hunters (more on this below).
There is a particular shade of orange that is designated safety orange. It has the HEX code #FF7900.


There is another particular shade of orange referred to as international orange, used in the aerospace and maritime industries. This is often specified, or mandated, as a colour for high visibility, including for some safety or survival equipment. It has the HEX code #FF4F00.


There are also some variations on international orange, used in applications such as the colour of the Golden Gate Bridge and large antennae, which are applied for the purposes of making them more conspicuous.
Orange Renders Survival Shelters Highly Visible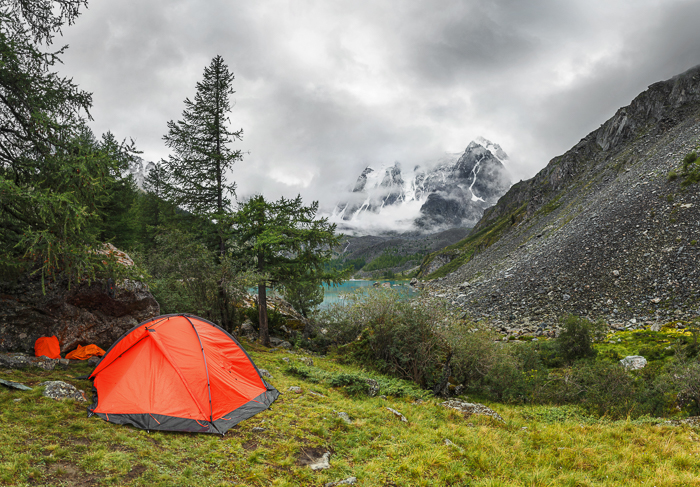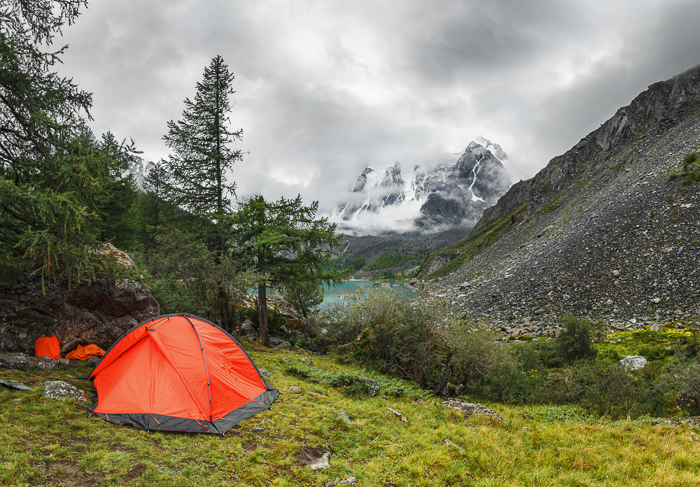 Group shelters (a.k.a "bothy bags"), emergency survival shelters, lightweight emergency sleeping bags, Blizzard Bags, and survival bags are often produced in orange to make them highly visible against vegetation, rocks or snow.
Why Hunters Wear Orange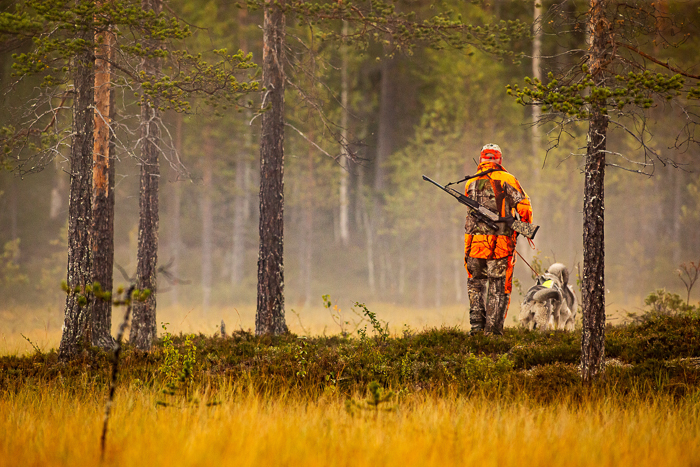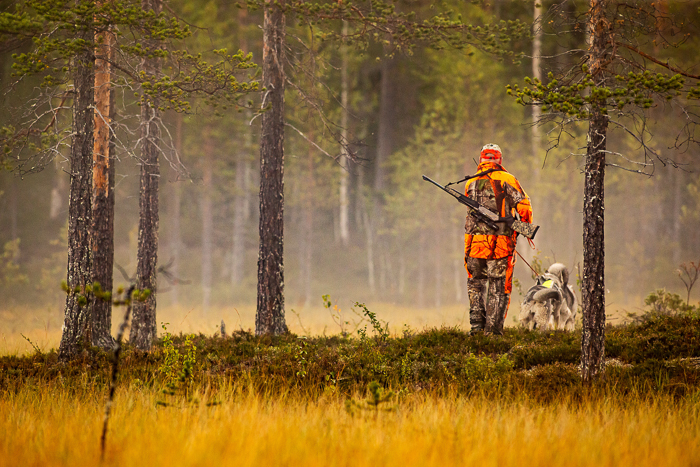 In some countries hunters are required to wear clothing with elements of orange so they are more visible to other hunters. Wearing otherwise drab, or camouflage patterned, hunting clothing with elements of orange makes hunters distinguishable from the naturally camouflaged prey species they could otherwise be mistaken for. Thus orange-clad hunters reduce the risk of being shot by other hunters. Moreover, hikers out during hunting season might also adopt blaze orange clothing, or other bright colours, to be more visible.
You might be wondering why orange doesn't make the hunters visible to prey species? Hunters in many territories are often after deer, including moose. Deer vision is optimised for seeing well in the dark as well as spotting movement. The upshot of this is they don't see orange anywhere near as well as humans do.
As explained very well on the National Deer Association website,"deer possess two (rather than three as in humans) types of cone photopigments allowing limited color vision. The cone photopigment deer lack is the "red" cone, or the one sensitive to long wavelength colors such as red and orange. These colors aren't invisible to deer, but rather are perceived differently. Deer are essentially red-green colorblind like some humans. Their color vision is limited to the short (blue) and middle (green) wavelength colors. As a result, deer likely can distinguish blue from red, but not green from red, or orange from red. Therefore, it appears that hunters would be equally suited wearing green, red, or orange clothing but disadvantaged wearing blue." Here's the full article on deer vision.
Making Critical Kit More Visible
It's undeniable that orange is a highly visible colour. In most natural environments, orange is conspicuous to humans. We can certainly apply this colour to critical items of kit to make them more visible.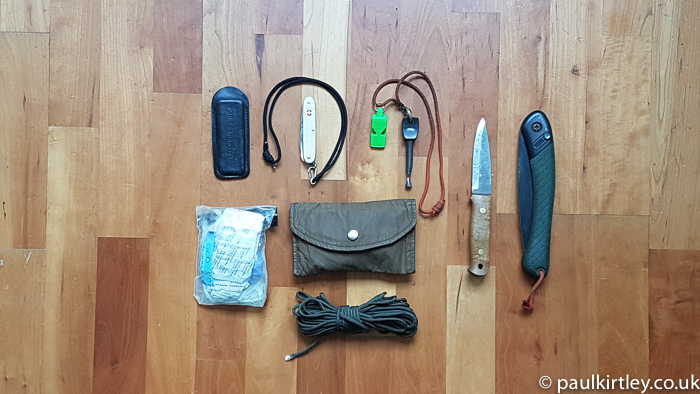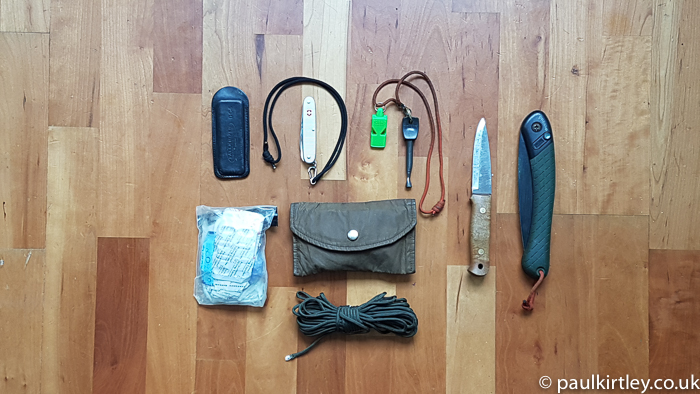 In the video embedded below I talk through some items that I think warrant consideration for being brightly coloured, as well as reasons why.
Get the transcript of the video.
Items to Consider Making More Visible
The following are on-person items to consider making more visible, as discussed in the video above. All have links to suitable items…
In addition, you might also want to consider the visibility of the following items…
Pocket knife
Compass
GPS unit
Headlamp or flashlight
Karabiners
Notebook
Writing instruments
Methods of Making Items More Visible
Purchase Orange Items
The fundamental concept in this article, and in the video above, is acquiring items that are inherently brightly coloured. At the head of this article is a photo of items that are made to be orange by nature of the colour of the materials used for all or part of the item, for example the orange Fox 40 whistle, or the orange Bacho folding saw. This colouration is mostly by means of an orange plastic or rubberised material being moulded.
Items can also be purchased that are painted or anodised in the requisite colour, for example the Exotac match safe.
If you already own some items, however, you may want to make them more visible, rather than discarding perfectly serviceable equipment just because it is suddenly the "wrong" colour. Better, perhaps, to replace items over time.
Add Bright Lanyards
Having critical items attached to your person, belt, or clothing, with a lanyard, is fundamentally a sensible thing to do outdoors, particularly with important items such as a pocket knife, compass, whistle or ferro rod.
Such a lanyard can be brightly coloured so it, and thus the item it is attached to, is easily seen. Orange 550 paracord, builders line, or brightly coloured utility cord will serve well for this. Some cords have refective material woven into them so that they will brightly reflect light from a flashlight at night, so can even be found in the dark.
For more on lanyards see Belt Attachments For Bushcraft & Outdoor Life on my YouTube channel.
Change the Colour of the Item
You can purchase brightly coloured, and possibly reflective, adhesive tape and stick it onto parts of the item.
You can spray paint some items with a bright colour, such as orange. Just make sure the paint is durable enough for outdoor use and that it does not contain solvents that will damage the surface or structure of the item you are spraying.
Nail varnish can help too – this was recommended by several of my YouTube viewers. One option is to use fluorescent nail varnish to add a splash of colour to items. It's hard wearing and sets quickly. Another idea was to use bright fly-tying line by Veevus Floss to wrap some colour onto an item, then cover this with clear nail varnish to seal it in place.
Review Your Gear With Visibility in Mind
Of course you don't have to follow my thinking to the letter. What's important is that when you review your kit with the intention of optimising it, include some thinking on the colour of important items. Make sure your gear is optimised for you and your activities.
Remember that some people are colour blind, so orange may not stand out to them. This is particularly important if you are considering the colour of group equipment in a camp or on a trip.
I'd Love To Hear From You
Let me and other readers know your thoughts on this article in the comments below. What do you do to reduce the chances of important gear? Do you think about the colour of critical kit? Do you use lanyards? Do you use tape or spray paint? Do you have other tips?
Orange Equipment You Might Like…
Related Material On This Website You Might Like
PK Podcast 028: Joe Robinet on His Love of Camping, Bushcraft & Making a Living on YouTube
PK Podcast 044: John Hudson, UK Military's Chief Survival Instructor
A Framework For Preparing Yourself For A Survival Situation
Optimising a General Purpose Axe and Saw Combo for Wilderness Travel