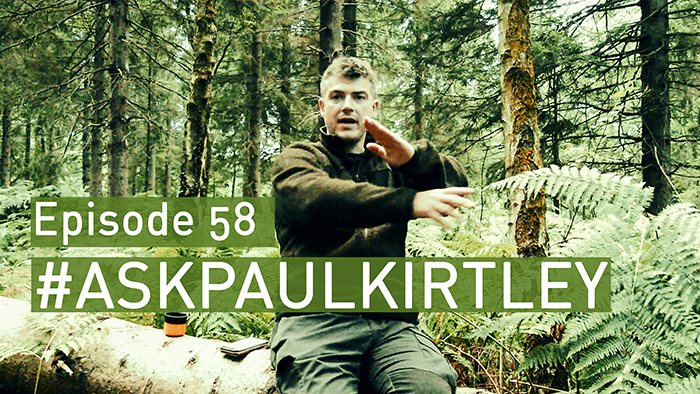 #AskPaulKirtley Episode 58 – Water Indicating Trees, Campfire Burn Out, Axe Re-hafting, Winter Hot-tent Set-ups, Chimney Effects, Bow Drill Ember Failure.
#AskPaulKirtley Episode 58 – Water Indicating Trees, Campfire Burn Out, Axe Re-hafting, Winter Hot-tent Set-ups, Chimney Effects, Bow Drill Ember Failure.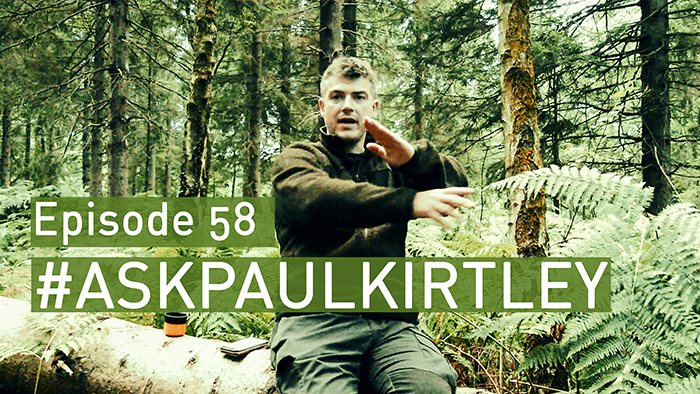 In this episode of #AskPaulKirtley I answer your questions on water-indicating trees, encouraging campfires to burn out completely, axe re-hafting in the field, ideal winter hot-tent set ups, potential chimney effects of fire reflectors and bow drill ember failure…
Watch #AskPaulKirtley
Click on the four arrows bottom right for full screen view. This video is available in full HD. Click on "HD" to choose the quality level you want to stream.
#AskPaulKirtley videos are also available to view on my YouTube channel.
Listen To #AskPaulKirtley
Use the following controls to listen to the audio podcast right here or download the .mp3 to your device…
Links For This Episode of #AskPaulKirtley
Woodcrafter Course with Paul Kirtley
How To Live In A Heated Tent (article and PDF download)
How To Watch #AskPaulKirtley On Other Platforms
The videos will be uploaded to my YouTube channel and embedded in the Facebook Page associated with this blog as well as embedded here on my blog.
How To Listen To #AskPaulKirtley On Other Platforms
Podcast RSS Feed: You can subscribe via the #AskPaulKirtley Podcast RSS Feed
iTunes: You can subscribe to #AskPaulKirtley via iTunes
Soundcloud: Follow me on here on Soundcloud
Leave A Comment…
Leave me a comment below. Let me know what you think of this episode. I read every one.
But remember if you want to ask a question for a future episode, don't do this in the comments below, do it in one of the ways explained HERE.
What Is #AskPaulKirtley?
#AskPaulKirtley is my Q&A video and podcast series that aims to answer your questions about bushcraft, survival skills and outdoor life.
The idea here is partly to take the strain off my email inbox and get answers out to people in a more timely fashion.
Rather than send an answer to just that one person, I'd like others to benefit from the answers too. So, just in the same way I'd previously write an email answer, here I'm going to speak the answer (which is much quicker than me typing out an answer, so I'll get more questions answered as well as benefiting more people).
Click here to find out the different ways you can ask me a question.
Related Material On Paul Kirtley's Blog:
Bow-Drill – The Keys to Success
How to Leave No Trace of Your Campfire
Canoeing The Spey With Kevin, Ray & Justine part 2 – A Few Campfire Tricks
#AskPaulKirtley Episode 56 – Fire Reflectors, Sleep Rotation, Tarp Set-Ups & Kit Weight, Plants As Insect Repellents and Healing Agents
The following two tabs change content below.
Paul Kirtley is an award-winning professional bushcraft instructor, qualified canoe leader and mountain leader. He is passionate about nature and wilderness travel. In addition to writing this blog Paul owns and runs
Frontier Bushcraft
, a wilderness bushcraft school, offering bushcraft courses and wilderness expeditions.
Latest posts by Paul Kirtley (see all)