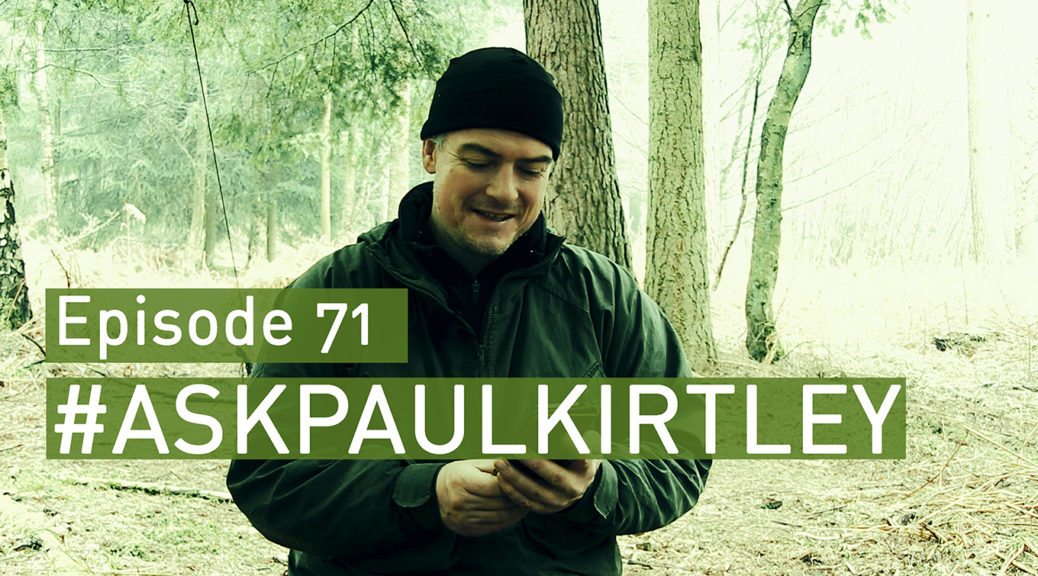 #AskPaulKirtley 71 – Roycraft Packframes; Sharpening & Oiling Knives; Bow Drill Moisture Content
#AskPaulKirtley 71 – Roycraft Packframes; Sharpening & Oiling Knives; Bow Drill Moisture Content
In this episode of #AskPaulKirtley, I answer listener questions about Roycraft packframes in bushcraft, how often you should sharpen your knife, oiling knives and bow drill woods moisture content. I also talk a little about the Helikon-Tex Patriot fleece jacket.
Watch #AskPaulKirtley
#AskPaulKirtley videos are also available to view on my YouTube channel.
Listen To #AskPaulKirtley
Use the following controls to listen to the audio podcast right here or download the .mp3 to your device…
Links For This Episode of #AskPaulKirtley
How To Sharpen A Bushcraft Knife
Ballistol Universal Oil
Bow Drill – The Keys To Success
How To Watch #AskPaulKirtley On Other Platforms
The videos will be uploaded to my YouTube channel and embedded in the Facebook Page associated with this blog as well as embedded here on my blog.
How To Listen To #AskPaulKirtley On Other Platforms
Podcast RSS Feed: You can subscribe via the #AskPaulKirtley Podcast RSS Feed
iTunes: You can subscribe to #AskPaulKirtley via iTunes
Subscribe to #AskPaulKirtley on Player FM
Soundcloud: Follow me on here on Soundcloud
Leave A Comment…
Leave me a comment below. Let me know what you think of this episode. I read every one.
But remember if you want to ask a question for a future episode, don't do this in the comments below, do it in one of the ways explained HERE.
Related Material On Paul Kirtley's Blog:
Portable Sharpening Stones: Keeping Your Edge On The Trail
PK Podcast 022: Conversations From Bushcraftfestivalen
Wild Wanderings 9 – Gottröra, Sweden
#AskPaulKirtley 69 – Surplus vs Non-Surplus Gear; Backpack Variables; Mediterranean Bushcraft; Cleaning Stainless Bottles
The following two tabs change content below.
Paul Kirtley is an award-winning professional bushcraft instructor, qualified canoe leader and mountain leader. He is passionate about nature and wilderness travel. In addition to writing this blog Paul owns and runs
Frontier Bushcraft
, a wilderness bushcraft school, offering bushcraft courses and wilderness expeditions.
Latest posts by Paul Kirtley (see all)