Getting Started With Bushcraft: Kit Considerations For Beginners
Getting Started With Bushcraft: Kit Considerations For Beginners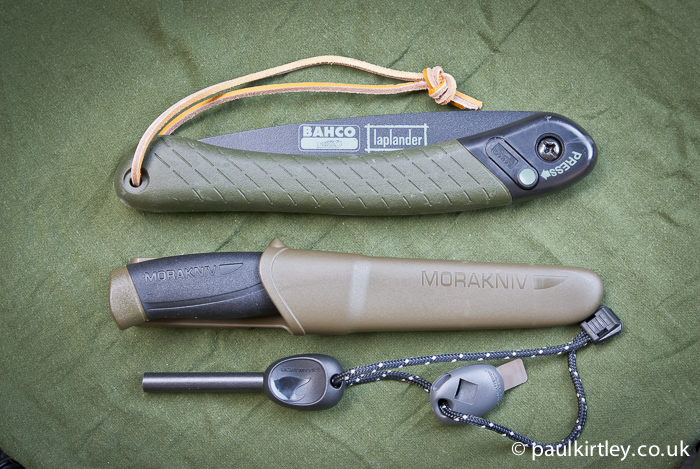 I have a passion for wilderness skills and encouraging others to go into the woods, to experience nature through the lens of bushcraft.
I do sometimes fear, though, people may be put off from experiencing nature in this way. If this is the case, then I see it as a great shame as bushcraft is so beneficial and enriching.
It seems some are given the impression of bushcraft as an activity that necessitates heading out to the woods with nothing but a knife, having to sleep out in an improvised shelter and forage for your dinner. While these things are all possible with sufficient skills in different aspects of bushcraft, this combination is daunting for someone who has limited or no experience of even camping out.
Second, I see a proliferation of particular types of clothing and equipment associated with bushcraft in some circles. It seems this puts some people off too – they want to learn the skills of finding resources in nature – carrying less by knowing more – but the message being sent to them is that they must have all manner of leather pouches, an array of expensive custom belt knives, not to mention an antler handled neck knife and an antique tinder box.
The truth of the matter is you don't need much to equip yourself with what's required to explore the world of bushcraft, to start making greater use of the natural resources all around you and having a much more immersive, connected and direct relationship with the natural world. Nor do you need to be uncomfortable as you move down this path.
What I'd like to do here is explain the few things you do really need to begin your bushcraft journey as well as include a little of the why.
I should premise what follows with stating I'm assuming you have some outdoor clothing and footwear. If you are out for the day, you'll probably need a daypack to carry items such as waterproofs, sandwiches and a drink and, again, you may already own something suitable. If you are out for an overnight camp then you'll need a bigger pack to accommodate extra items such as a sleeping bag and a cooking pot. None of this kit is particularly specific to bushcraft and so I will not cover it in more detail here. If you want to see more wildlife then I'd recommend mute, natural colours for your clothing and pack.
I'll also assume you have the navigational skill to get to and back from wherever you choose to go to explore the woods and exercise some bushcraft skills. Clearly under many circumstances a compass, map and the ability to use them would be prudent.
General Purpose Cutting Tools
The most important things to obtain in order to undertake many of the skills you might be interested in are some cutting tools. You don't need to spend huge amounts of money, though, because there are very good basic cutting tools available for relatively little money. You will need a knife suitable for the carving and craft elements of bushcraft. A fixed-blade knife with a comfy, ergonomic handle and an uncomplicated blade with a fine flat bevel is all you need. Size-wise, a blade length something in the region of your palm width will serve you well. Most of what you'll be doing is cutting and carving, not hacking. The Morakniv 840 Companion has pretty much become the de facto standard entry-level knife for bushcraft. It deserves its reputation as a robust, reliable knife, providing exceptional value for money.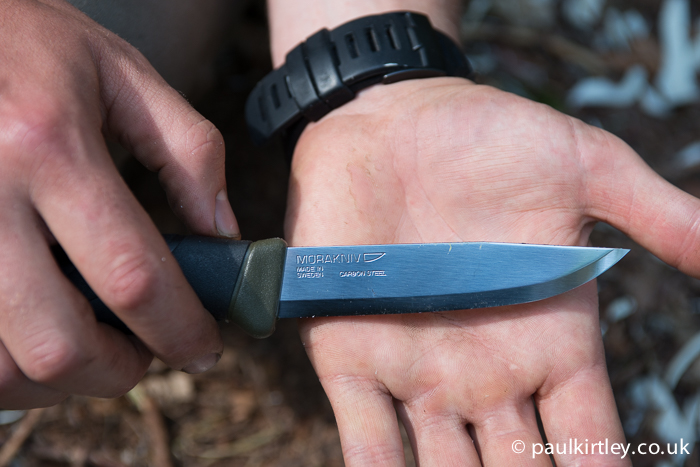 A knife will get you a long way but you should also acquire a folding saw. Saws are very efficient at cutting across the grain of wood and this will help with many of the jobs which a knife is not particularly well suited to. Saws are also generally safer to use than knives, making some tasks much less risky than using a knife alone. The Bahco Laplander, effectively a pruning saw, is very well suited to the small woodcraft jobs and firewood processing you'll be doing. I like this model of saw as the blade is hard to snap (unlike some similar models) and the blade locks both open and closed, meaning the chances of cutting yourself unintentionally are reduced. The size of the jobs it will deal with is of a similar scale to those your bushcraft knife will tackle comfortably. The two tools together form a powerful combination for little weight and limited cost.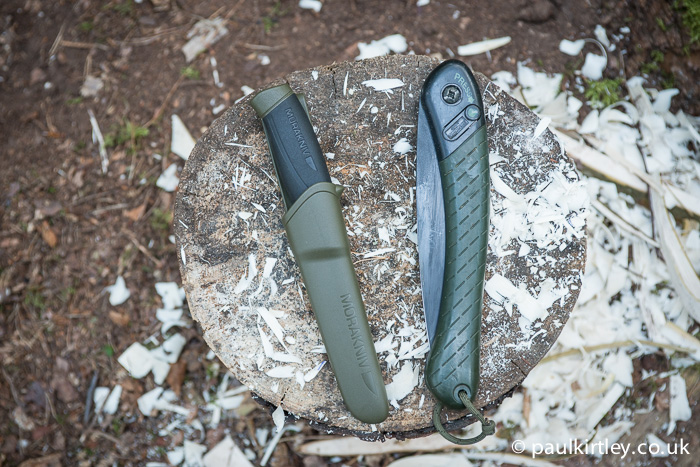 If you use your knife for a time it will become blunt, so you need some sort of sharpening stone. For sharpening back home, a combination oilstone or combination waterstone will serve you well. You don't need anything expensive; just what's available at your local hardware or DIY store will work fine.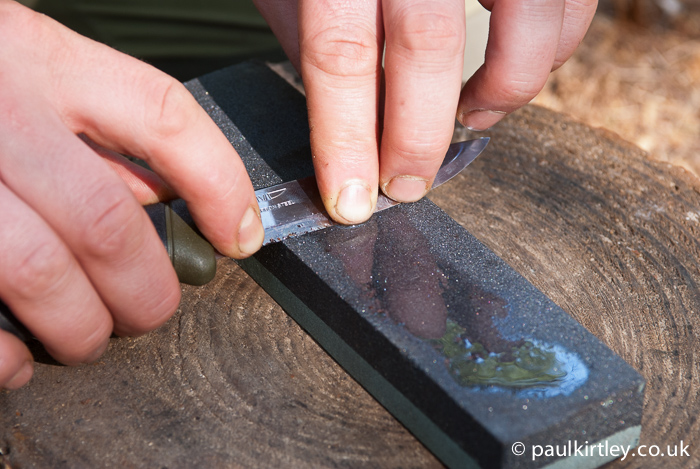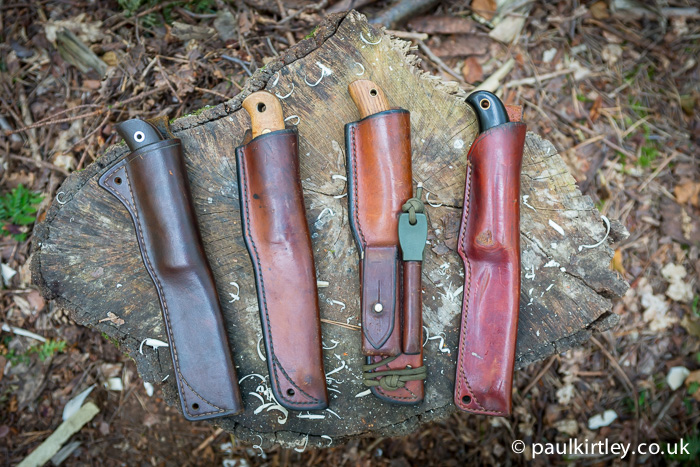 When You Pick Up A Knife Also Grab These Two Things…
Pocket Sharpening Stone
When you head for the woods, you should think about taking a pocket-sized sharpening stone. Bench stones are too heavy to carry, unless you like carrying bricks around with you. While not strictly necessary for single day out, as you can sharpen your knife on a bench stone when back home, it is good practice to have the ability to sharpen your knife while you are out and about. If you blunt your knife while out, then you'll need a small whetstone. If you head out for an overnight stay or longer, then a small pocket whetstone for the trail should definitely be in your kit. As the old saying goes, you are only as sharp as your knife.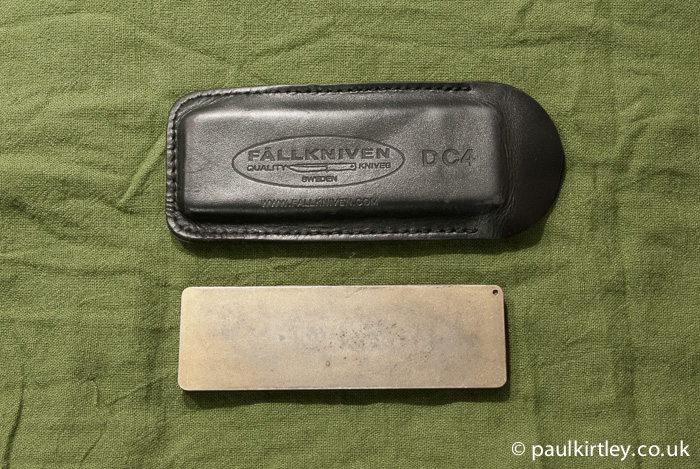 Cuts Kit: Pocket First Aid Kit
The other item you should grab when you pack your knife is a cuts kit. This is a small first aid kit with everything you need for dealing with cuts you might suffer from your knife. While you should be careful to employ all the rules of basic knife safety, accidents sometimes happen. In addition, handling rough, abrasive natural materials, sharp plant fibres, thorns and the like, as well as the potential for minor burns from campfires, all mean having a small first aid kit is prudent. I would recommend putting together your own kit to contain the items you want in the appropriate proportions. These can be purchased from a local pharmacy or online. You'll end up with a better-stocked kit containing higher quality items than most off-the-shelf kits.
Firecraft
Another element of outdoor skills that separates bushcraft people from many in the general outdoor population is the deft use of fire. Fire is probably the most important bushcraft skill, certainly one of the most important survival skills in many environments. As a species, our ability to ignite and harness fire is unique yet, for many, lighting a fire in the woods is not always straightforward. It can indeed be difficult depending on the temperature and humidity of the air as well as the amount of moisture in the ground, not to mention if it's raining.
So having a range of different fire lighting techniques at your disposal is very, very useful. Having a range of various fire management skills is also very important. We can split fire lighting up into two main stages really: the first is ignition and the second is taking a small flame up to an established fire. There appear to be many individual methods of ignition but they all boil down to six categories, these being sparks, friction, chemical, electrical, solar and compression.
The most universally reliable single method is sparks. Part of the reason for this is that the gadgets and devices required to generate the sparks are pretty impervious to moisture or even being immersed in water. Moreover these devices tend to last a long time because they are simple, with no moving parts to break and the amount of material consumed in each strike of a spark is small. So you're always going to be able to create the sparks you need. What you do with those sparks to create a fire is where knowledge of natural tinders and kindling comes in. Yes, we're talking bushcraft.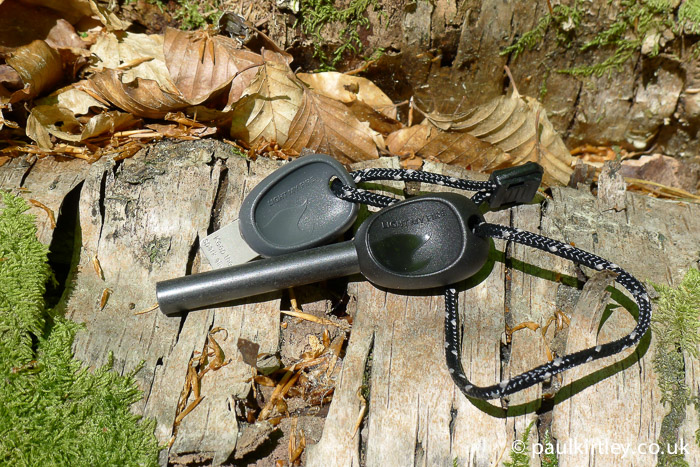 The modern sparking devices known variously as a Swedish Firesteel, fireflash or ferro rod are the most widely applicable gadgets for creating sparks. The sparks they produce are bright white (i.e. very hot) and relatively large, thus the range of different materials that they ignite is the broadest of any of the sparking devices. I would recommend investing in one of these and learning to generate good sparks with it. Then see what you can ignite with your sparks. Do be careful in dry conditions, however, as fires can quickly spread even from the smallest sparks. Remember to seek the correct permissions needed to have a fire in your jurisdiction.
The more traditional flint and steel generates smaller and cooler sparks but is very reliable if you prepare the necessary materials correctly and have good technique. The range of materials you can ignite is more limited than the modern devices but it's worth experimenting with flint and steel once you get the hang of using a modern firesteel. This will extend your knowledge and understanding of natural fire lighting materials.
Water Production
Whenever you are out and about, it is sensible to have a water bottle with you. A litre of water is a good minimum amount to carry with you. Water is heavy, though, with a litre of water weighting one kilogram. If you are out for more than a day, then you will have to procure some water while you are out. If you take a metal container then you can also boil water if you need to, using fire. Boiling is a very reliable method of making water safe to drink, as a rolling boil will kill all pathogenic organisms. I tend to carry a metal mug even when planning to be out for only the day, just in case. If you carry a water bottle and a metal mug with you then you can always produce and store drinking water free from disease-causing organisms anywhere you find it in the wilds.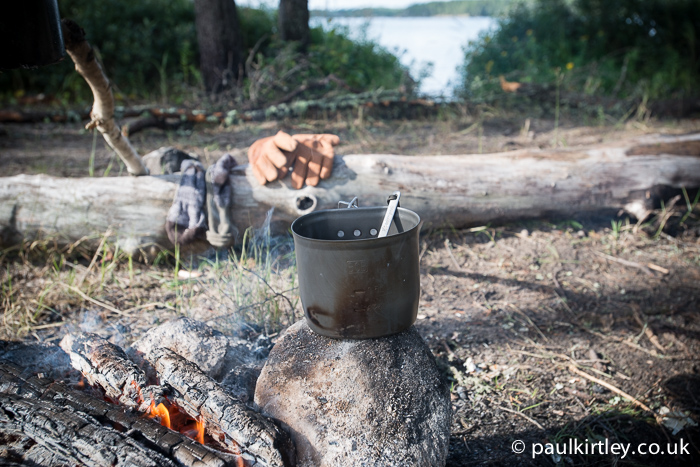 When water is murky you need to pre-filter the water to remove suspended matter. A Millbank bag or one of the newer Brown Filter Bags is a really good way of doing this. These bags provide a low-cost, low-tech (read hard-to-break), reliable method of coarse filtration, something that is necessary in all but crystal clear waters. To remove any turbidity from the water is important because suspended particles in water can irritate your gut even if there are no pathogenic organisms present. This means pre-filtering with a filter bag followed by boiling is an excellent methodology.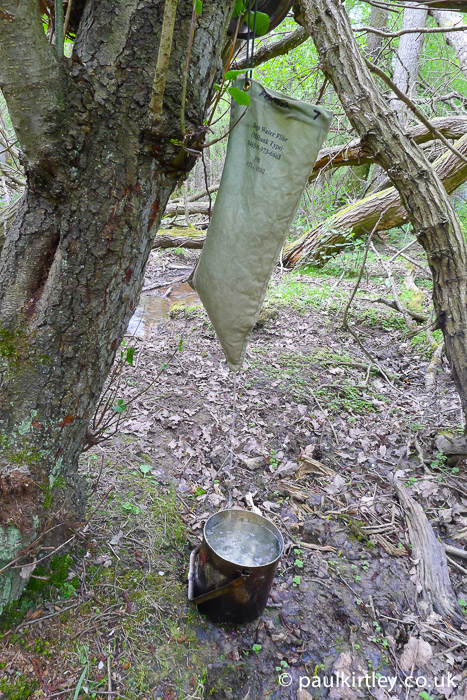 If you need to produce more water than you might in a metal mug, you'll need to carry a billy can. You are most likely to need a billy for water boiling and other cooking tasks if you're camping overnight. This brings us neatly on to camping out.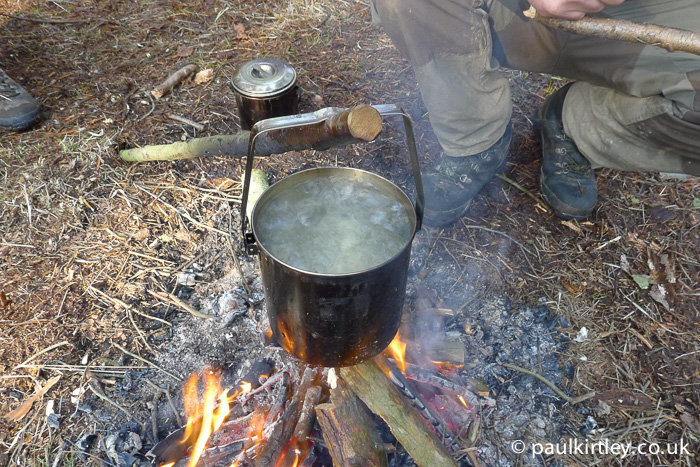 Sleeping Out In The Woods
Now of course you can camp out how however you want. Sleeping out in a tent doesn't mean you are not doing bushcraft. Indeed in some parts of the world, even in the bush, it's the best option to sleep in a tent. That said, one of the iconic methods of bushcraft camping is sleeping under a tarp. Whether you are sleeping on the ground or sleeping in a hammock, a tarp is a good shelter, providing a good amount of ground coverage for its weight in your pack.
Tarps are particularly well suited to sleeping in woodlands. They are easy to pitch, particularly with knowledge of a few simple yet versatile knots and plenty of trees to tie off to. You can also make tent pegs and other simple camp items you might need such as candle holders, using your knife and saw. So, all you really need to have in your bag to create a decent shelter in the woods is a tarp with guy lines attached. You don't even need to spend a lot of money. You can buy a small builders tarp or a trailer tarp from a motoring store and add some nylon cord for the guy lines.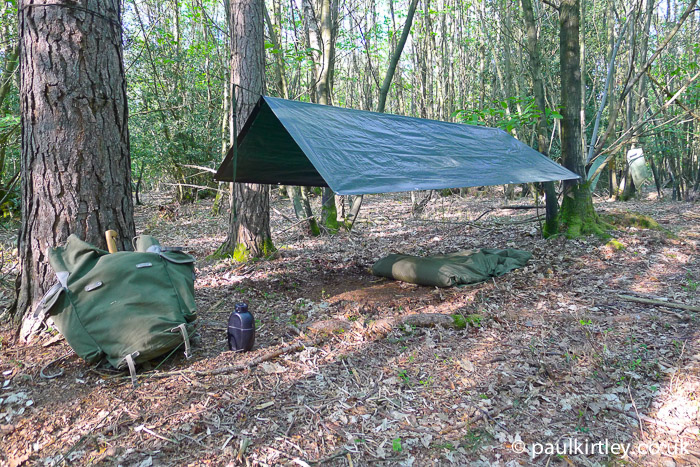 If you're going to sleep out then you're likely going to need a sleeping bag, although some people like to sleep out with just a woollen blanket. I would recommend most people who are starting out with tarp camping should start with a sleeping bag, rated to a comfort temperature for the season you are camping in. Down sleeping bags are lightweight and compress small, but are expensive. A summer-weight synthetic bag is not too bulky and can be had for little money. If you are starting your bushcraft camping journey in the warmer months of the year, then this latter option is what I would go for.
If you are sleeping on the ground you'll need an insulating sleeping mat to minimise heat loss to the ground as well as increase your physical comfort. Another thing that you'll need is a bivvy bag. This is basically a windproof and waterproof bag for your sleeping bag. This serves several purposes. The first, as my description would suggest, is that it protects your sleeping bag from moisture both in terms of rain but also just in terms of dew. A bivvy bag makes your sleeping bag more windproof as it allows air warmed by your body to remain within the sleeping bag without being displaced by cold drafts. In addition a bivvy bag traps an additional layer of warm air around your sleeping bag, thus increasing the warmth of your sleeping system. Finally a bivvy bag protects your sleeping bag from dirt, which over time would degrade its performance.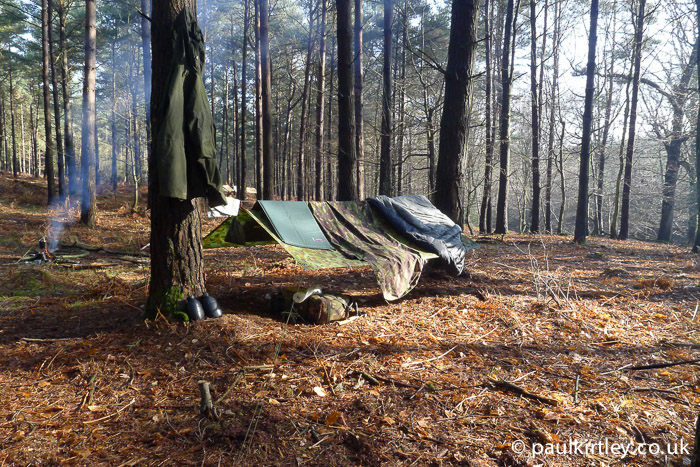 You might aspire to sleeping out in improvised shelters but I would suggest initially you become familiar with sleeping out for one or more nights under a tarp. You can then progress to building improvised shelters but still using your bivvy, sleeping mat and sleeping bag. As your shelter skills increase, being confident you can create weatherproof thatching, being able to construct comfortable, insulating beds as well as having the fire management skills to keep a fire going all night, you can progress to sleeping out using nothing but your skills.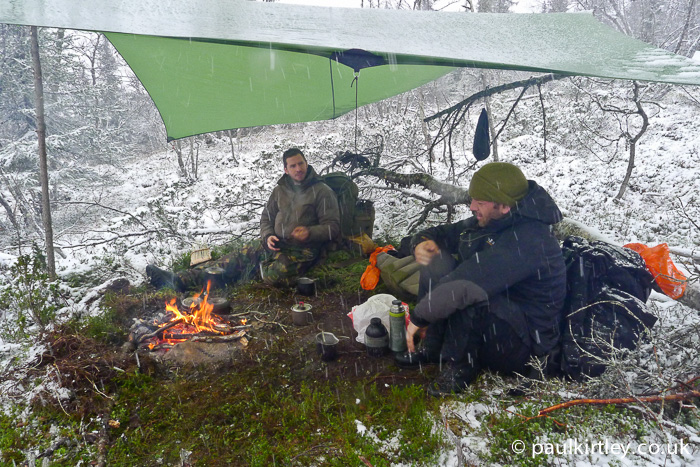 Campfire Cookery
If you stay out in the woods overnight you'll definitely want to do some campfire cookery, even if you start off relatively simply. Above I mentioned the value of having a billycan for boiling water in camp. Equally a billy pot is useful for camp cooking too. There are many one-pot meals that can be prepared. You should make sure your billy has a folding handle or bail, from which you can suspend the pot over the fire.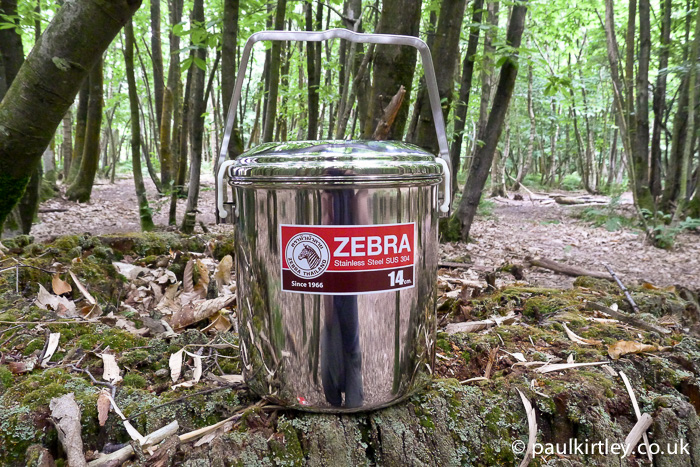 This is something you should take particular note of as many camping pots for sale in mainstream outdoor stores these days are designed to be used on gas burners or petrol camping stoves or similar. They are not designed to be hung over a fire and therefore they have no means of suspension. The billycan that has been adopted by many bushcrafters, making it almost standard issue is the stainless billy by Zebrahead. This is a high quality, robust stainless steel pot, which is very much worth the money. They come in a range of sizes, the most popular being 12cm, 14cm and 16 cm diameter pots. 12cm is good for individual use if you are looking for a compact pot although personally I find them a little small for cooking. 14cm is good for one to two people both for boiling water and cooking a decent meal.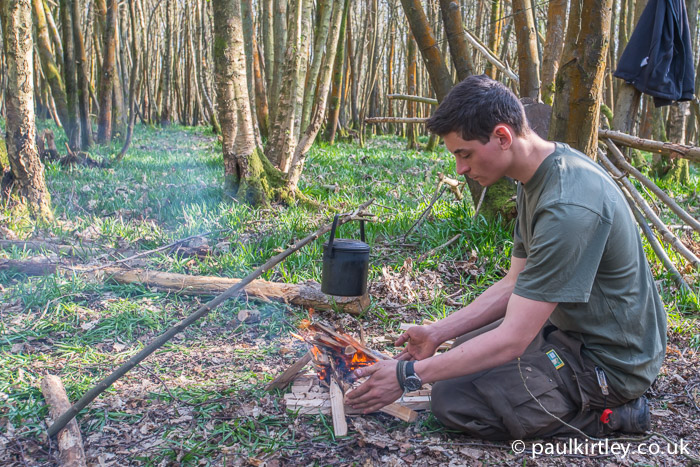 You'll need an eating utensil. I'd suggest a spoon is the most universal. You can of course take a spoon from home or an example of the ubiquitous spork to start off with. One of the first carving projects you might like to consider undertaking in terms of learning woodcraft and carving techniques is carving your own spoon. Learning how to make things from natural materials is part of bushcraft.
Carving a spoon is a really good self-contained project as it's not a huge time commitment to complete but it does teach you many different carving techniques in a small compact project. It also gives you a nice, practical item at the end of the process. Moreover a hand-carved spoon is something you can take with you on your journeys, adding to the happy memories attached to what is already a personal item.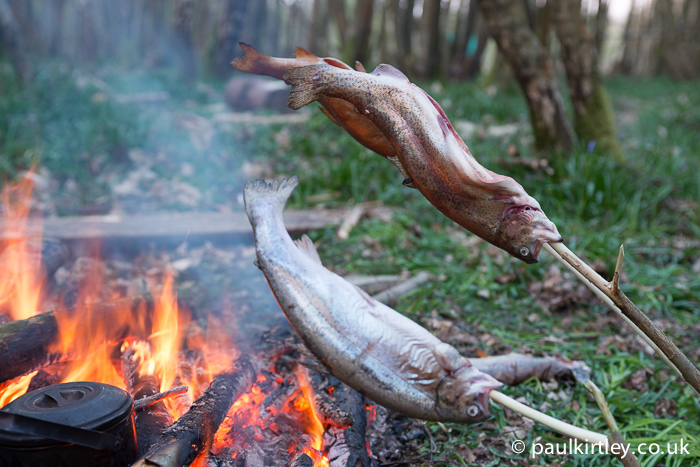 Additional Items
An additional item that will prove useful is a good hank of paracord. Strong cordage is hard to manufacture quickly from plant fibres as and when you need it. So carrying some good quality, strong nylon cordage is sensible. Useful for everything from a washing line in camp to repairing a rucksack strap to lashing a shelter, paracord has many uses. Carrying string in your pocket is also good if you want to learn knots and lashings as you can practise them as and when you want.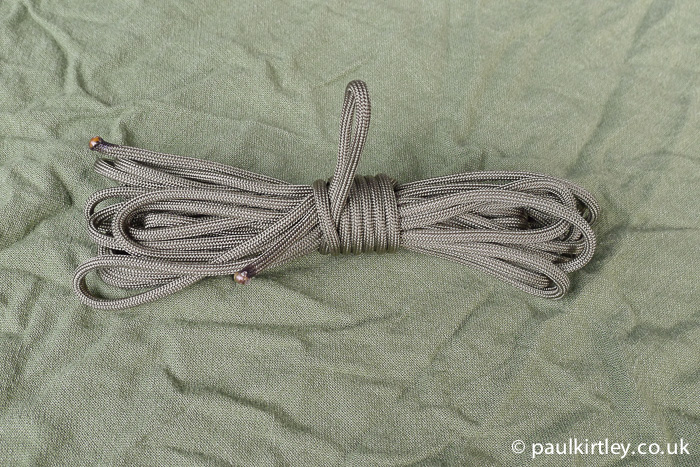 If you want to progress onto learning bow drill friction fire, then having some paracord is very useful as it is more challenging still to practise friction fire with natural cordage made from plant fibres. I would suggest you become completely familiar with the technique using nylon cordage first. In reality if you ever need to employ this technique out of necessity then the most expedient way is to use strong cordage that you carry with you. Traditionally this was a length of rawhide. The modern answer is nylon cordage. As well as carrying paracord in your pocket, you have shoelaces as well as drawcords on rucksacks and the like.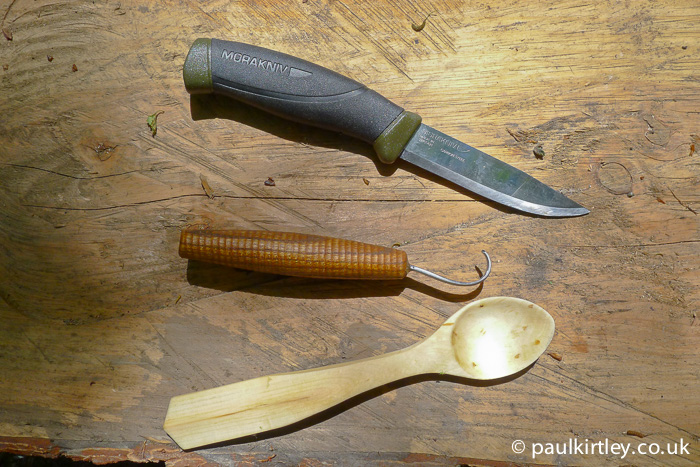 What are other things you might want to have with you? We've talked about carving already. Your basic bushcraft knife will enable you to undertake most of the carving and woodcraft skills. One task you will struggle to complete with a straight-bladed knife is carving a bowl, even the shallow bowl of an eating spoon, never mind a larger serving spoon or ladle. A curved knife designed for this purpose makes easy work of the job. The smallest of these types of knife, generally known as spoon knives, is a good investment. They come in right-handed and left-handed versions. At first get one for your dominant handedness. This in combination with your bushcraft knife will enable you to carve all the small the small to medium sized utensils you might ever want.
Don't Forget Illumination
In winter the days are short and most people would probably think to pack a head torch for a day hike. In the long days of summer, however, packing a headlamp is maybe less obvious. In summer it's worth remembering the night-time interior of deciduous woodland is typically pitch black due to the density of leaf cover above.
Even if you don't intend to be out in the woods beyond the end of the day, I'd recommend you take a head torch just in case you're out longer than anticipated. If you are benighted, then having a head torch with you could make the difference between being forced to spend the night in the woods or making a call for help and arriving safely back at your intended destination, albeit late.
Anything Else?
It's always possible to add items to kit lists. The difficulty is paring it down to the minimum 🙂
But is there ONE additional item or variation on the above items that you would recommend and add to the above list? Let me and other readers know in the comments below…
Related Articles On Paul Kirtley's Blog
How To Find A Place To Practice Bushcraft Skills In The UK
A Bushcraft Camping Outfit – Equipment for Living in the Woods
How To Pack A Bushcraft Camping Outfit
---
A version of this article was first published in Bushcraft and Survival Skills Magazine.