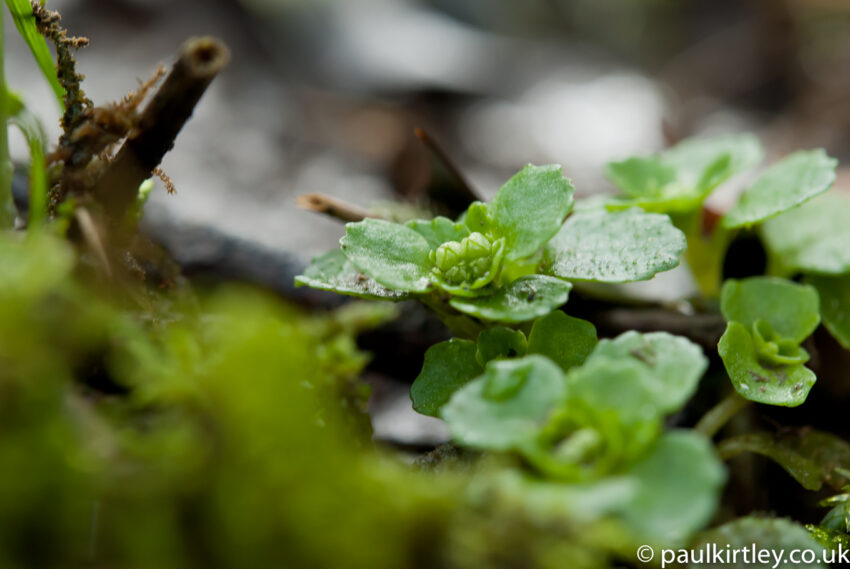 In Search Of Winter Greenery: Twelve Candidates For Frosty Foraging
In Search Of Winter Greenery: Twelve Candidates For Frosty Foraging
Winter is often characterized as a season of dormancy. This isn't all to do with snow and ice, either. Even in the relatively mild northern temperate climate of Britain, where I am from, the winter woods are quiet and sparse. Unlike the evergreen northern forests, the deciduous trees of Britain lose their greenery and leave stark, dark wooden skeletons.
When it comes to plants, in foraging books and websites I often see reference to spring greens but far less mention of what herbs can be gathered in winter. But there are plants we can seek out for some winter greenery. And, no they are not just the tail end of the leftovers from the previous summer.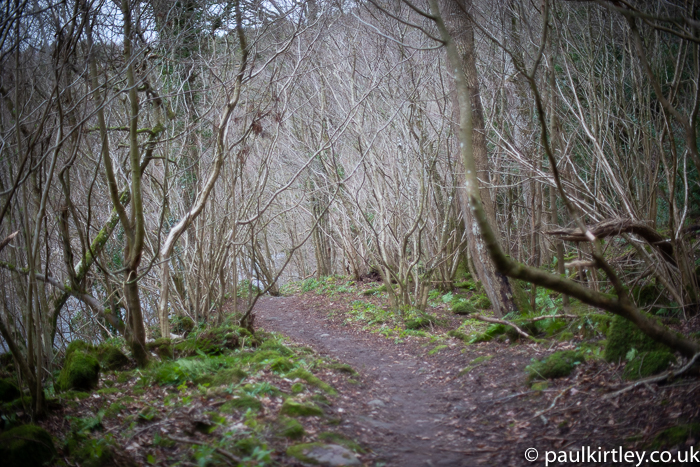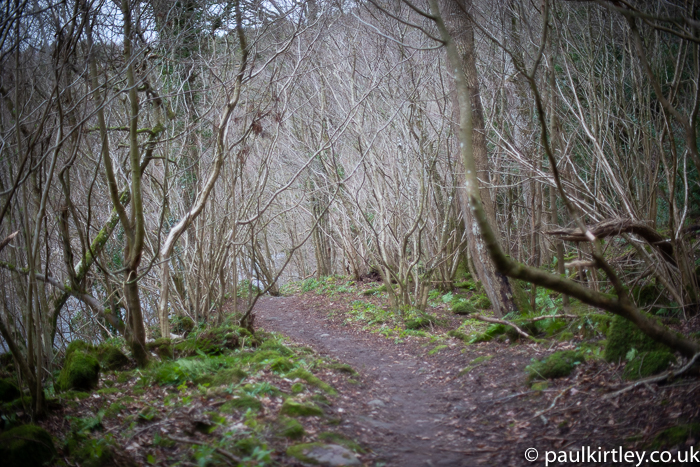 First, it's worth knowing a little about plant life cycles. An annual plant is a plant species that completes its life cycle, from germination to the production of seeds, within one year, and then dies. The most familiar to most people are summer annuals, which germinate during spring or early summer and mature by the autumn of the same year. Less familiar, perhaps, are winter annuals, which germinate during the autumn and mature during the spring or summer of the following calendar year.
A perennial is a plant that lives more than two years. The term is often used to differentiate a plant from shorter-lived annuals and biennials. The term is also widely used to distinguish plants with little or no woody growth from trees and shrubs, which are also technically perennials.
Edible perennials and winter annuals are of particular interest to us as they can provide greenery for us to eat in the winter when many sources are otherwise dormant.
Bittercresses, Cardamine hirsuta and C. flexuosa
Bittercresses are closely related to one of my favourite spring salad ingredients, lady's smock, C. pratensis. They are all members of the cabbage family, Brassicaceae, which also contains the mustards. Hairy bittercress, C. hirsuta, and wavy bittercress, C. flexuosa, are both winter annuals and their leaf rosettes make an excellent addition to any salad. They have a cress flavour with a tinge of mustard and a satisfying crunch when fresh. If these were sold in a supermarket fruit and vegetable section, you'd buy them. But you don't have to. You can pick them for free.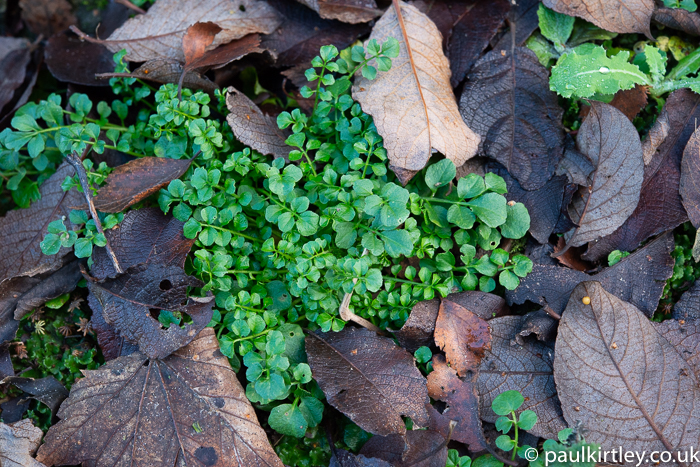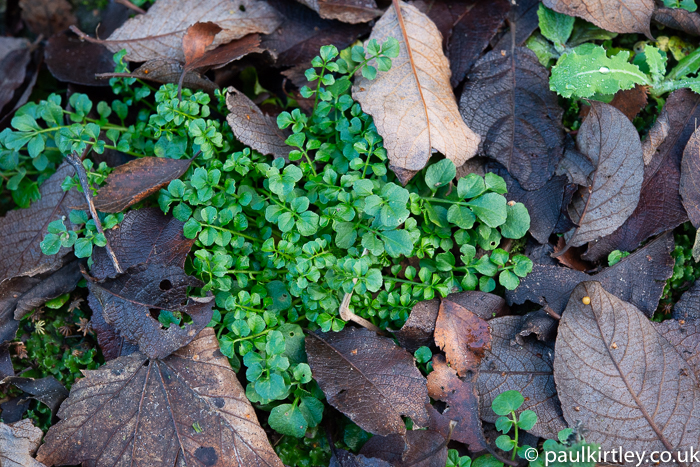 Brooklime, Veronica beccabunga
Brooklime is a perennial plant of damp ground and stream edges that can be eaten as a salad. It is quite bitter, though, and is better cooked as a green. The plant can look similar to very young water mint, Mentha aquatica, which it often grows near. Brooklime has a round, not square, stem though. And it doesn't smell of mint when crushed. A key feature is that brooklime has little roots at the leaf nodes, where these are in contact with the ground.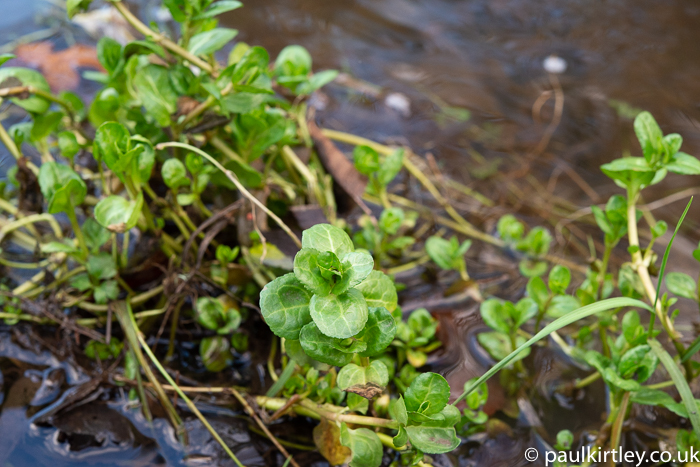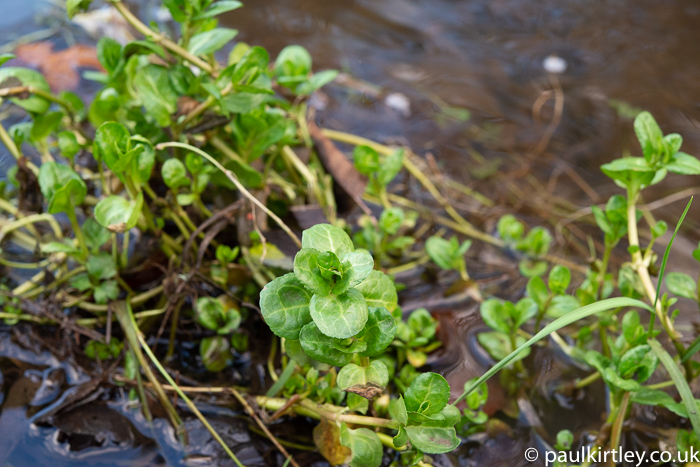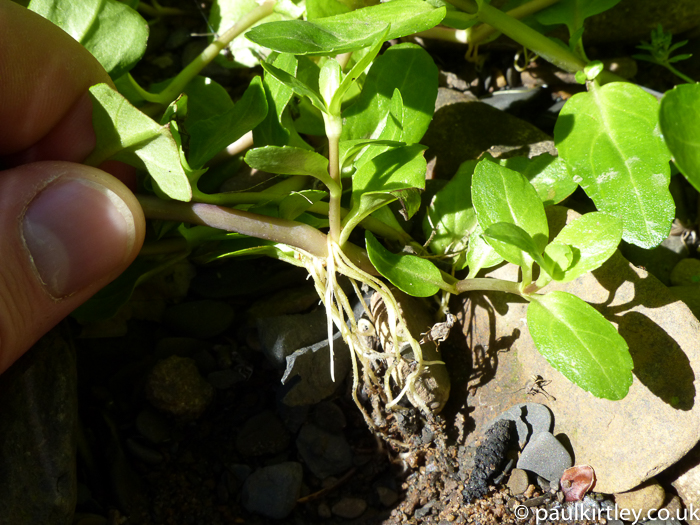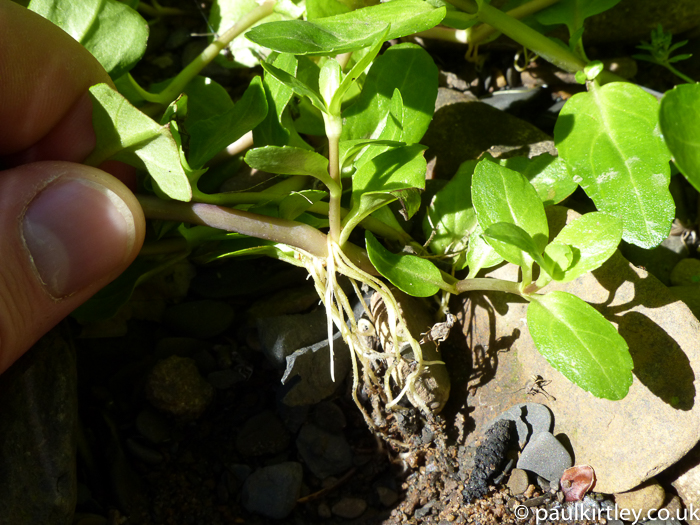 Common Chickweed, Stellaria media
Chickweed grows as an annual or, if the climate is mild, as a winter annual. Thus chickweed can potentially provide herbage in the winter months. It is a good salad plant, with a mild flavour and a pleasant texture. It can be added to soups and is good in omelettes. Chickweed has been shown to contain magnesium, phosphorous, copper, iron, zinc, vitamins A, B6, B12, C and D. It also contains saponins (as do many plants) but you would have to eat a very large quantity to cause a stomach upset. Chickweed is definitely one to look out for to provide some winter nutrition.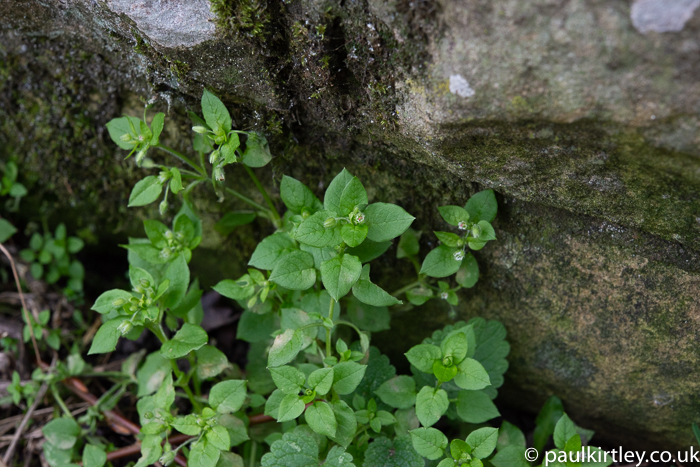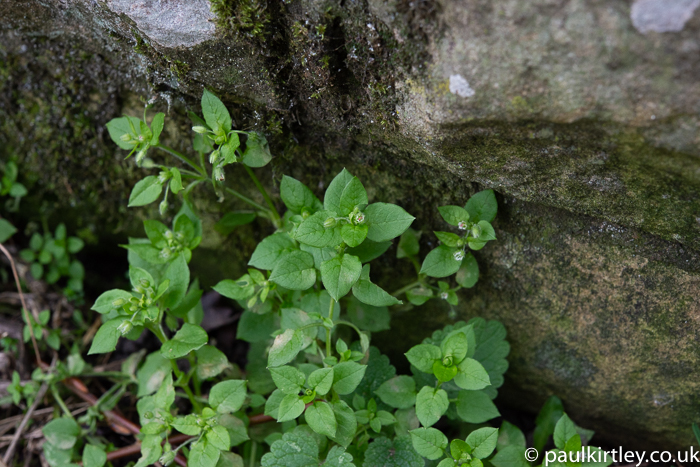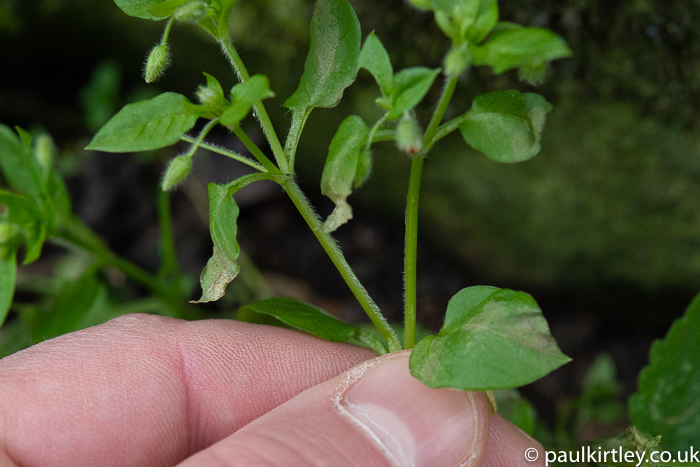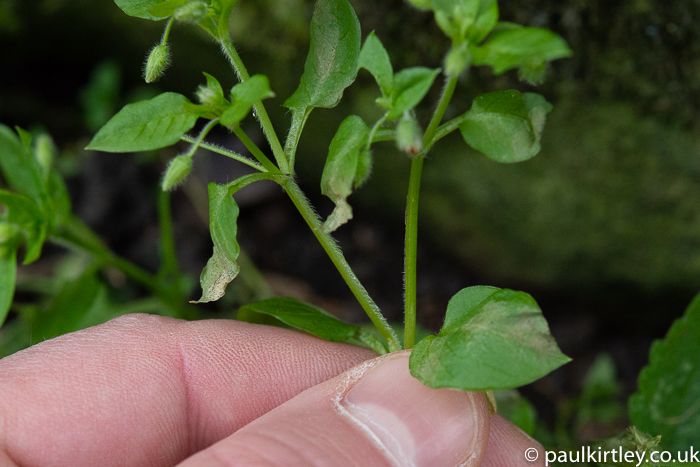 You should also read How to Tell the Difference Between Chickweed and Yellow Pimpernel
Common Hogweed, Heracleum sphondylium
Hogweed is a perennial. You can steam or boil the winter shoots as a green. This plant should not to be confused with its relative giant hogweed, Heracleum mantegazzianum, which is notorious for causing severe phytophotodermatitis. It should be noted, however, that some people are also sensitive to H. sphondylium but reactions are relatively mild. Personally I don't react to the plant. This being said, to be on the safe side maybe pick the plant wearing gloves. Either way, cooking renders the plant harmless. It's a tasty and underappreciated green.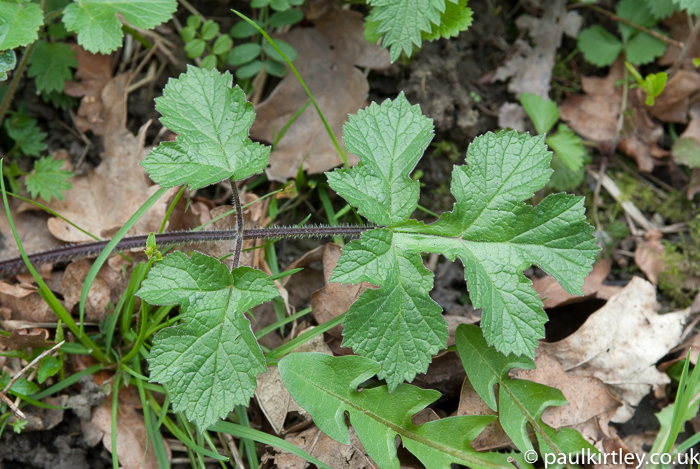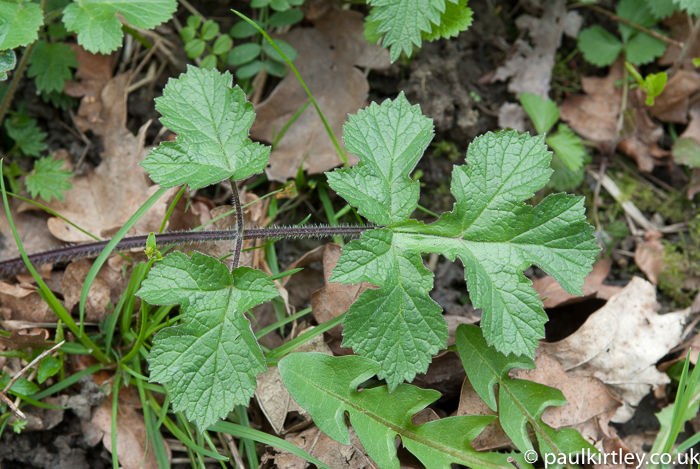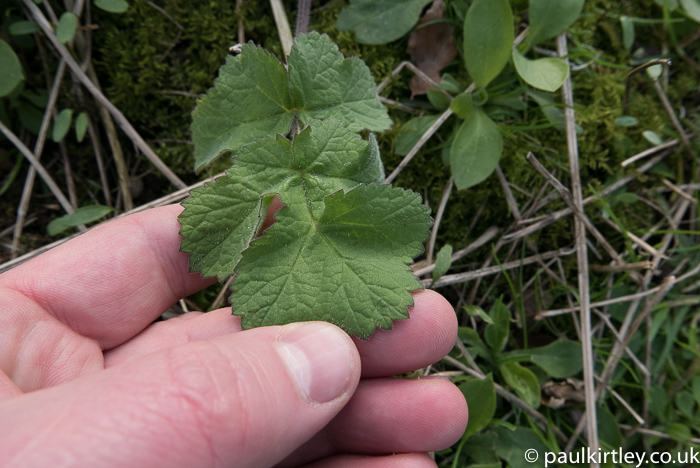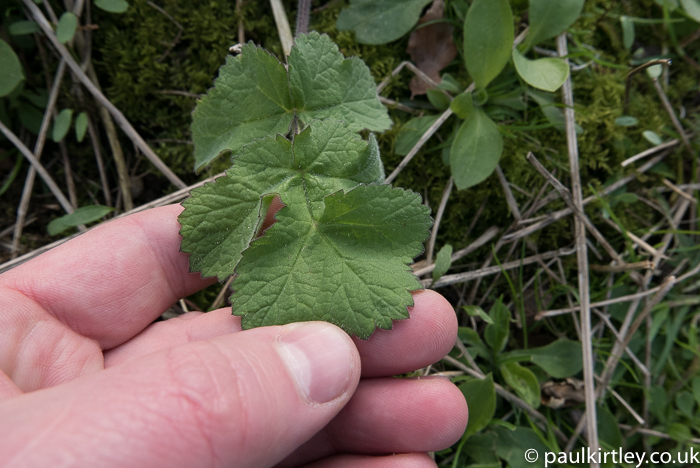 If you are unsure about the identification of the toxic giant hogweed, H. mantegazzianum there is a video of mine here, which will make it clear.
Common Sorrel, Rumex acetosa
Sorrel is a perennial. When the leaves are fresh they can be good in salads, providing a sour tang due to their oxalic acid content. The leaves have a pleasing crispness when raw. They can be treated very much as would spinach, steamed or wilted. As such it is good with eggs or fish. Sorrel can also be used in sauces, desserts and puddings. The leaves contain a reasonable amount of vitamin C.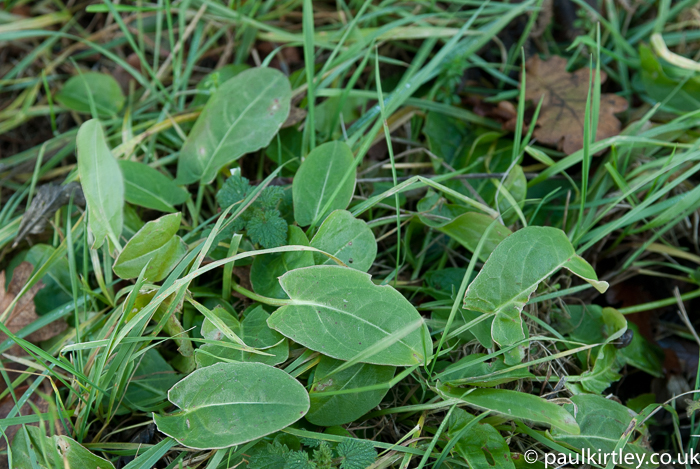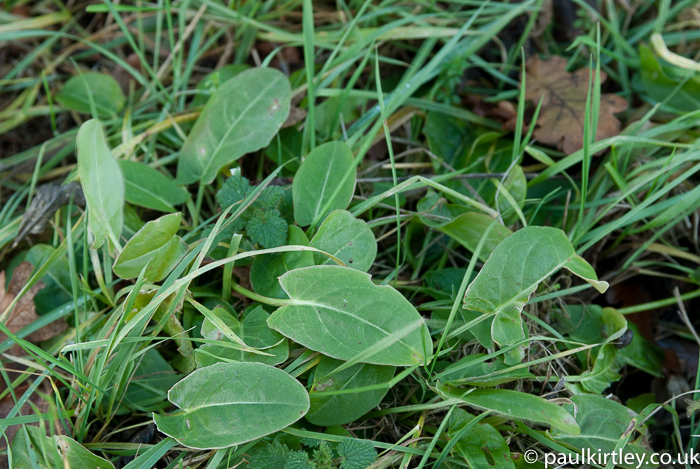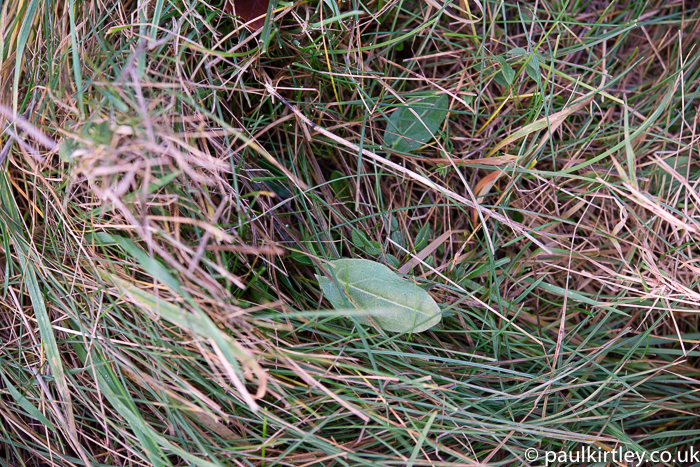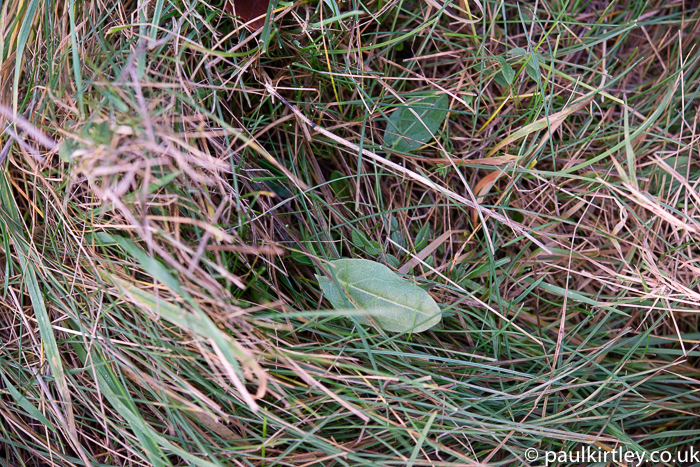 Opposite-Leaved Golden Saxifrage, Chrysosplenium oppositifolium
This plant is another perennial and it's very common in its range. It's found in damp places and is happy in saturated ground and shallow water. The leaves have a juicy lettuce-like crunch to them and they are pleasantly inoffensive in their taste, with no bitterness or sharpness. They can also be cooked as a green, which might be advisable if you can't thoroughly wash them in clean water before consuming raw. As the name suggests the leaves are in opposite pairs. Take a close look at them and you will see distinct bristly hairs emanating from the leaf surface, reminiscent of stubble.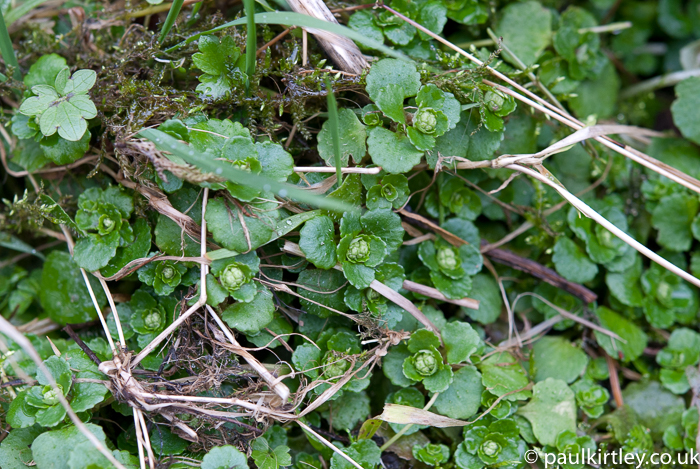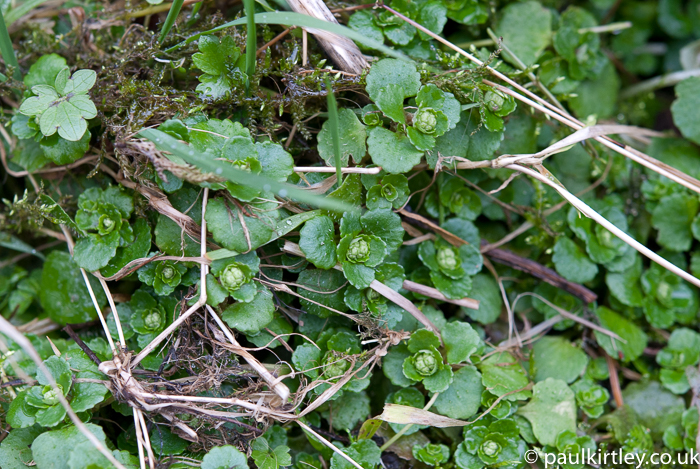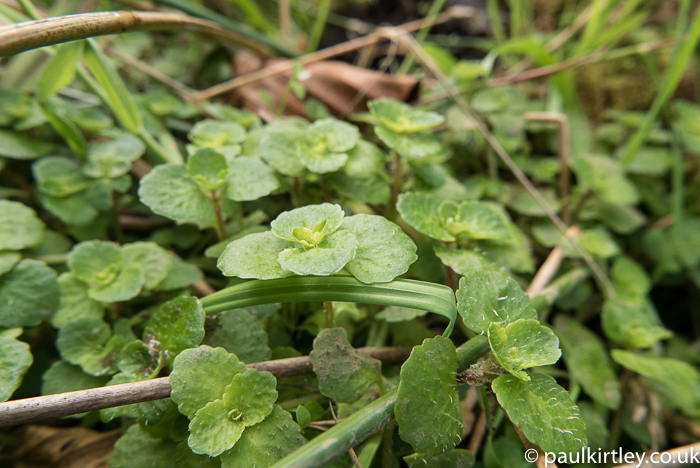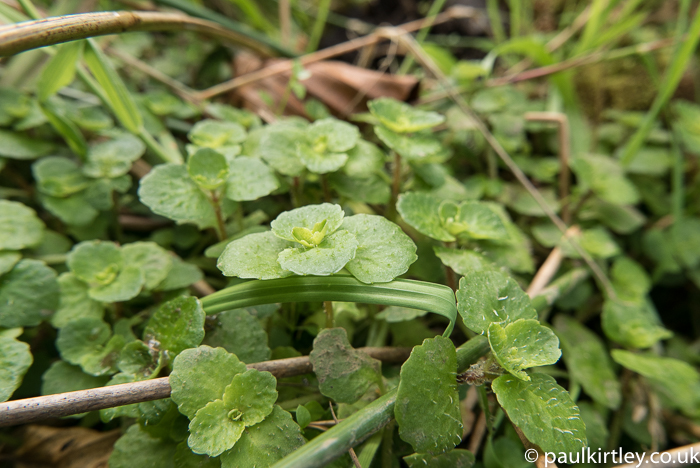 Red Dead-Nettle, Lamium purpureum
This small member of the dead-nettle or mint family, Lamiaceae, has pretty pink flowers, which you might even see in the colder months of the year. It is a winter annual. You'll find it on waysides up and down the UK. It's incredibly common. The young leaves and stems can be added to your salad or you can steam them as a pleasant green.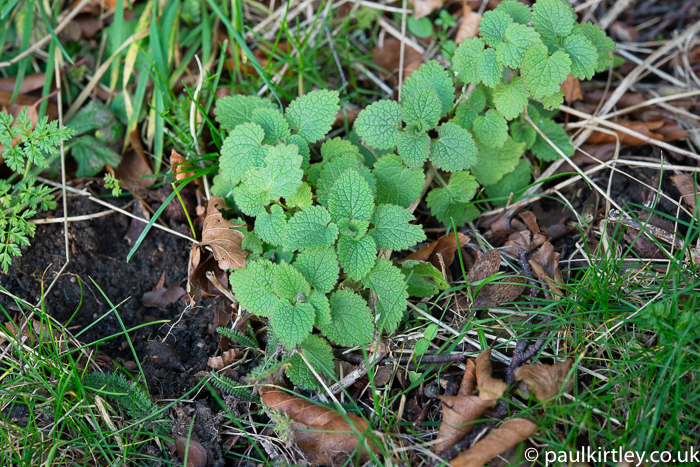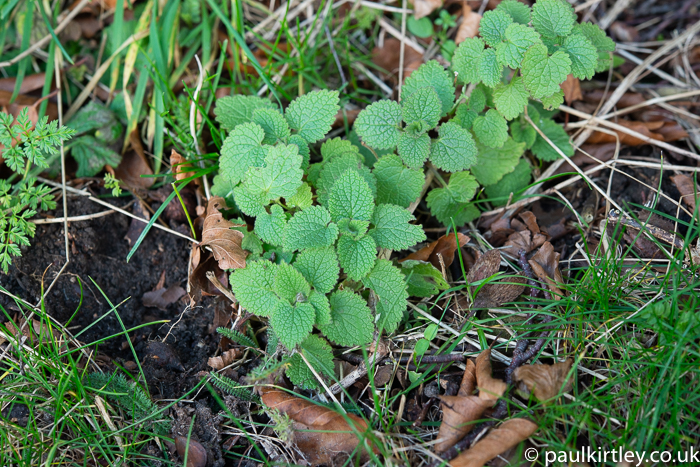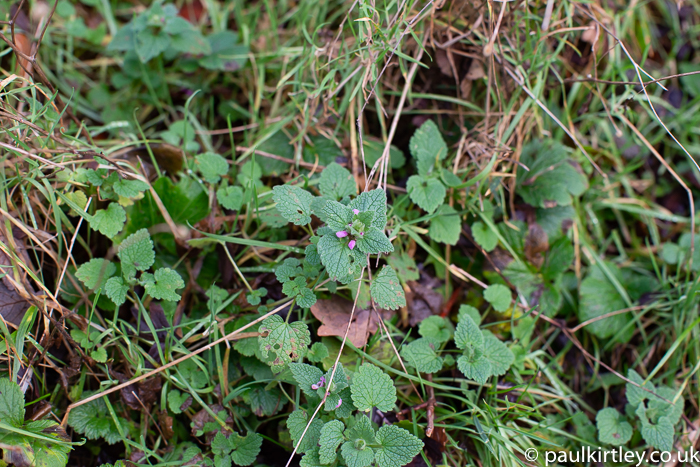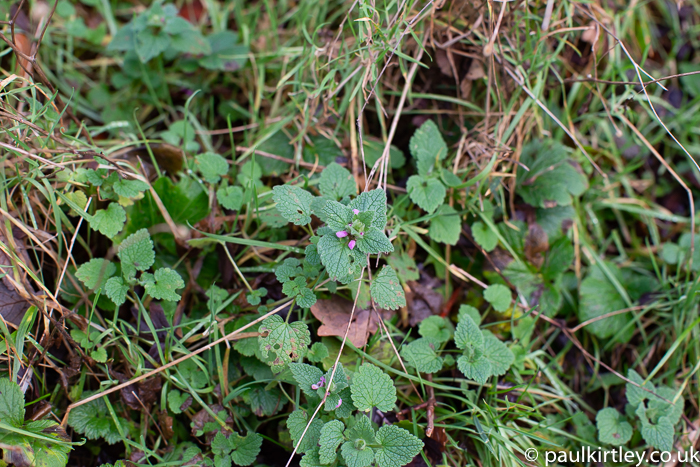 Read more about Red Dead-Nettle, Lamium purpureum.
Ribwort Plantain, Plantago lanceolata
This is one of my favourite wild greens. This may be surprising to those readers who have tried cooking this but ended up with green sludge. The key is not to over cook it. A couple of minutes only in boiling water is all that's necessary. A good alternative to eating this green hot (suggested by John Rensten in his book The Edible City) is to run it under the cold tap immediately after cooking it, then add soy sauce. It is reminiscent of the seaweed you get with Japanese food and is great with sushi. This plants close relative broadleaved plantain, Plantago major, by contrast is more bitter to the taste and has very stringy leaf veins. Seek out ribwort plantain when you can. It is a superior winter green.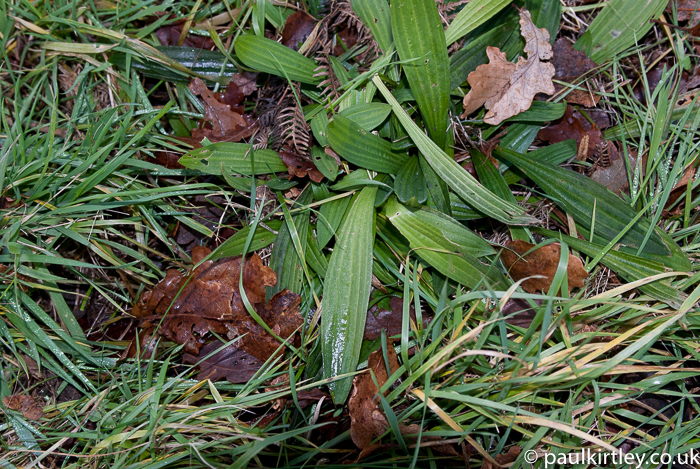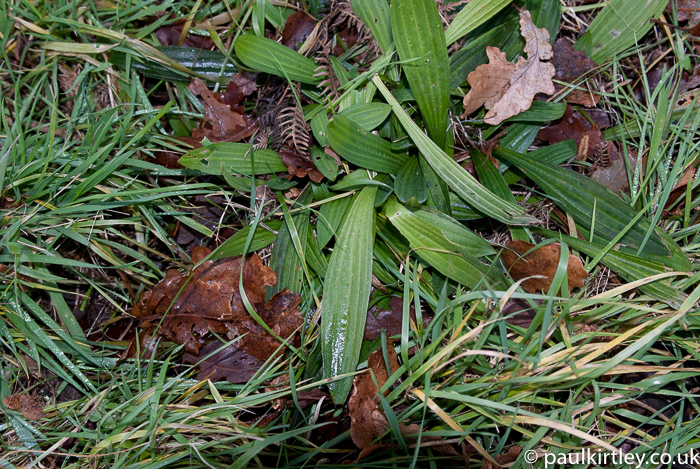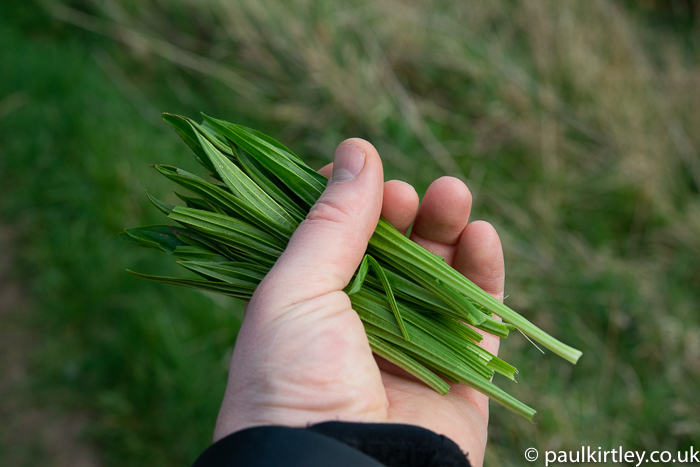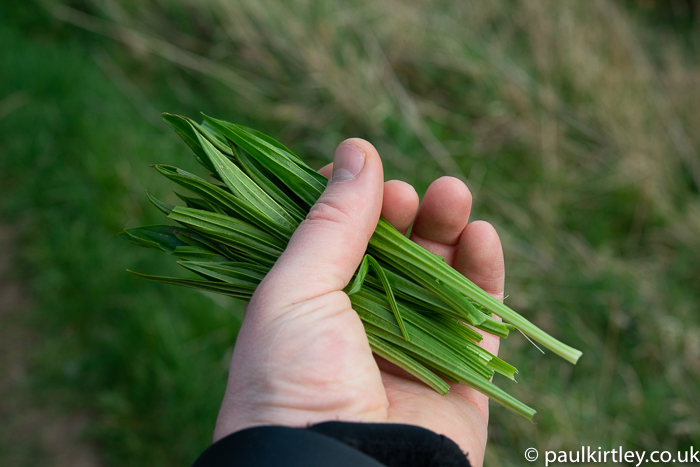 Stinging Nettle, Urtica dioica
This very common plant needs little introduction. It's a perennial that is good eating. It has good flavour and good mouth feel even after being boiled. It doesn't turn to sludge like some greens and provides something to chew! Nettles are high in protein for a green plant. They also contain many micro-nutrients including calcium, potassium, iron, phosphorous, magnesium, vitamins B and C, and beta-carotene. This is definitely a worth addition to your winter diet.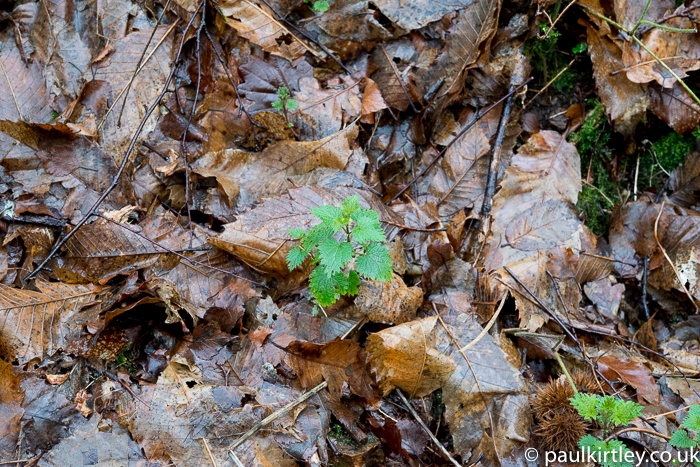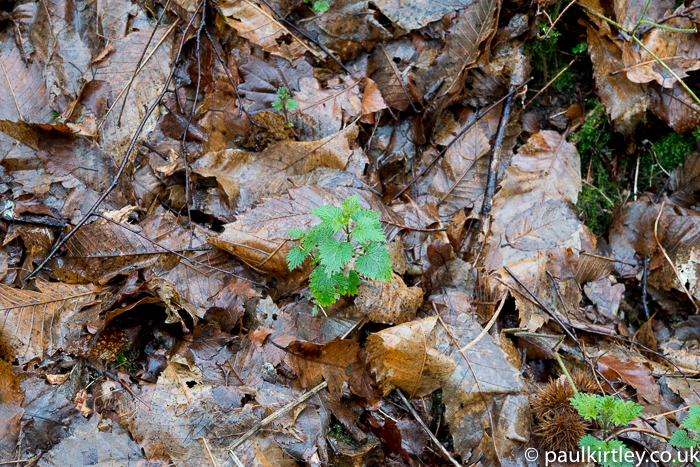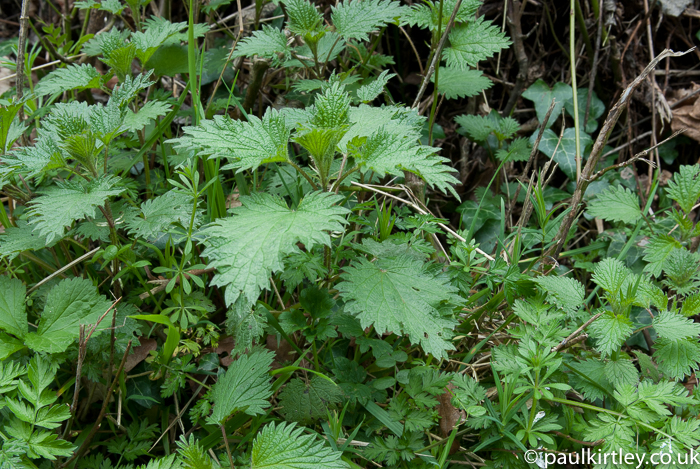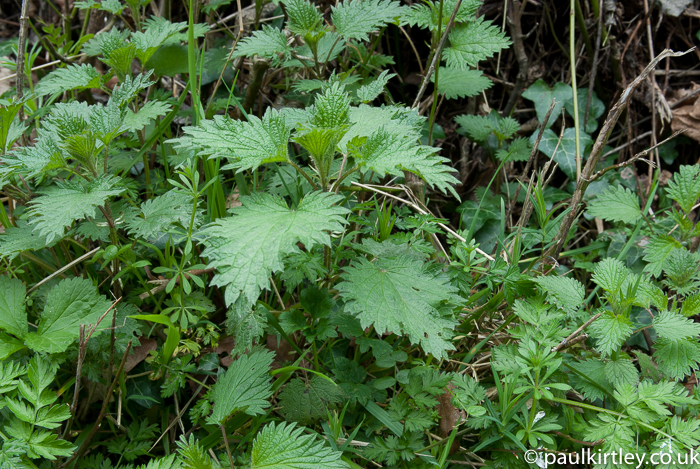 Violets, Viola spp.
As far as we know, all violets are edible. They are typically perennials and you can use the leaves or flowers in salads whenever you see them. The leaves are rich in mucilage, which is good for the stomach. I particularly like the leaves of common dog-violet, V. riviniana, and marsh violet, V. palustris, both of which, to my palate, have a mild nutty flavour. I generally avoid the sweet violet, V. odorata, which tends to be a bit pungent.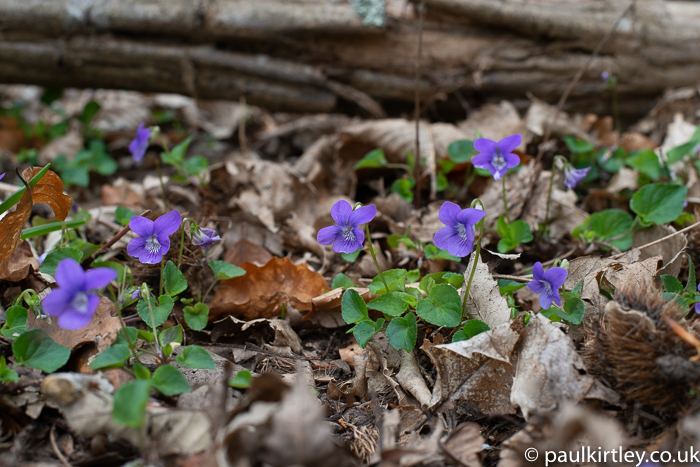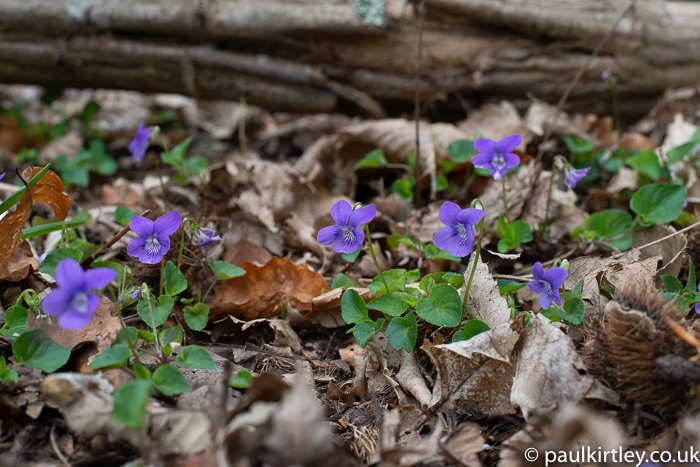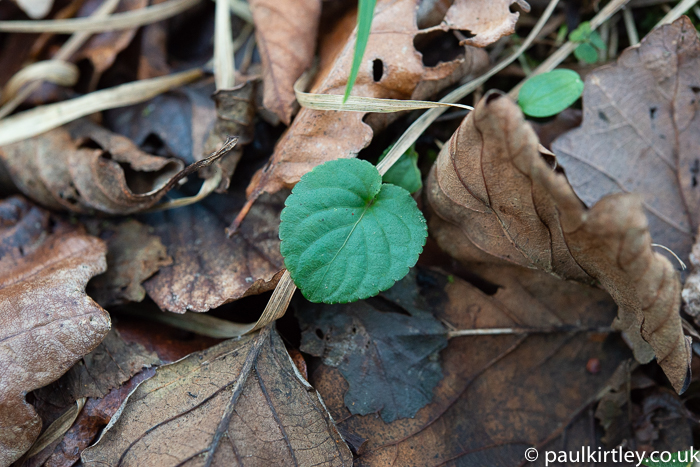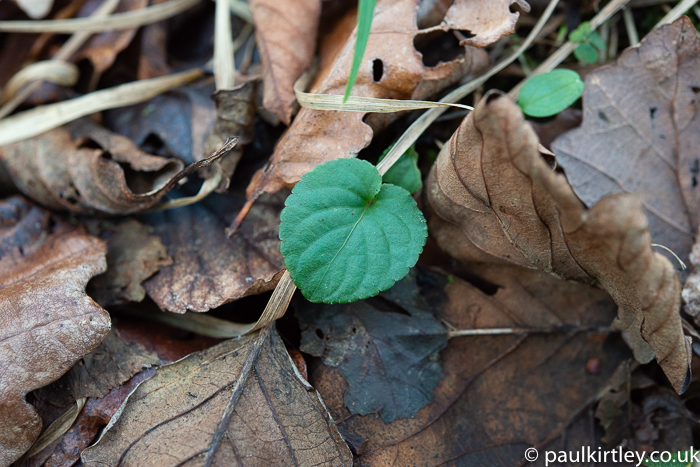 Wood Sorrel, Oxalis acetosella
This common woodland plant, with its distinctive three-leaved shamrock shape provides a burst of flavour not suggested by its small size. The pleasant, yet sour, lemony, apple-peel flavour is provided by oxalic acid. This is a good for a tasty wayside nibble but also a good addition to fruit salads as well as regular salads. It contains vitamin C and beta carotene.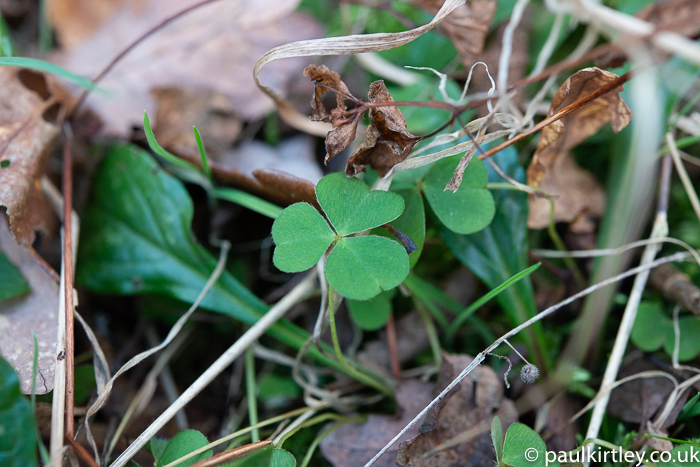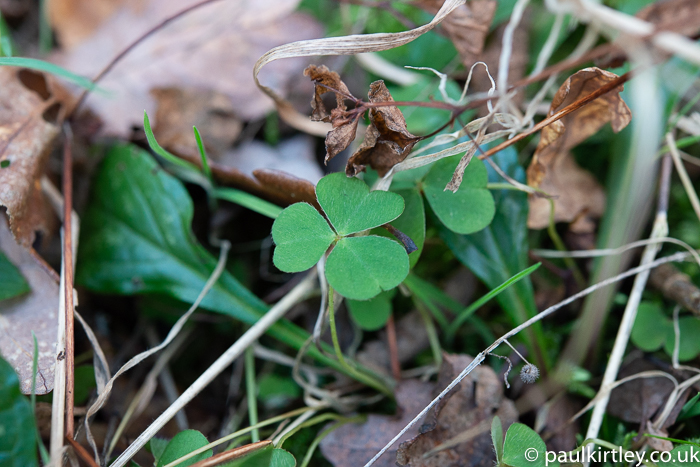 Yarrow, Achillea millefolium
Yarrow is best known as a medicinal herb, in particular applied externally as a styptic and taken internally as a menstrual regulator. It is also edible as a herb (but note the oft-repeated advice to avoid if pregnant). It has a pleasant aromatic odour and flavour reminiscent of some of the Mediterranean herbs, although some people can find it overpowering. Use it in relatively small quantities, for example a few sprigs provide a flavoursome addition to salads, or chopped finely and tossed in with pasta and olive oil (along with other herbs if you like). Alternatively you can use this as a garnish on a variety of dishes. Cooking with yarrow tends to make dishes bitter though, so best use it raw, and relatively sparingly.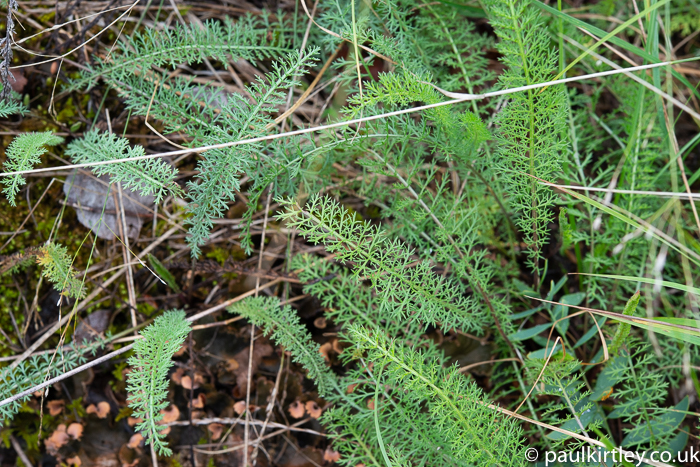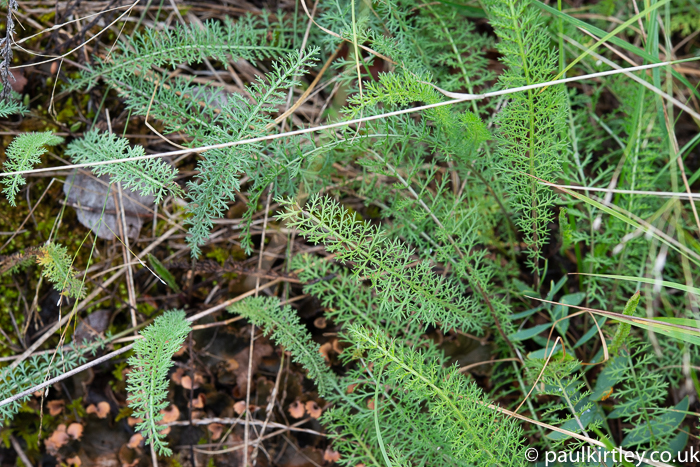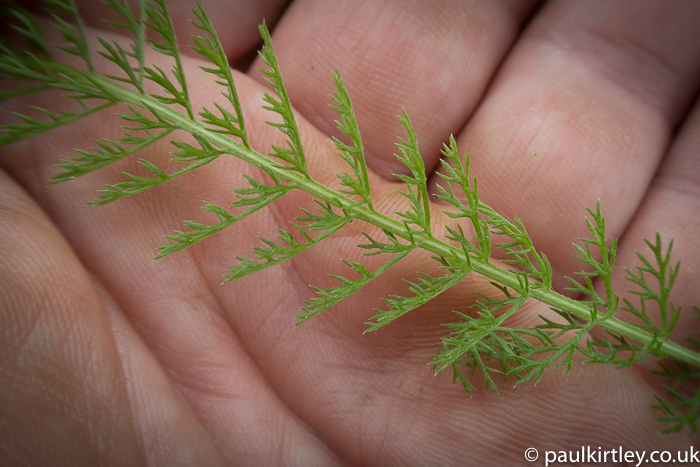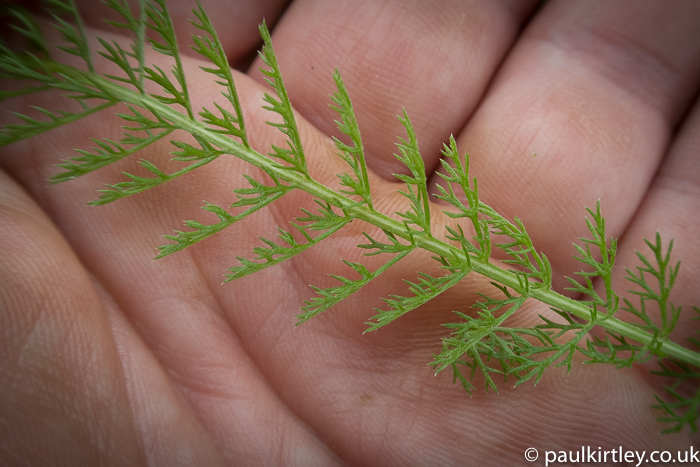 Where To Find These Plants
The species featured here are all native to north-western Europe, including the British Isles. They are common, widespread and it's highly likely you'll encounter some of these plants on a winter walk or winter camp out when there is no snow on the ground.
Enjoy discovering these plants and their flavours. Plus, you never know, these winter greens might just keep you a little healthier though the dark days of winter too.
Improve Your Plant Identification Skills
Would you like to improve your ability to identify useful trees and plants? I offer an online tree and plant identification course, which flows through the seasons. Find out more about the next available course by clicking the following link: Paul Kirtley's Tree and Plant Identification Masterclass
Foraging Plants For Wild Foods – Be Responsible
Be respectful towards nature and take responsibility for your own safety.
While the plants mentioned above are common and widespread species, please still be respectful of nature. Don't decimate areas of wild foods. Take only what you need. Understand what is legal and what is not.
For anyone considering collecting wild food plants, it is worth first reading the Botanical Society of Britain & Ireland's (BSBI) Code of Conduct, which can be found as a PDF document via the following URL…
https://bsbi.org/wp-content/uploads/dlm_uploads/Code-of-Conduct-v5-final.pdf
This article is meant as a guide to some of the plants available in winter in northern temperate Europe. Even though the species above are common and easy to identify, it is not a complete treatment of all edible plants. Nor does the article describe other, similar plants you may find alongside those highlighted above.
The safest way to learn about wild edibles is from an instructor or mentor who already has the knowledge. This being stated, it is indeed possible to learn a good deal under the guidance of good quality articles, videos, online training and books. Ultimately, though, the choice to put a plant in your mouth is yours. Any foraging you do on your own is at your own risk.
The most important thing to remember when learning to identify wild food plants is IF IN DOUBT, LEAVE IT OUT!
Additional Resources
Find out if a foraging teacher is a member of the Association of Foragers.
Obtain more information about my Tree and Plant Identification Masterclass online course.
Check out my short list of recommended wild food and foraging books applicable to the UK and Western Europe.
If you liked this article, you'll also like…
Foraging For Early Spring Greens: Some To Eat, Some To Avoid…
12 Easy-To-Forage European Plants For Spring And Early Summer
Ten Common European Poisonous Plants You Should Know
Bark & Buds: How to Easily Identify 12 Common European Deciduous Trees in Winter