#AskPaulKirtley Episode 38 – Carbon Steel Knives & Flint, Boots, 3-Season Sleeping Bags, How To Know When You Know Enough, Plus My Take On A Survival Scenario
#AskPaulKirtley Episode 38 – Carbon Steel Knives & Flint, Boots, 3-Season Sleeping Bags, How To Know When You Know Enough, Plus My Take On A Survival Scenario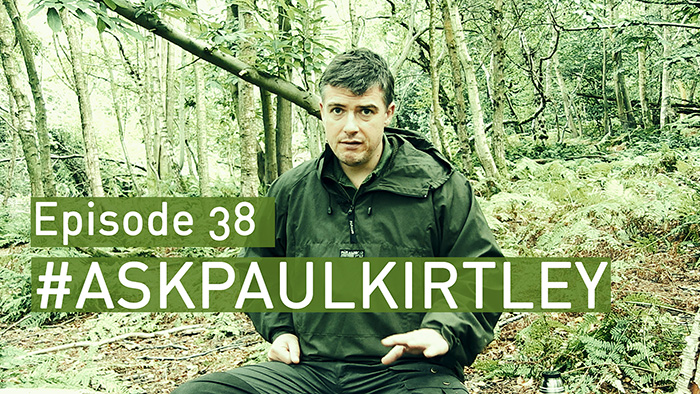 In this episode of #AskPaulKirtley I answer questions about boots for bushcraft, 3-season sleeping bag choices, carbon steel knives and flint for sparks, how to avoid shredding your knuckles while using a firesteel, long distance hiking, lightweight gear and bushcraft, how do you know when you know enough for wilderness, and what would I do in a particular wilderness canoe expedition survival scenario.
Watch #AskPaulKirtley
Click on the four arrows bottom right for full screen view. This video is available in full HD. Click on "HD" to choose the quality level you want to stream.
#AskPaulKirtley videos are also available to view on my YouTube channel.
Listen To #AskPaulKirtley
Use the following controls to listen to the audio podcast right here or download the .mp3 to your device…
Links For This Episode of #AskPaulKirtley
Jornkangan boots
Lundhags
Lowa Boots
Sealskinz
Snugpak
Vango
Snugpak Travelpak 3 Sleeping Bag Review
How To Create Really Big Sparks With A Swedish Firesteel
Wild Wanderings 5 – Seasonal Shift
Wild Wanderings 4 – Summer, Sussex and Students
How To Watch #AskPaulKirtley On Other Platforms
The videos will be uploaded to my YouTube channel and embedded in the Facebook Page associated with this blog as well as embedded here on my blog.
How To Listen To #AskPaulKirtley On Other Platforms
Podcast RSS Feed: You can subscribe via the #AskPaulKirtley Podcast RSS Feed
iTunes: You can subscribe to #AskPaulKirtley via iTunes
Soundcloud: Follow me on here on Soundcloud
Leave A Comment…
Leave me a comment below. Let me know what you think of this episode. I read every one.
But remember if you want to ask a question for a future episode, don't do this in the comments below, do it in one of the ways explained HERE.
What Is #AskPaulKirtley?
#AskPaulKirtley is my Q&A video and podcast series that aims to answer your questions about bushcraft, survival skills and outdoor life.
The idea here is partly to take the strain off my email inbox and get answers out to people in a more timely fashion.
Rather than send an answer to just that one person, I'd like others to benefit from the answers too. So, just in the same way I'd previously write an email answer, here I'm going to speak the answer (which is much quicker than me typing out an answer, so I'll get more questions answered as well as benefiting more people).
Click here to find out the different ways you can ask me a question.
Related Material On Paul Kirtley's Blog:
PK Podcast 011: Andy Chadderton On Life As A Professional Deer Stalker
Way Out North: A Boreal Forest Foray
The Importance of Leaving Word Before Heading Into the Wild
#AskPaulKirtley Episode 26 – Bow Drill Reality Check, How To Get Fit For Backpacking, Kit Mentality and My Views On Survival TV Shows