The River Crake Canoe Caper
The River Crake Canoe Caper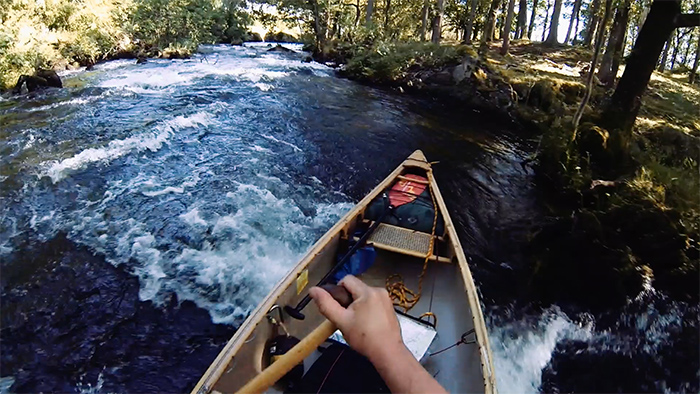 Canoeing the River Crake is one of many short but compelling canoe trips one can undertake in the north-west of England. Draining out of Coniston Water in the Lake District, the Crake flows only 10km (6 miles) before reaching Greenodd, where it meets the tidal waters of an estuary at the top end of Morcambe Bay.
While the Crake is a short river, it's definitely a worthwhile adventure in canoe. It's always a narrow – and often rocky – creek of a river, never reaching any great width. Indeed, in some places you imagine you could pretty much wedge a canoe sideways from one bank to the other. It's fast and somewhat technical in places but all manageable in a canoe if you have the ability to manoeuvre the boat around with accuracy.
Every year, Ray Goodwin and I run Expedition Canoeing Skills training courses in the Lake District. On our day off, in between courses, we look to undertake a little adventure, something Alastair Humphreys might call a micro-adventure. Last year, we paddled the Greta. There were a few rivers close to where we were working and the River Crake was a possible candidate.
I had paddled the Crake a couple of times before, but not for a good number of years, and only ever in winter. So, here we were in June in the Lakes with a good chance of reasonable water levels on the local rivers. A week before this, just before we arrived for the first course, there had been heavy rains and water levels in the lakes and rivers of the area had risen considerably. Since then, it had been dry and all week the levels had been dropping again. We were hopeful, however, water was still flowing quite nicely…
Click on the four arrows bottom right for full screen view. This video is available in full HD. Click on "HD" to choose the quality level you want to stream.
You can also watch The River Crake Canoe Caper on YouTube here.
River Crake Access – Some Comments
Please be aware, there is allegedly now an access agreement in place for the River Crake. When we set off on this trip on the River Crake, we were not aware of any access agreements in place. The night before the trip I had checked the results in Google for "River Crake" and "River Crake access" – the top results yielding sites with information which actually said there was NO AGREEMENT, there was unlikely to be one "before Hades freezes over" and year-round access was not a problem. This is not what we were told by a gentleman at Bobbin Mill near Spark Bridge (see 24:47 in the video).
He was very reasonable and said note of the agreement "is on all the websites". In fact it clearly isn't and since then I've struggled to find mention of an access agreement anywhere. But there is the following document, which I have unearthed:
http://www.canoe-england-cumbria.org.uk/region02/assets/File/Spark_bridge_sign_2012.pdf
The document does not state the parties between whom the agreement has been made, or whom or which interests they claim to represent.
The above linked document is dated (2012) earlier than the updates on some websites which say there is no agreement, so the situation is still somewhat confusing.
If you are familiar with my work, it should go without saying that I'm one of the last people who wants to disrupt natural environments, sensitive habitats or recovering species populations.
Clearly the system of promulgation of guidance as to where paddlers are welcome in England and Wales, and where they are not, leaves a lot to be desired. Even when you try to do the right thing (and think you have checked and made sure everything is OK), it can be hard to find accurate information. We can only hope that perhaps in the future, British Canoeing might invest some of its funds into providing a central, up-to-date resource for canoeists who are focused on adventure and journeying, rather than what I perceive to be an over-emphasis on paddlesport.
The Crake Is Creeking Great In A Canoe
Regardless of the above access questions, the River Crake is a great little creek of a river, with a lot to offer in a day for the open boat canoeist. I hope you find this video useful as well as entertaining. It certainly highlights the issues of paddling this river in summer on a number of levels, including access and being virtually overgrown in places. The film also draws attention to two major tree hazards which exist in the river as of summer 2017.
Let me know your thoughts on the video in the comments below…
Related Material On Paul Kirtley's Blog
Fun In The Swellies: Fighting The Tide In The Menai Strait
A Trail Of Destruction: Canoeing The River Greta After The Floods…
White Water Safety & Rescue Training Provides Useful Survival Skills
Kevin Callan, The Happy Camper (Podcast Interview)