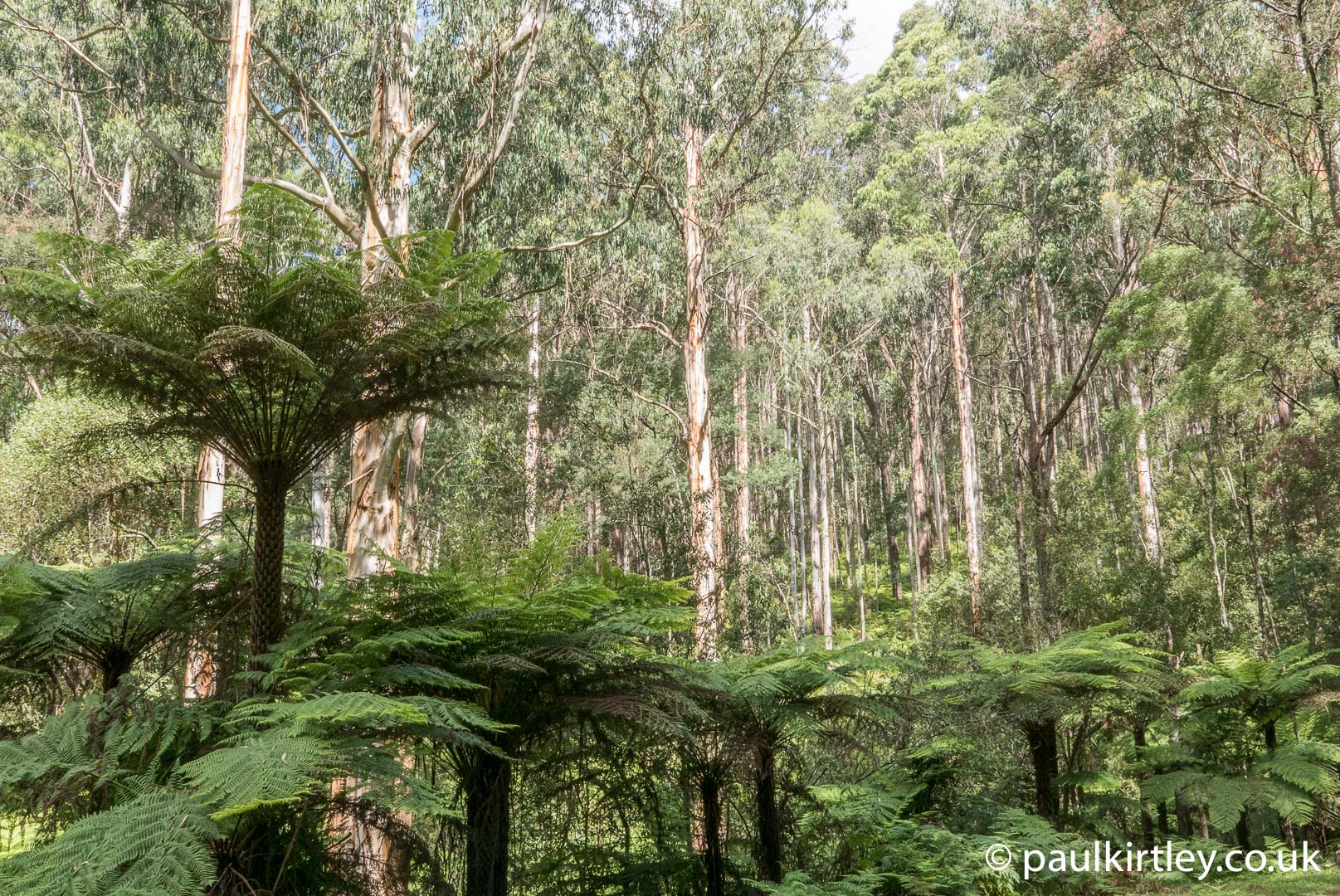 Wild Wanderings 11 – Strangers In A Strange Land
Wild Wanderings 11 – Strangers In A Strange Land
The Dandenong Ranges or simply, the Dandenongs, are a range of hills near Melbourne, Victoria, Australia. At about 20 miles out of the city, the proximity of the Dandenongs put the area within easy striking distance during my recent stay. I've been to the Dandenongs before but I wanted to return because the forests there are simply magnificent. The slopes and in the gullies of this area are characterised by towering mountain ash, a.k.a. stringy gum, Eucalyptus regnans, and rough tree ferns, Cyathea australis.
We headed up there for a day hike, parking at the Woolrich Lookout above the RJ Hamer Arboretum. Our aim was to drop down from there into the Olinda Valley, completing a circular route, descending on one side of the valley, before crossing Lyrebird Gully Creek to head back uphill to our start point from there.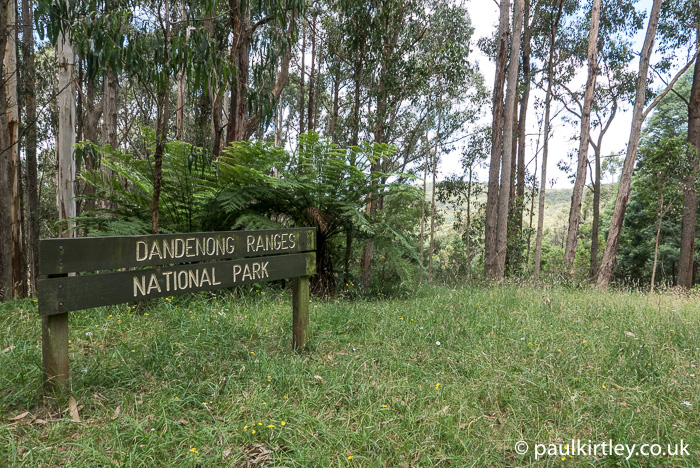 What strikes me about the country close to habitation in this part of the world is the interesting mix of the strange and the familiar. There are native species here that have commonalities with relatives found in Europe. There are also a good number of species that are familiar by virtue of the fact they have been introduced and naturalised following colonisation.
Then there are the species that are alien to me but native to this part of Australia, which I'm still getting to know.
This photoblog captures some of the strangers we saw on our day hike in the Dandenongs – some strange to me and some once strange to the place but now established.
The photos here were all taken on 3 January 2018, in Victoria, Australia.
Familiar Strangers – Naturalised European Species
As we dropped away from the corner of the Woolrich Lookout, descending on a trail edging a meadow, familiar yellow flowers made their presence known. It looked like wild fennel, Foeniculum vulgare, and on closer inspection it certainly was. This would be the first of a good number of familiar European species we saw on this day, all of which are naturalised here…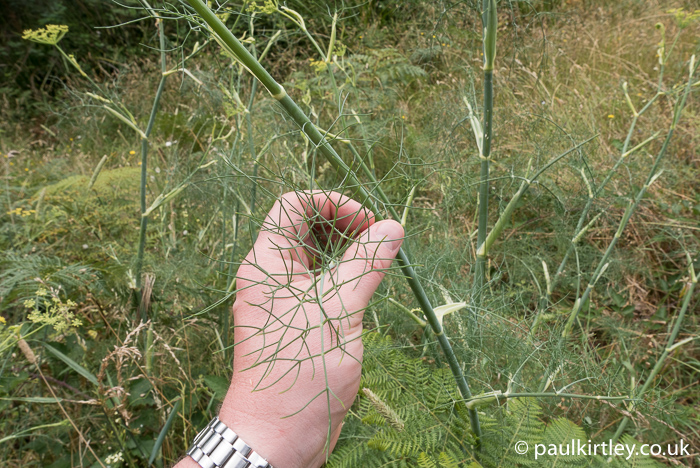 Not long after this we came to a little glade, awash with sunlight and full of vibrant purple. Again my brain switched from trying to process the unfamiliar to recognition of the familiar. Flower heads of self-heal, Prunella vulgaris, were providing the purple. It's a common and widespread species back home, always a feature of our summers in the UK, but it was somewhat odd to see it blooming in early January.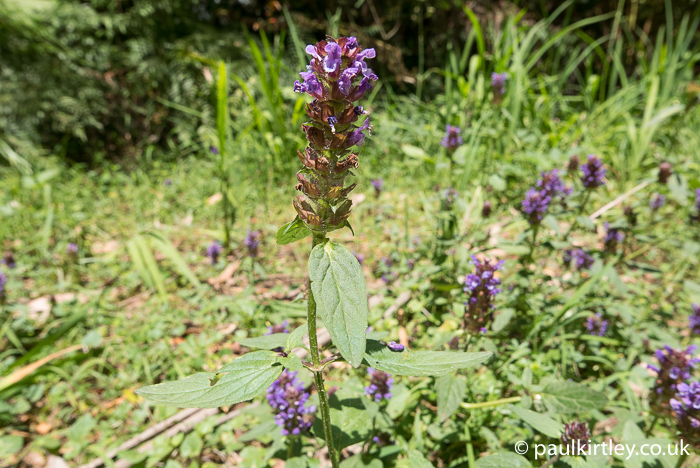 We continued along the track which, while undulating, was overall taking us downhill. Here we were still in the arboretum and native gums rubbed shoulders with European and North American tree species, including relatively juvenile Wellingtonias.
After a crossroads in the track, we dropped down steeply on a water-eroded trail through open woods. There was more light and a host of butterflies. These were mainly common brown butterflies, Heteronympha merope.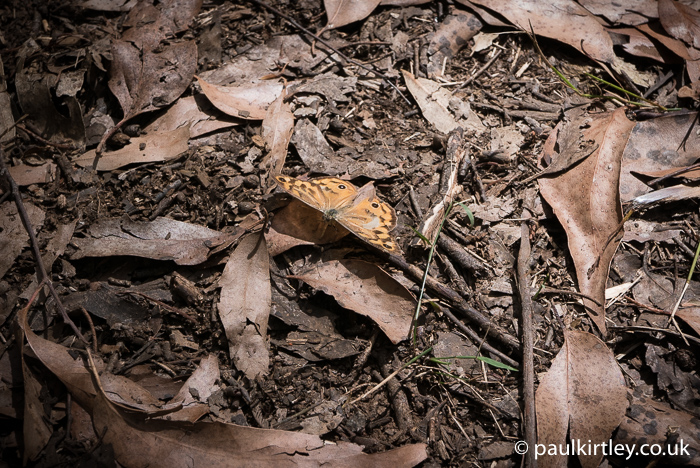 We turned left and continued down towards the centre of the valley. The trail took us through some magnificent stands of tall native gum trees, with an understorey of ferns, from bracken ferns to tree ferns. We joined a more significant track and continued into an area of more mixed woodland, with some areas of grass and bracken. Here there were many familiar European plant species.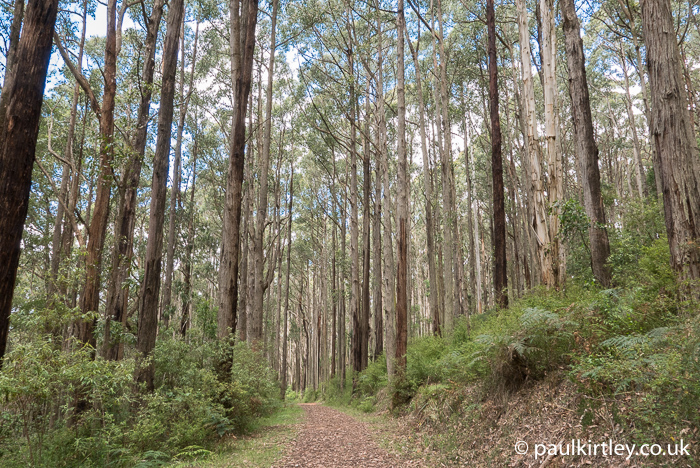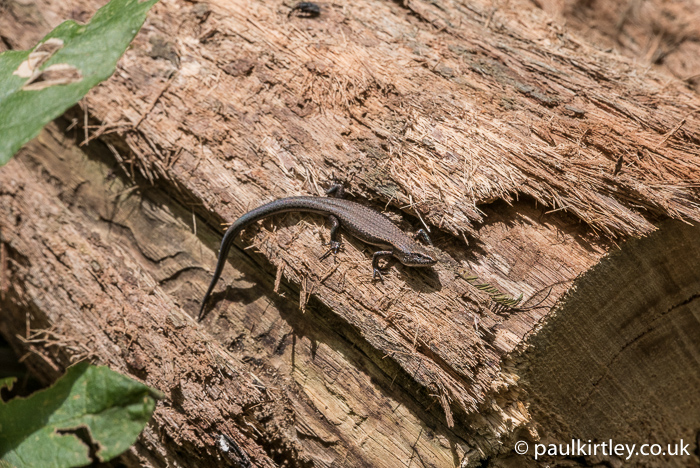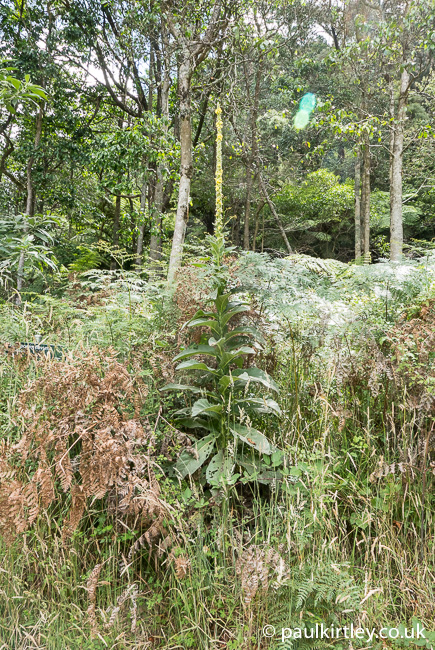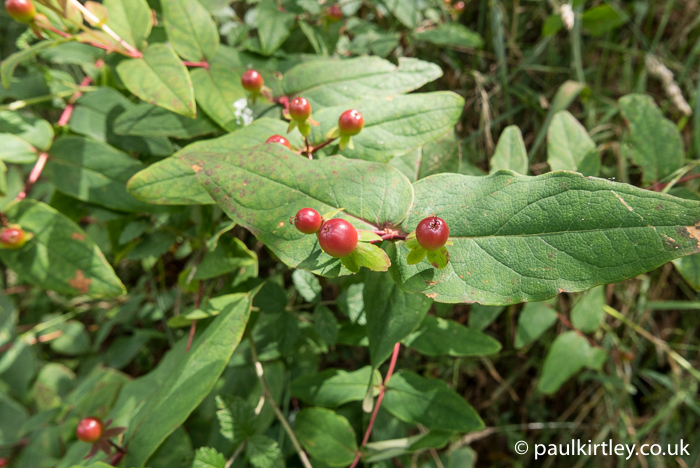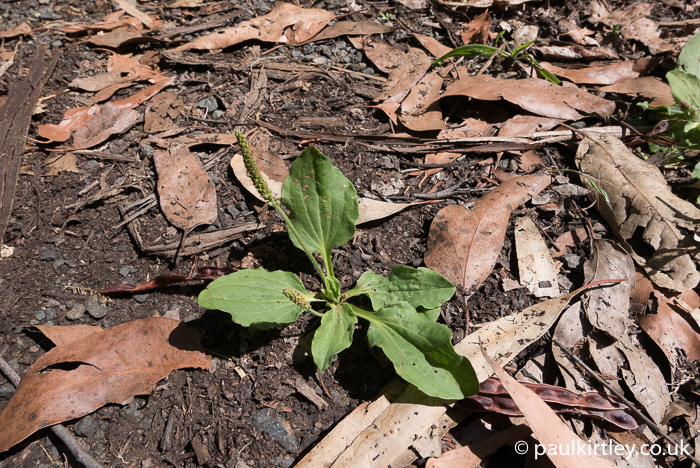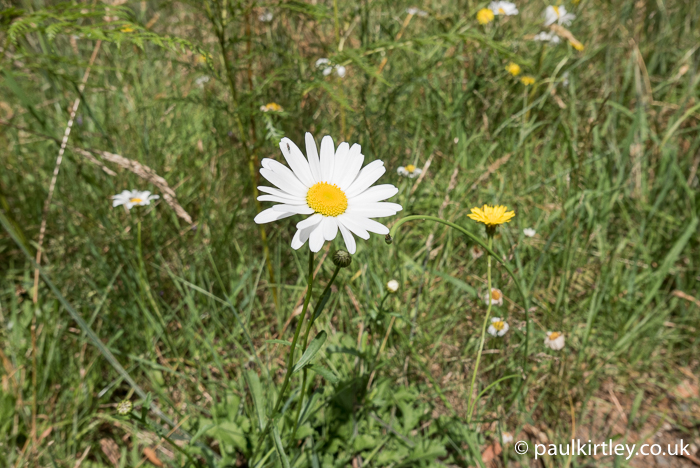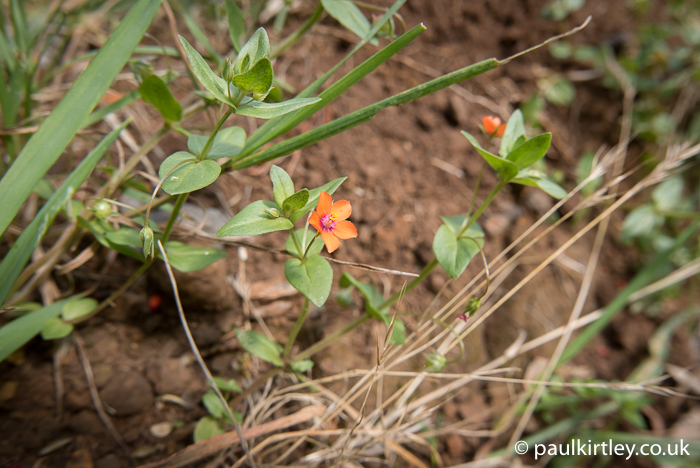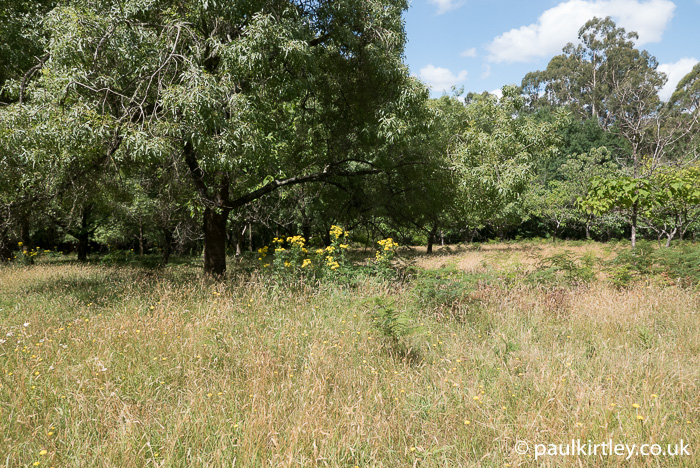 Would you like to strengthen your ability to identify northern temperate species such as those featured above? Take a look at my Tree & Plant Identification Masterclass. It is aimed squarely at people who want to be able to identify species for the purposes of bushcraft and survival.Find out more here: identificationmasterclass.com
More Info About These Naturalised Species In Victoria
The links below will take you to the VICFLORA entry for the respective species provided by the Royal Botanic Gardens Victoria. These entries contain an overview of the species, some images and information on its distribution in Victoria, including a distribution map.
Wild fennel, Foeniculum vulgareSelf-heal, Prunella vulgarisGreat mullein, Verbasum thapsusTutsan, Hypericum androsaemumGreater plantain, Platago majorOxeye daisy, Leucanthemum vulgareScarlet pimpernel, Anagallis arvensisRagwort, Senecio jacobaea
Strangers With Familiar Features
For me, there's something primordial about tree ferns. Something of the Conan Doyle's The Lost World about them. I wouldn't be overly surprised to see a pterodactyl flying overhead when in amongst them.
While small ferns are very familiar from Europe, tree ferns are decidedly different. It was great to see so many of them in the Dandenongs. In addition to rough tree ferns, Cyathea australis, here in the Dandenongs there are also specimens of soft tree-fern, Dicksonia antarctica, and gully tree fern, Cyathea cunninghamii amongst the other ferns, including bracken ferns of the Pteridium genus.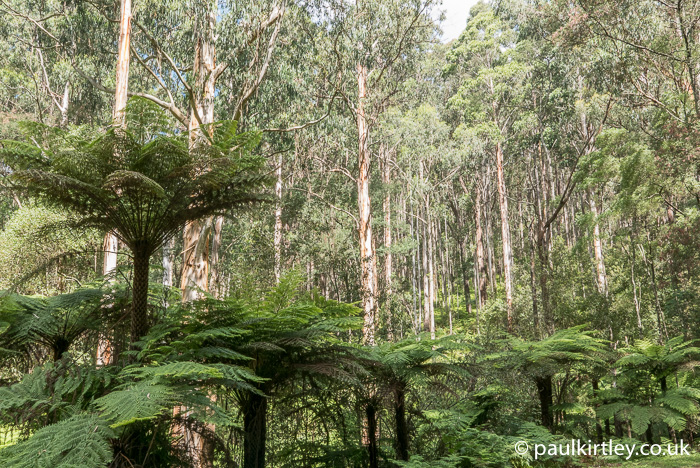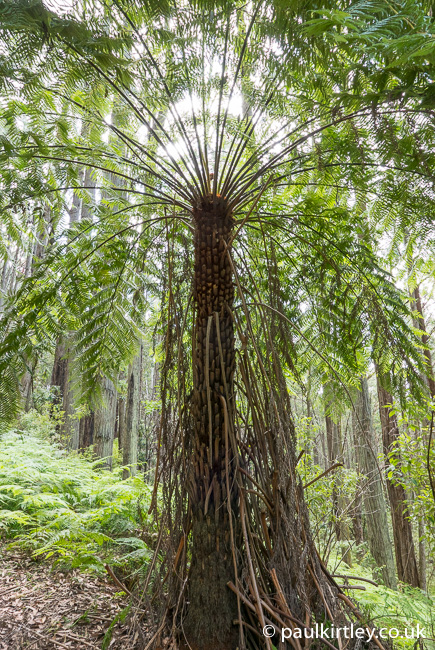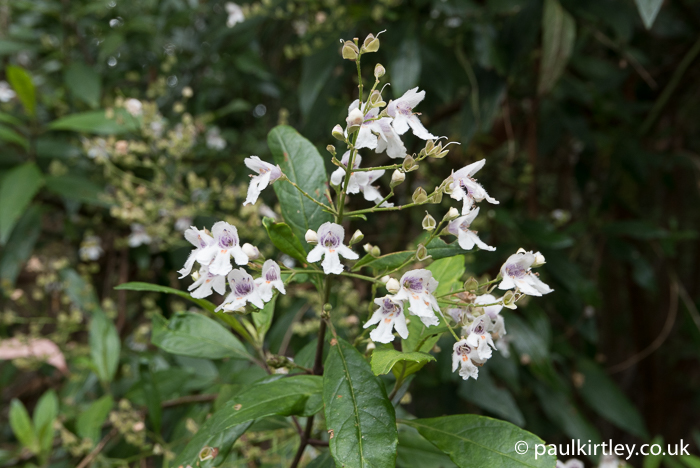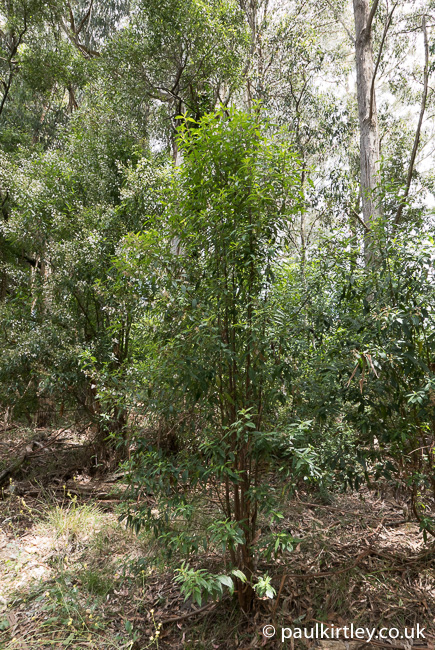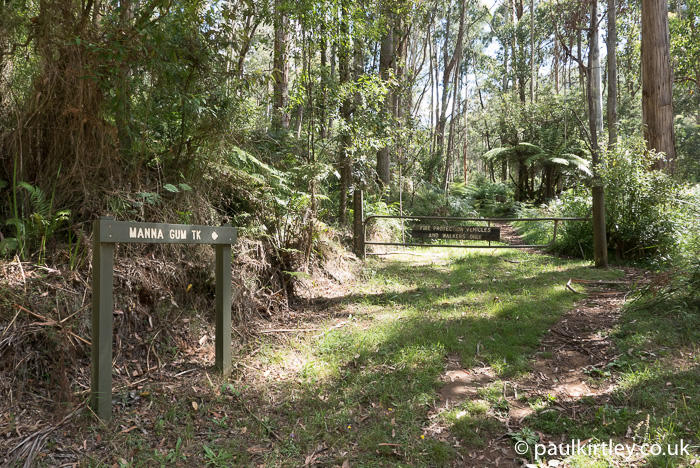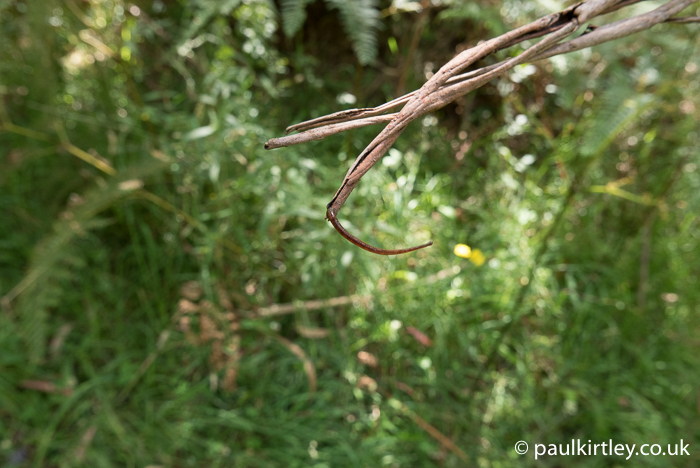 As we moved further uphill, away from the verdant track lower down and into better drained, drier slopes, we left the leeches behind. Here we heard rustling in amongst the flax lilies on the ground. Before too long, up flew a couple of colourful rosellas. As we continued up the trail, this happened repeatedly. Birds flying up from the ground.
The trail was strewn with the fallen seed pods of acacia and we figured this is what the birds were feeding on. A little further up the trail we could here clipping sounds coming from the trees and indeed we could see the parrots moving from seed pod to seed pod, extracting the seeds with their bills. Down on the forest floor in this area were also some interesting native plants…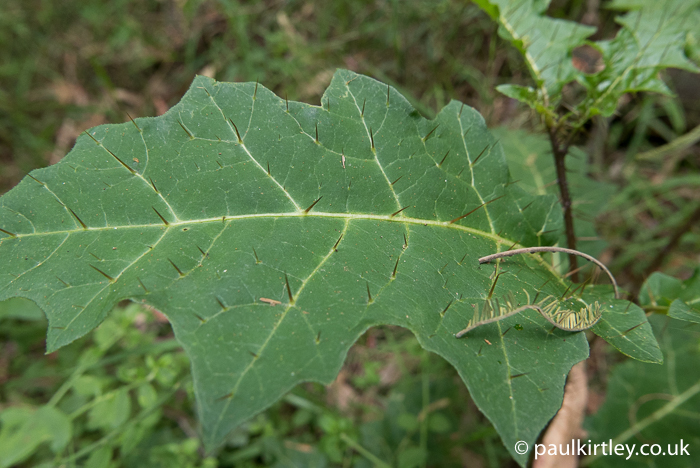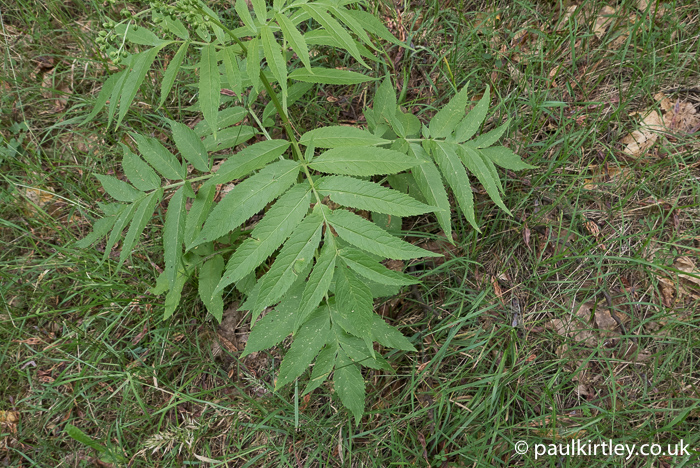 A Fitting End
The trail we had been following had been running parallel with the course of Lyrebird Creek and following a little loop taking us further away from the creek we were now contouring round the head of this little valley, getting closer to the course of the creek again. I heard a rustling in dry leaves, the source of which was obscured by ferns in the immediate foreground. I stopped for a moment, then continued quietly along the grassy track.
I still could not see anything but the sound coming from the bush to my right reminded me of the sound blackbirds make while tossing aside leaves to get at grubs and worms underneath. Then I saw him. A lyrebird grubbing around in the leaf litter. He was in a shady patch and hard to see. If you look closely in the photo below, he's just above the light patch in the middle of the photo.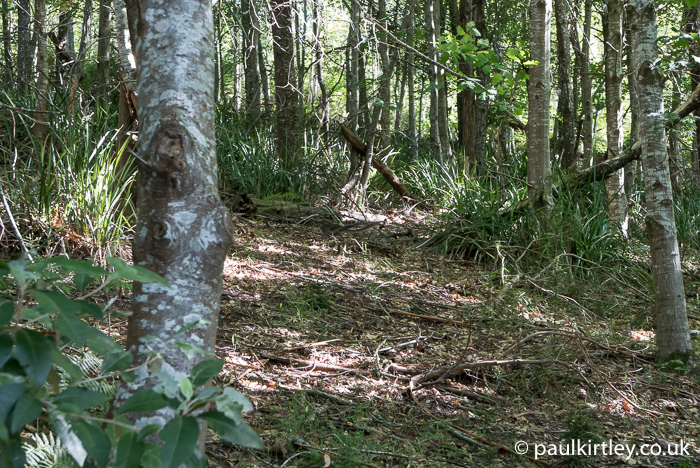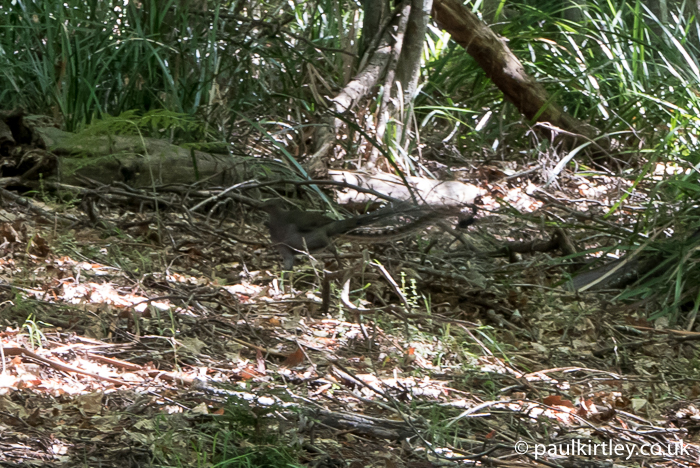 It was very fitting to see a lyrebird just above Lyrebird Creek. Shortly after this we took a narrow trail steeply uphill that abruptly came out of a narrow aperture in the bushes to meet one of the main tracks at right angles. It was almost as if we'd come out of a secret door. Here there were people walking in each direction on the main track. It was all a little jarring. We'd not seen a soul on our entire climb back out of the valley bottom.
We quickly left the main trail again. To finish, it was another steep climb, this time longer and out of the relative coolness of the woods. The trail took us into the bright glare of the angled grassy meadow below Woolrich Lookout. The reward at the top, however, was a brilliant view out over the top of the canopy of trees we'd been under for the majority of our hike.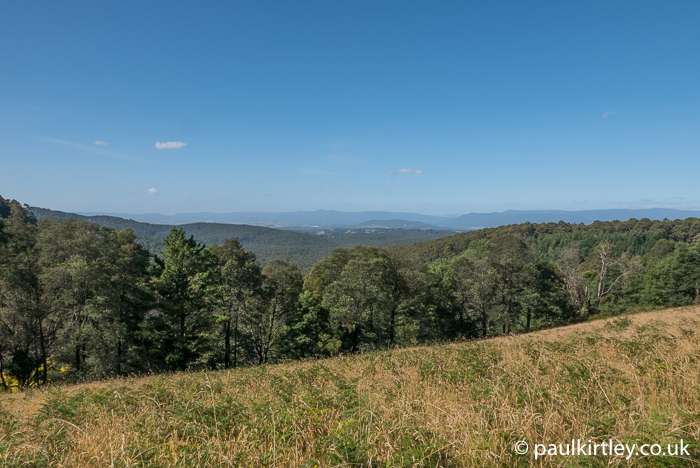 The Dandenongs are far from being one of the wilder parts of Australia but there was still plenty to see here and learn about. Plus it's good exercise tramping up and down these hills.
I hope you enjoyed accompanying me on this edition of wild wanderings. Let me know your biggest take-away or favourite part of this piece in the comments section below…
More Info About The Native Species Mentioned
The links below will take you to the VICFLORA entry for the respective species provided by the Royal Botanic Gardens Victoria.
Rough tree fern, Cyathea australisSoft tree fern, Dicksonia antarcticaGully tree fern, Cyathea cunninghamiiVictorian Christmas bush, Prostanthera lasianthosForest nightshade, Solanum prinophyllumWhite elderberry, Sambucus gaudichaudiana
Want To Get Better At Tree & Plant Identification?
If you'd like to strengthen your tree and plant identification skills, then you should take a look at my Tree & Plant Identification Masterclass. It is aimed squarely at people who want to be able to identify common, widespread and useful species for bushcraft and survival. Find out more here.
What Are These Wild Wanderings Blogs Anyway?
Wild Wanderings is a series of photoblogs of elements of nature which, having caught my eye while out and about, I want to share with you, the reader. These observations are typically related to tree and plant identification, animal tracks and sign and other aspects of natural history which pertain to bushcraft and survival skills.
These blogs do not usually contain much written explanation other than concise photo captions. This is intentional, as writing long descriptions, including background facts or a large amount of context, whether it be historical or contemporary, slows down the sharing of these images with you.
Photographic Kit
The above photos were taken with the diminutive yet powerful Leica D-Lux (Type 109), which is my compact travel camera of choice.
Related Material On Paul Kirtley's Blog
Wild Wanderings 10 – Dormant Detail
Wild Wanderings 9 – Gottröra, Sweden