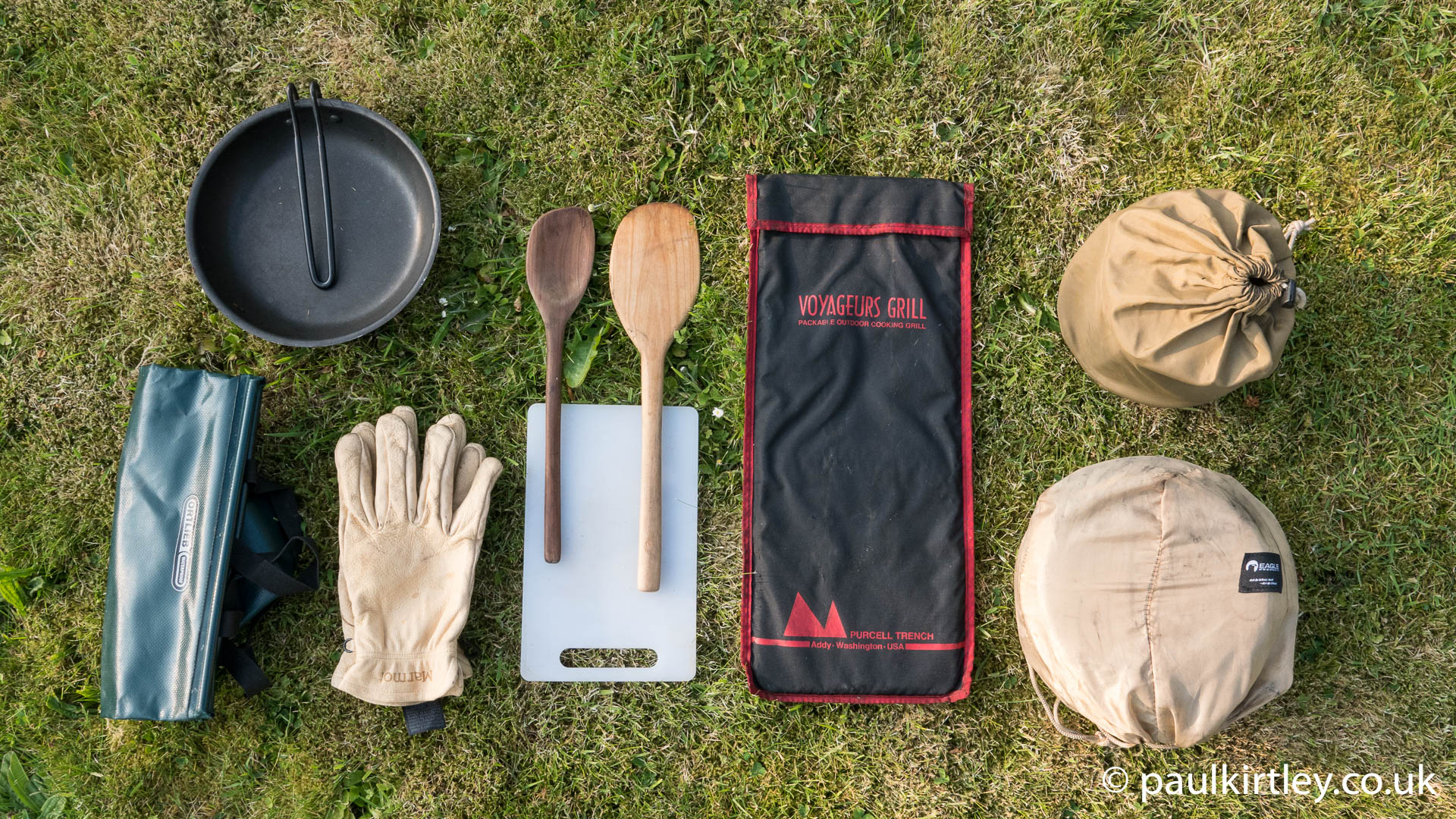 A Canoe Camping Cookset
A Canoe Camping Cookset
I love travelling by canoe. And I love campfire cooking. I definitely prefer cooking over a campfire to cooking indoors at home and, moreover, I think some of the dishes I cook are actually better over the fire than in the more controlled domestic setting.
So it is I have accumulated a range of cookware that is really suited to canoe-camping and turning out decent meals over a campfire. The cookware outfit I will explain to you here is one suited to small groups, ideally 2-4 people. It is the cookware outfit that we used on the River Tay canoe trip for example.
This set-up doesn't include a Dutch oven, which I often take when I am leading larger groups (albeit an aluminium one). When doing personal trips, I tend to try to keep the weight down while still maximising the functionality of the cookware as much as possible.
The set up I have assembled here is based on my experience travelling in Canada and Scandinavia as well as the UK, and the selected items reflect this. If you seek to replicate the set-up I've described below, I apologise if some of the items are hard to track down in any one geography, whichever side of the Atlantic you live.
The items I've selected for my personal canoe-camping kitchen also allow flexibility. My pots can be suspended on tripods, pot hangers or wauguns, as well as placed on gas or petrol stoves. In addition I carry a light-weight grill (which is useful in itself) but is also sturdy and stiff enough to hold pots over a fire, while spanning between rocks or logs. More details on this below.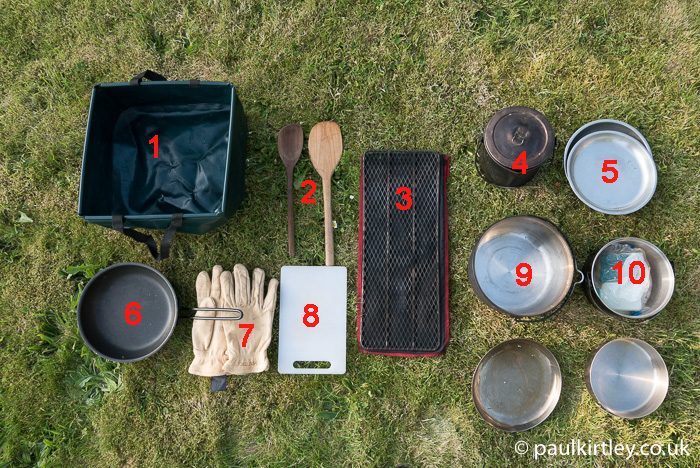 1. Folding Wash Bowl
This is a folding bowl made of similar material to canoe dry bags. These bowls are quite robust and hold a similar volume to a domestic washing-up bowl. One just needs to be mindful of not piercing them with a knife tip. They have more rigidity than the smaller "dog bowl" type of camping bowl, and have handles, which can be useful for both collecting water as well as transporting the bowl to a place where you want to dispose of dirty dish-wash water.
While a good size, these bowls fold down flat for packing. The model pictured is by Ortlieb. I also have a similar one by Seattle Sports.
2. Wooden Utensils
Utensils for use with the various pots. Wood or plastic is better with non-stick surfaces than metal. Plastic melts more readily than wood, so I favour wood. It's a nice project to carve your own utensils.
3. Portable Grill
The portable grill I use is a completely different beast to those saggy, rusty grills you see left in fire-pits around the globe. TIG-welded tubular steel makes a light and stiff grill that will hold a substantial weight. These excellent grills are made by Purcell Trench. They come with their own slip sleeve and will fit perfectly down the side of a portage pack. This is a next level cooking-ninja piece of kit most bushcrafters or canoe-campers have never even heard of. They are not cheap but just buy one. You won't regret it.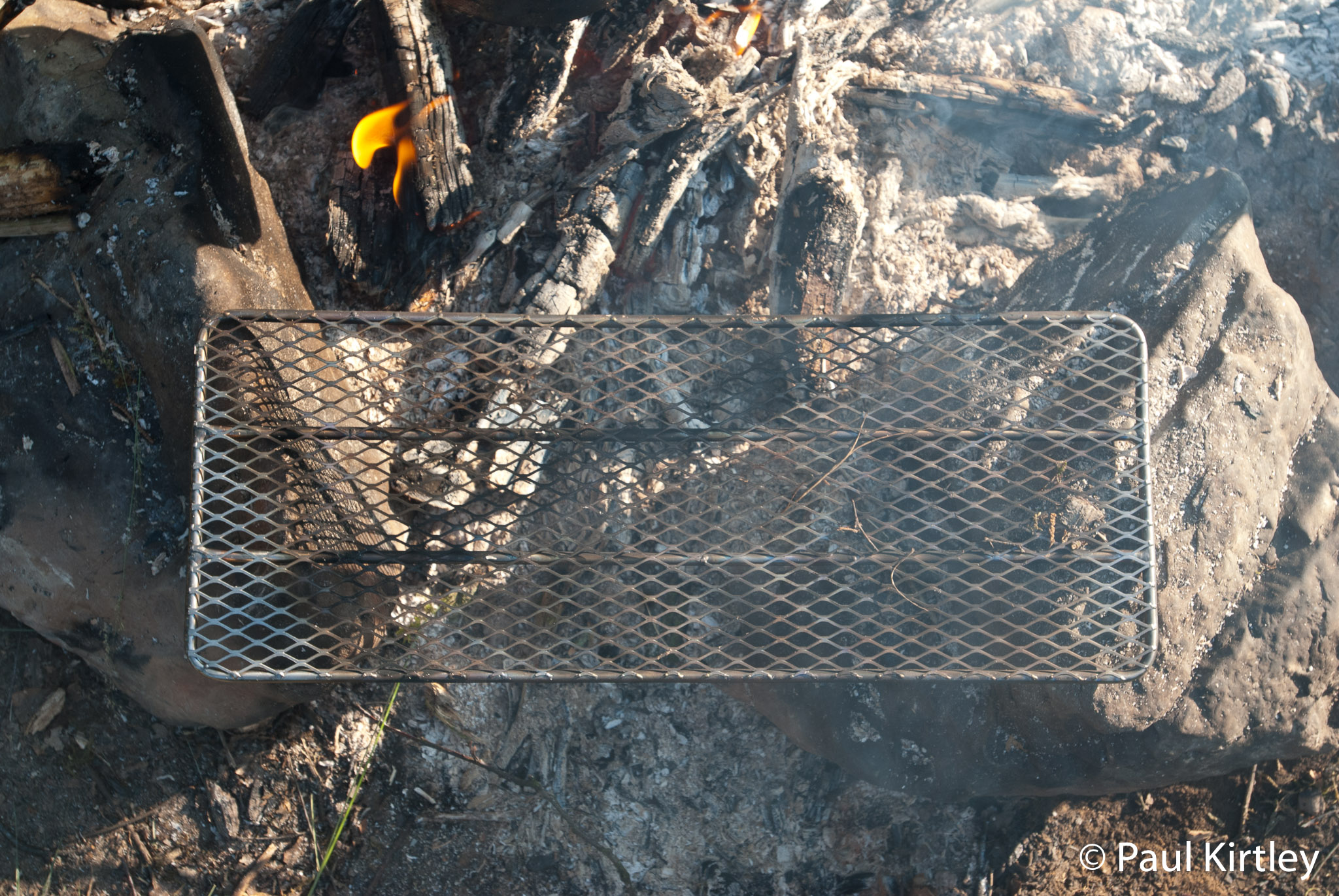 4. Mors Pot
Named after Mors Kochanski, these pots are available via Four Dog Stoves. The pot I have is now my basic personal billy can and has replaced my Zebra pot in my bushcraft camping outfit. It is lighter and larger than the pot I was using. It is of a similar size to the 14cm Zebra pot and so good for two people. It makes an excellent coffee pot! These are hard anodised aluminium with some interesting additional features. Find out more about the 1.8 litre pot here. The Cordura cover completes the set up. If you were going super-light, this is the only pot you'd need. In the context of this canoe-camping kitchen set-up it forms an integral and important part of the whole.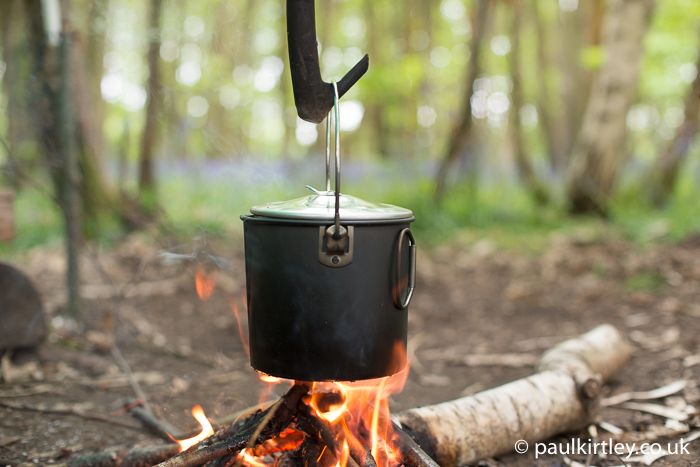 5. Metal Plates
I don't mind plastic plates but they do tend to hold food flavours and remain greasy even after washing. Plastic plates are also easily damaged by heat (for example once I accidentally put a plastic plate down onto an ember that had strayed from the nearby fire and burned a hole straight through the plate). Metal plates allow you to keep food (well, bacon mainly) warm near to the fire. Enough said. The ones I favour are by the mountain plate by MSR. They fit inside my main cooking pot (see number 9 below). I take 2, 3 or 4 of these metal plates with this canoe-camping cookset depending on how many people are travelling.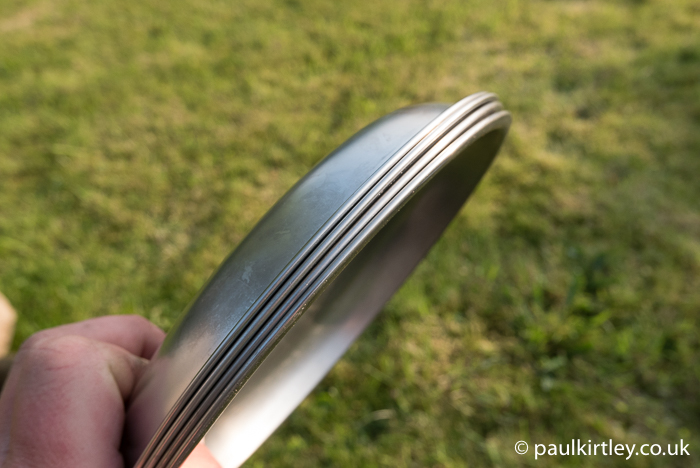 6. Fry Pan
A frying pan is a good addition to a cook set if you plan to do any sort of cooking that strays away from purely boiling. As well as giving you the ability to saute ingredients for main meals, you can make pancakes, omlettes, pan breads, french toast and many more canoe-trip dietary mainstays. A fry pan with a folding handle is ideal and the pans by GSI Outdoors are remarkably resilient, despite being non-stick coated, rather than black iron. The GSI fry pans are also relatively light weight and a good shape. They come in a few sizes. In this canoe-camping cookware set-up, I use the smaller 8 inch frypan.
7. Leather Gloves
Leather gloves are prolific these days. It's become popular to use work gloves to protect hands when gathering and chopping wood (aw, bless). However tough your hands are, though, they don't become much more heat resistant even if you spend a lot of time outdoors (well a little bit). Leather gloves, therefore, are useful in handling hot pans and hot plates. In the context of canoeing (summer + water = bugs), leather gloves are useful for keeping the bugs off while you are working around camp (and they like biting the backs of your hands in particular).
8. Chopping Board
There's not much to say here really. A chopping board is useful. If you don't believe me, do a trip without one where you are cooking from first principles, rather than just packet/dehydrated food. Of course you can take a wooden one and you can make your own if you wish (a project we complete on my Woodcrafter course for example).
9. Cooking Pot (Large)
At first glance this cooking pot is of the type commonly found in many outdoor stores these days (stainless steel, relatively shallow vs its diameter) and indeed works well on a stove such as an MSR Whisperlite, which is my favourite stove. BUT the pot I favour has two significant advantages over your average, generic pot. First, this pot by Eagle Products of Norway has a sturdy bail that makes it function really well on a tripod or waugun; second, it has a copper bottom. The heat transfer is ridiculous. On our Tay trip, for example, we repeatedly commented on how quick the boil times over a fire were. I should also add the lid is a lovely shape and the pot comes with a stuff sack (they know you are going to use it over a fire). This is really good design by people who understand its purpose.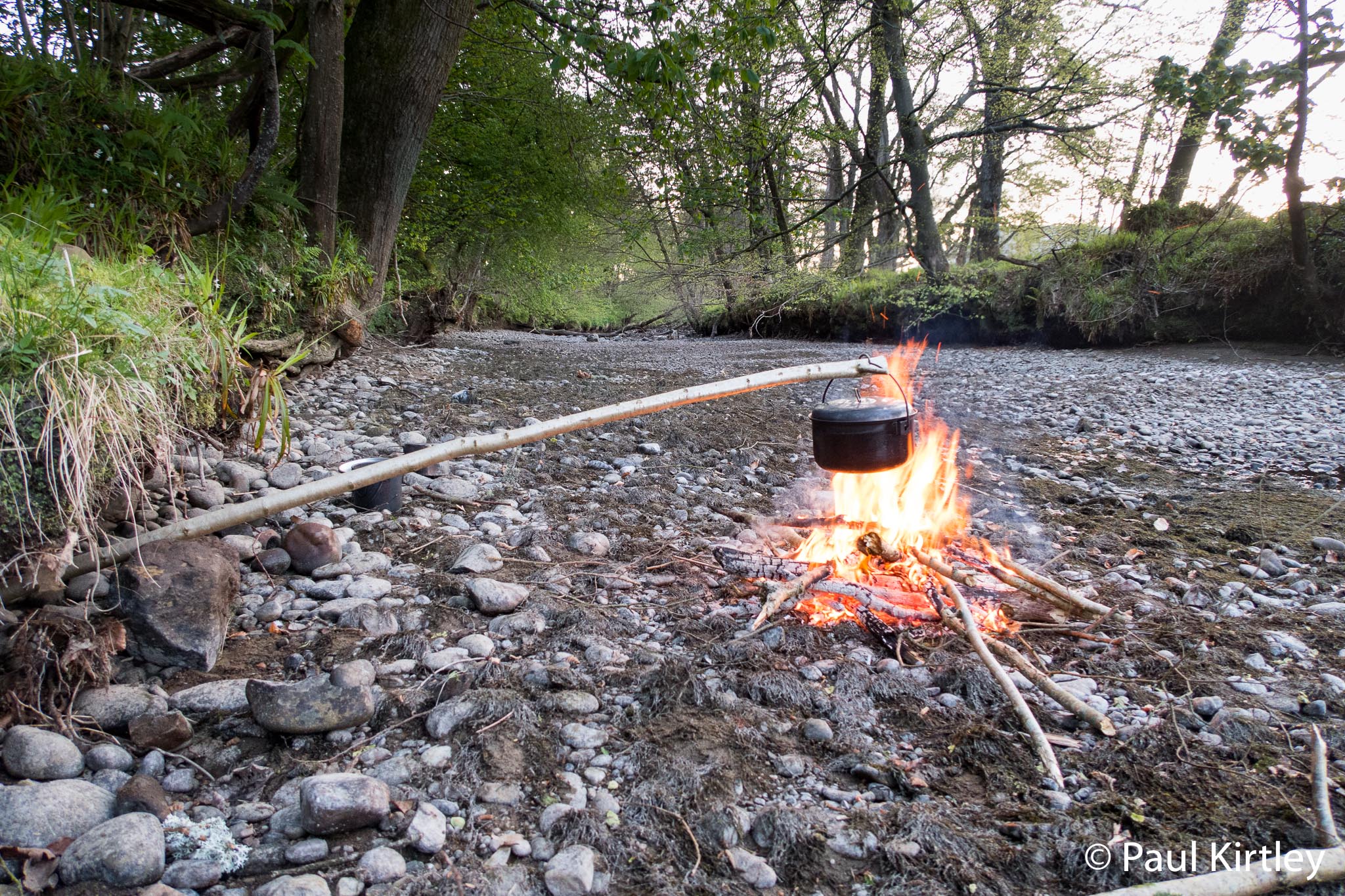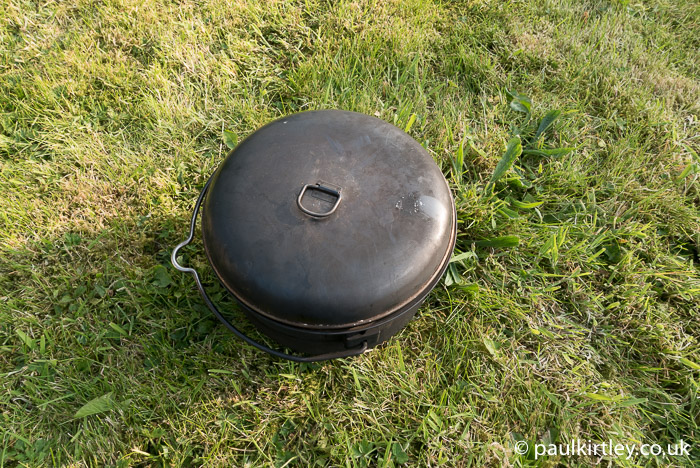 10. Cooking Pot (Medium)
The cooking pot in use in this set is a Coleman stainless steel pot with a locking bail. It is the middle pot from a three-pot nested set I bought in Toronto, Canada in 2012. It seemed like an end-of-line item at the time and as far as I can tell, these sets are no longer available. The largest pot in the set was a similar size to the Eagle Products pot detailed above (number 9) but the Eagle Products pot is better. The medium Coleman pot fits inside the latter Eagle Products large pot really well, though. This is great for packing but also for baking. It's easy to make a simple oven with a smaller pot inside a larger pot, as long as you create an air gap between the base of the two. So, you can bake bread with these two pots.
While I could also nest the smaller pot of the three Coleman pots inside this medium pot, I find I don't use it much even when I do, especially when I'm carrying the Mors Pot (item 4) as the latter is superior in every respect. Hence, I just reduce the weight of the overall outfit by leaving out the smallest pot. This also increases room for packing other items inside the medium pot, such as washing-up liquid, sponge-scourers, etc.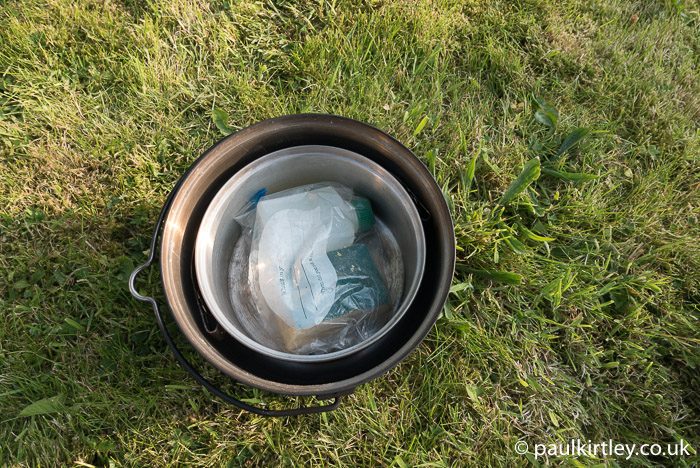 This canoe-camping cookware outfit allows me to do everything from boil water quickly and make fresh coffee each morning, through to frying and baking. It's light in weight and flexible in its application, as well as being robust.
I hope you find the explication of this set-up useful and even if you can't get hold of the exact items listed, I'm confident the above will give you a good basis on which to build your own canoe camping cookset.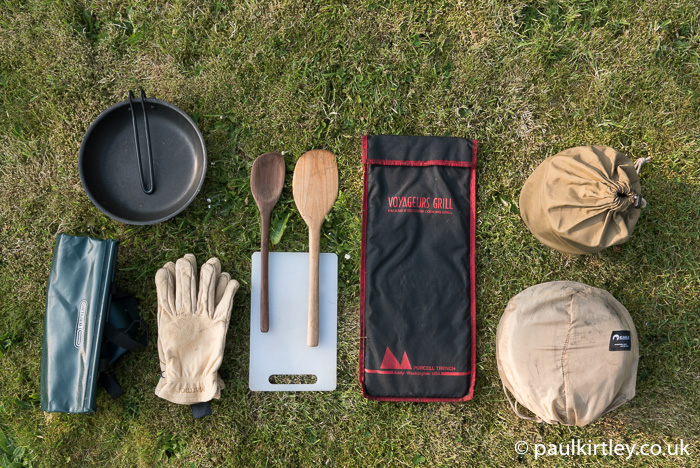 Check out any of the links below for more canoe-camping cooking content or canoe trip articles and videos. You'll find campfire cooking in each article or video, as well as a bunch of context for the above outfit. Remember, context is everything.
Related Material On Paul Kirtley's Blog
How To Cook Pancakes On A Campfire
How To Make Garlic Pan Bread On A Campfire
Six Men, Three Boats and The Bloodvein: Canoeing A Wilderness River
French River Eighteen Mile Island Loop
Canoeing The River Spey With Kevin Callan, Ray Goodwin and Justine Curgenven