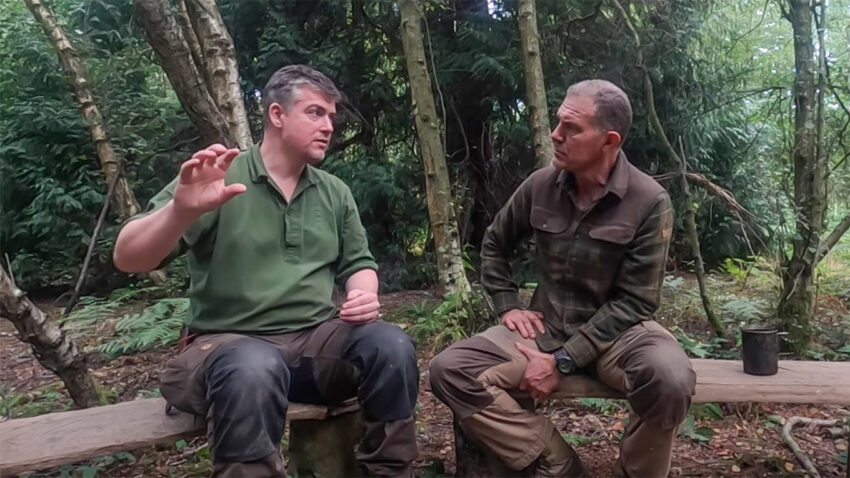 The Dunning-Kruger Effect in Learning and Teaching Bushcraft, Survival and Wilderness Living Skills
The Dunning-Kruger Effect in Learning and Teaching Bushcraft, Survival and Wilderness Living Skills
Gordon Dedman is lead instructor at Bushcraft Survival Australia. Gordon is a former member of the Australian Army 1st Commando Regiment and is currently a survival instructor in NORFORCE, an Australian Army Reserve Regional Force Surveillance Unit (RFSU). Gordon is also a Combat Survival SERE instructor (Survival Evasion Resistance Escape) and instructs on RAAF Combat Survival Training School courses in North Queensland.
Long-time followers of this site will remember Gordon from Episode 49 of the Paul Kirtley Podcast, which we recorded on one of my visits to Australia. This time around, we were on my home turf…
Gordon was in the UK for the 2022 Global Bushcraft Symposium, where he was a speaker, and to undertake my Intermediate Wilderness Bushcraft Course. The day after the course finished, Gordon and I sat down to record an interview for his YouTube channel, which I have embedded directly below. For further context, background and related, linked material please see the rest of this page beyond the video embed.
Gordon was keen to discuss a number of questions with me, particularly in light of some of his observed developments in the instruction of bushcraft and survival in Australia, along with potential parallels with what we have already experienced in this field in the United Kingdom. One of Gordon's central questions is "who should teach bushcraft and survival", and we jumped off from the perspective of examining the dangers of "not knowing what you don't know".
Moreover, there were a number of inter-related topics that were top of mind following the Global Bushcraft Symposium, which had happened a few weeks before we had this conversation. In particular the keynote presentations from David Wescott and Cody Lundin, respectively, provided some valuable points of reference for my conversation with Gordon. He also referred back to my keynote at the 2019 Global Bushcraft Symposium, and specifically my referencing of the Dunning-Kruger effect.
For context, there's also some further background material below.
More On The Dunning-Kruger Effect
An easy to watch video lesson on Dunning-Kruger, written by David Dunning, commissioned by TED-Ed…
Developing Bushcraft Skills, Knowledge and Experience
I've previously written on the concept of mastery in the context of bushcaft. I have also written about deliberate practice, as well as pushing oneself out of one's comfort zone and always remaining a student. Indeed, the concept of beginner's mind is an important one in Japanese martial arts but, in my opinion, the usefulness of this concept translates to the study of bushcraft.
I have presented on how to accelerate your bushcraft learning. Further on one of my Paul Kirtley Podcasts we have also discussed topics including goal setting, skill acquisition, anxiety, confidence, behavioural conditioning, ego protection, patience, procrastination, the ability to tolerate frustration and set-backs, the value of failing in safe ways, improving consistency in skills, vicarious experience, building a portfolio of experience for yourself and performance accomplishment. I've also written about finding a place to practice bushcraft.
Developing as a Bushcraft Instructor
I've previously touched on minimum bushcrafter knowledge, when to start teaching bushcraft, becoming an instructor, and starting a bushcraft school in various episodes of #AskPaulKirtley, my Q&A series available as video or audio podcast.
Previous Conversations with Gordon Dedman
Gordon has previously appeared on my podcast and I have previously appeared on his YouTube channel.
Those on my Online Elementary Wilderness Bushcraft Course might also recognise Gordon from the Water Sourcing and Purification Module, where Gordon and I set up and generate water using a transpiration bag.
Thoughts?
Whatever your relationship with bushcraft, survival and outdoor skills, I hope you find the latest conversation with Gordon interesting.
Feedback and further discussion is welcome. As always, I value informed opinions, varied perspectives, constructive criticism, intelligent hypotheses and burning questions. These are welcome in the comments section below. One caveat, though; watch the video in full before commenting 😉
Related Articles On This Site You Might Also Like
Bushcraft: Join The Route To Mastery
Never Stop Learning: Pushing Your Comfort Zone
Enter A Virtuous Circle: Take Your Bushcraft Skills On An Adventure
Other Conversations On This Site You Might Also Enjoy
Whisky, Water and Wilderness Axe Skills – Kevin Callan Interviews Me About My New Book
Paul Kirtley Podcast 042: Mors Kochanski, Northern Bushcraft Legend
Paul Kirtley Podcast 040: Miles Irving On Wild Foods, Foraging, Health, And Connecting With Nature
Paul Kirtley Podcast 016: Lisa Fenton On Bushcraft and Indigenous Knowledge Transmissions